Review: Mercedes-Benz T-Class (2022)
Rating:
Easy and relaxing to drive with efficient 1.5-litre diesel engine. Huge boot (especially with the rear seats dropped). Posher interior than many direct rivals.
Exact UK prices and specifications are yet to be confirmed. Doesn't entirely hide its van-based underpinnings.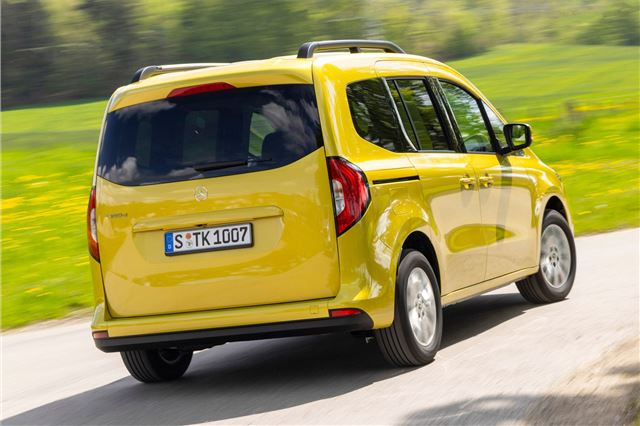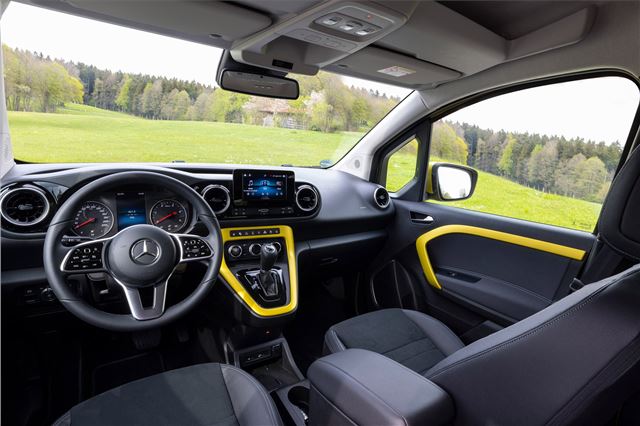 Mercedes-Benz T-Class (2022): At A Glance
Looking for a van-based people carrier with a little more prestige than cars like the Vauxhall Combo-e Life and Ford Tourneo Connect? The Mercedes T-Class reviewed here is a new contender in the world of versatile MPVs, set to rival the Volkswagen Caddy with prices expected to start from around £30,000 when it goes on sale later this year.
Based on the Mercedes Citan van (which itself shares underpinnings with the latest Renault Kangoo), the new T-Class has been poshed up with a car-like interior, generous spec levels and a refined diesel engine. We doubt it'll be enough to make people think twice about buying a new SUV, but it is an appealing choice for people who want something ultra versatile without losing the premium badge.
An electric model, badged the Mercedes EQT, is on its way but for now the Mercedes T-Class sticks with diesel power. The same 1.5-litre diesel as you'll find in the brand's small passenger cars (including the Mercedes A-Class and B-Class) is expected to be the only initial offering, likely in more powerful 116PS T180d form (a 95PS T160d is also offered elsewhere in Europe).
Engineers have been tasked with making the T-Class handle like a family car rather than a van, and it's certainly one of the more comfortable and refined van-based MPVs we've tried. Performance is leisurely while the steering is light rather than particularly dynamic, but that's fine in a vehicle like this. You do get a plethora of technology, too, so the T-Class is no more challenging to drive than, say, a Mercedes GLB SUV.
The interior looks pretty swish by commercial vehicle standards, too. You get the same steering wheel as you'll find in a Mercedes A-Class, while all T-Class models will come with a small-but-perfectly-formed seven-inch infotainment screen.
Of course, the new Mercedes T-Class is a very versatile choice. We're yet to see which accessories Mercedes will offer in the UK, but there's talk of being able to fit a pair of mountain bikes in the back (with the rear seats dropped, obviously) or a large dog cage. The sliding rear doors will come in particularly handy for parents with young kids.
After having its fingers burnt with the slow-selling Mercedes X-Class pick-up truck, the brand seems to be treading carefully with the new T-Class. While it's an impressive people carrier, only time will tell whether there's a market for it in the UK. We suspect it'll appeal to trades people who want a family car at the weekends and a slightly more upmarket image than mainstream competitors. It could also be popular with the motability market thanks to its easy access and room for a wheelchair in the boot.
What does a Mercedes-Benz T-Class (2022) cost?
Buy a used Mercedes-Benz from £35,630
Mercedes-Benz T-Class (2022): What's It Like Inside?
Van-based people carriers often have pretty basic interiors. While the cabin of the Mercedes T-Class isn't going to fool you into thinking you're driving a C-Class saloon, it is a fair bit posher than rivals like the Ford Tourneo Connect. You get the same steering wheel as you'd find in small Mercedes passenger cars, for example, while a seven-inch MBUX infotainment system is standard across the range. This looks a little on the small side, but it's better than having to attach your TomTom to the windscreen.
There are some nice finishes around the cabin. Start prodding around and you will find some hard plastics but, in a car that's designed to be functional rather than (too) fancy, that's not necessarily a bad thing.
Talking of which, it almost goes without saying that the Mercedes T-Class is extremely practical. We'll start with the boot, which can carry up to 520 litres of luggage up to the parcel shelf. You get quite a big tailgate to open but access is wide and low, meaning loading a Labrador or a mobility scooter should be pretty easy.
There are five seats as standard in the T-Class, although a longer seven-seat model is expected for 2023. The rear seats fold flat if you want van-like carrying capacity, increasing load space to more than 2000 litres.
There's a huge amount of headroom in the T-Class, while you can squeeze three adults side by side in the back seats without too much discomfort. Isofix points on the outer rear seats provide easy fitting of child seats, while you can fit a smaller booster seat in the middle too. Sliding rear doors make life much easier when strapping a child in while parked in a tight car park.
You'll find loads of room in the front, too, including loads of storage space for your odds and ends (including generous door bins, a big central cubby box and an overhead shelf above the windscreen).
What's the Mercedes-Benz T-Class (2022) like to drive?
While rivals including the Citroen e-Berlingo, Peugeot e-Rifter and Vauxhall Combo-e Life have all switched to electric power, the Mercedes T-Class is sticking with a diesel engine for now. There are petrol versions offered elsewhere in Europe but, unlike the Volkswagen Caddy, Mercedes isn't likely to sell a petrol T-Class here in the UK.
We're expecting the Mercedes T180d to be the sole UK offering in the first instance, with power coming from a Renault-sourced 1.5-litre diesel engine that produces 116PS and 270Nm of torque. It's not particularly quick, accelerating from a standstill to 62mph in around 13.6 seconds with the six-speed manual gearbox, or 13.2 seconds with the seven-speed dual-clutch auto.
That low-down diesel grunt means the 1.5-litre engine feels quicker than the figures suggest, though, and it shouldn't have too much of an issue hauling a fully-loaded T-Class up to speed. It's surprisingly refined for a small diesel engine (especially in what is, essentially, a van with windows). Mercedes says its engineers worked hard to differentiate the T-Class from the Citan van (and, indeed, the Renault Kangoo) and you can really tell in terms of refinement – very little in the way of engine grumble makes its way into the cabin.
We've only tried the Mercedes T180d with the seven-speed auto gearbox so far and we reckon it's going to be the combination to go for – gear changes are pretty instant, while not having to faff around with gears suits the relaxed nature of the T-Class. Some might feel that the manual gearbox provides more control, though, especially as there isn't a way to manually select gears in the auto T-Class.
There is an electric version, badged the Mercedes EQT, on its way. This will use the same 45kWh battery as the Renault Kangoo E-Tech, providing a range of around 165 miles. That'll cater for T-Class buyers who live (and/or work) in urban areas, offering a premium alternative to the electric van-based people carriers we mentioned above.
Engines aside, the Mercedes T-Class feels reassuringly safe to drive. No, it's not as lithe and agile as many crossover SUVs, but it puts the emphasis on comfort. That means you wince at the sight of a pothole, while kids won't get thrown about as if they're being transported in the back of a van.
Pleasingly, a lot of driver-assistance tech has filted down from the brand's pricier passenger cars. This includes autonomous emergency braking in the form of Active Brake Assist, while Crosswind Assist will help you drive in a straight line in windy conditions. A lane-keeping aid in the form of Active Steering Assist is available as part of the Driving Assistance Package, as well as Active Distance Assist Distronic (which'll match your speed to the car in front in heavy traffic).