Review: Bailey Autograph 79-4T (2016)
Rating:
Great engine, external awning and barbeque point are standard, plenty of space and storage.
Huge in size, weighs 3500kg, lounge bed doesn't fit together very well, 7.9m length can make maneuvering tricky.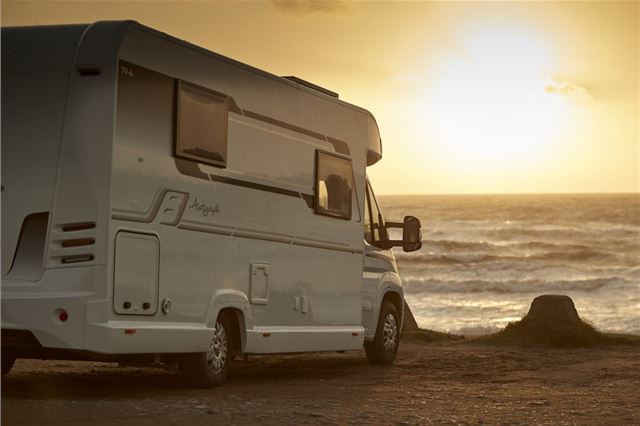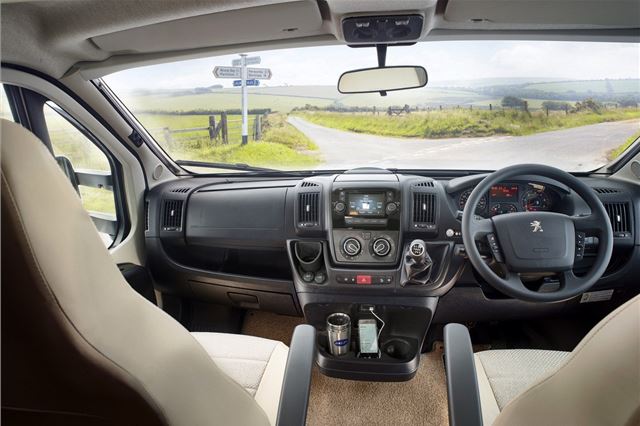 Bailey Autograph 79-4T (2016): At A Glance
Founded in 1948, Bailey of Bristol is one of the oldest caravan makers – but it only started building motorhomes in 2011. Its current range comprises two models: the entry-level Advance and more upmarket Autograph, both available as two, four or six berths. And all are based on a Peugeot Boxer cab.
The model we're testing here is the Autograph 79-4T. What does that mean? Well it's 7.9 metres long, while the '4' indicates it sleeps four people. The 'T' means twin beds (rather than a double). If you want a shiny new one, this motorhome will set you back the best part of £60,000.
Which sounds a lot, but at least it's loaded with kit. There's Alde water and central heating, LED lighting, a 100W roof-mounted solar panel, an external barbeque point, roll-out canopy awning, nearly 500kg of storage space on board and plenty more to boot.
One thing to note is that this Bailey motorhome weighs in at 3850kg. That's fine if you passed your test before 1.1.97 – but after that, you're only allowed to drive vehicles weighing up to 3500kg – anything heavier and you'll need to take a test (Bailey's advance range of motorhomes all weigh 3500kg or under).
So it's fair to say this four-berth Autograph is a bit of a heavyweight – not that you'd know it thanks to the 2.0-litre 160PS diesel unit under the bonnet. The Peugeot HDi unit offers plenty of torque from low down in the rev range, so you won't find yourself holding up the traffic when you're driving up a steep hill or joining a fast flowing motorway.
In fact, driving the Autograph is a pretty decent experience. Sure, you don't want to be nipping to Co-op to get milk in it, but the Peugeot Boxer cab gives it solid foundations, leaving you to worry about the sheer length of the thing when you're up and running.
What does a Bailey Autograph 79-4T (2016) cost?
Bailey Autograph 79-4T (2016): What's It Like Inside?
Once you've found your campsite, the Bailey Autograph 79-4T is easy to set up. You'll need some chocks to get it level, but there's a spirit level in the bedroom to help you. Then it's just a case of hooking up the electricity supply and the water (the system has its own tank and pump).
There's plenty of lights and ventilation (plus smoke and CO2 alarms), which is handy for when you're cooking. The hob is a mix of gas and electric while there's enough space in the oven to cook for four. There's even extra extendible surface space for preparing food, but you'll need to be careful as it blocks the door and is the perfect height for a five-year-old to hit their head on.
There's a fridge that'll easily hold enough food for three or four days away, plus a freezer, and a microwave.
The dining table is cleverly stashed under the floor and secures with two legs. We managed to get two adults and two kids around the table without any bother. You can also pipe your music into the lounge while you're eating. In summer, you'll be able to take advantage of the roll-out awning and exterior barbeque point.
One of the twin beds is slightly shorter than the other, which is something to bear in mind if your six-foot tall. And we never did quite get the hang of setting up the bed in the living room – no matter what arrangement we tried, cushions either fell off or were the wrong way up (although we understand this niggle is being addressed with the new model year).
It doesn't matter if you're camping in summer or winter – the Autograph is fitted with a heating system that you can program to keep the temperature just right. It's smart, too, so it'll run on electricity if you're hooked up; or gas if you're somewhere more remote.
The bathroom is neatly designed with toilet, adjustable shower (complete with folding doors) and basin. There's hooks for hanging things, an extendable clothes line, and good lighting and ventilation. 
What's the Bailey Autograph 79-4T (2016) like to drive?
Let's get one thing out of the way – this is a motorhome. So don't expect the same levels of refinement that you'd find it campervans like the Mercedes-Benz Marco Polo or the Volkswagen California.
That said, motorhomes have benefited from the advances made in the van market over the past ten years. And so, the Bailey Autograph 79-4T is decent to drive. The 2.0-litre Peugeot-sourced diesel engine offers 160PS but – more importantly – 350Nm of torque from 1750rpm. Expect to get roughly 30mpg in everyday driving conditions.
In fact, once you're on the move it's quite easy to forget that you're driving a 7.9m 3850kg motorhome… until you need to brake sharply, turn a bit too quickly, or get caught in a crosswind. Visibility is good though, with both door mirrors fitted with blind spot mirrors and a reversing camera at the back (although parking sensors would've also been welcome as the camera can make objects appear closer than they really are).
Cruise control is standard, which makes motorway driving less of a chore. We cruised around at 60mph (which was plenty) but there was plenty of grunt left in the engine so we don't expect it to run out of steam going uphill. Away from the motorway, you'll need to have your wits about you - especially on small country lanes where size and space is an issue. We had no problems, though.
There are a few tips and tricks to reducing cabin noise. Obviously, you'll want to make sure everything is secured before you set off, but wrapping the oven tray is a good tip – as is putting a towel under the glass cooker hood.
Up front, there's plenty of mod cons to make you're journey as pleasant as possible. Garmin navigation, DAB radio with Bluetooth connectivity, air-con, power steering, cruise control, cup holders, and captains' chairs (that swivel round).