Review: Citroen SpaceTourer (2016)
Rating:
Comfortable and family-friendly MPV, lots of interior space for up to eight adults, well equipped as standard.
Boot space is small when all the seats are in place, not as refined as its German rivals, some engines are rather noisy.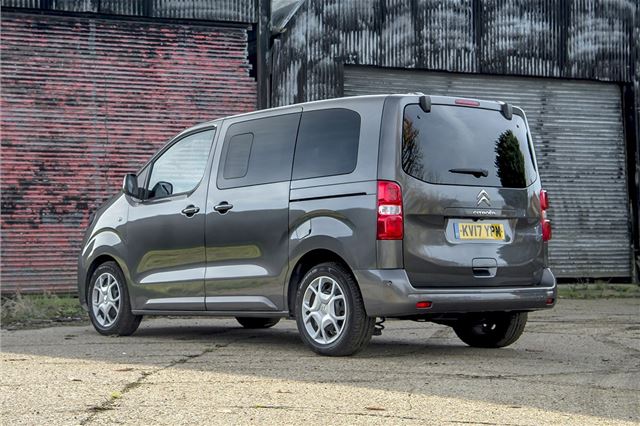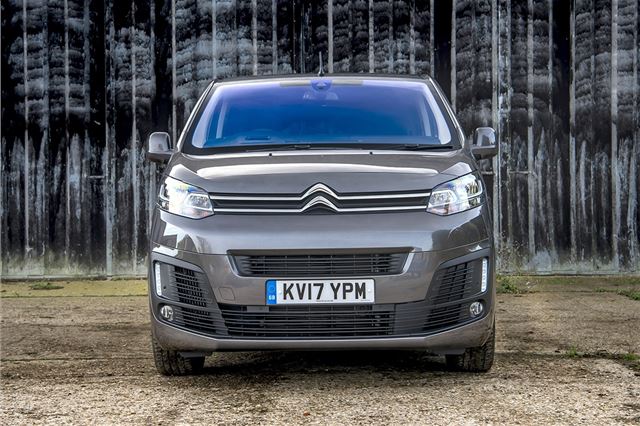 Citroen SpaceTourer (2016): At A Glance
It might not be the most fashionable of family cars, but when it comes to affordable running costs, value for money and eight seater practicality, few MPVs can match the Citroen SpaceTourer.
Like its stablemates, the Toyota Proace Verso and Peugeot Traveller, the Citroen SpaceTourer is a commercial-vehicle-turned-people-carrier, with the traditional panel loadspace replaced with two rows of seats and windows. 
Three versions of the SpaceTourer are available, named XS, M and XL, with the biggest being 5.3-metres long while the 'compact' version measures 4.6 metres in length. Five seats are standard, though buyers can specify seven, eight or nine seats.
All versions are well-equipped as standard, with cruise control, parking sensors and a full-size spare wheel. The options include hands-free opening for the motorised sliding doors (operated by waving a leg under the side skirts), and a rear window that opens fully, to avoid having to open the huge, heavy tailgate unnecessarily.  
Boot capacity is 1978 litres in the XS with five seats equipped, or 2932 litres in the XL version. The middle version is 4.95 metres long and with a boot 2381 litres big, though as any middle sibling will testify, this is likely to be the version everybody ignores.
The engines are all BlueHDI diesel units, with 95PS, 115PS, 150PS and 180PS outputs, while claimed economy spans from 48.7mpg to 54.3mpg, which isn't bad considering the SpaceTourer's size. Indeed, the Citroen is one of the most-efficient large MPVs you can buy, with its official economy beating the Ford Transit Custom by as much as 10mpg. CO2 emissions are also relatively low, peaking at 155g/km for the largest and most powerful versions.
However, while the economy outshines its rivals, the big Citroen seldom feels as sharp or as good to drive as the Ford, with notable levels vagueness in the steering and pedals. That said, the SpaceTourer is nimble enough at low speeds and refinement is generally good, while its 1.9 metre height make it an easy fit into multi storey car parks.  
With masses of space and car-like fuel costs, the SpaceTourer has lots to offer family and business buyers, with its five star NCAP rating and high levels of standard equipment making it an appealing choice. Admittedly, its boxy styling won't win over any S-MAX buyers anytime soon, but if you need a large and efficient MPV then the SpaceTourer should certainly be one to consider.
What does a Citroen SpaceTourer (2016) cost?
Buy a used Citroen SpaceTourer from £19,995
Citroen SpaceTourer (2016): What's It Like Inside?
Citroen has, unusually, separated the two trim levels into one for family buyers and one for business users. The former, called Space Tourer Feel comes in all three lengths and with five, seven or nine seats. In this version the middle row of seats slides fore and aft, while the seat backs can all fold flat for additional loading space.
The second version, called Space Tourer Business, comes with a greater range of customisation in order to appeal to taxi firms and the like. All versions get options including hands-free opening for the motorised sliding doors (operated by waving a leg under the side skirts), and a rear window that opens fully, to avoid having to open the huge, heavy tailgate unnecessarily. 
There are three body lengths to choose from - compact, standard and long. The largest version provide the most boot space, when all seats are in place, with 1060 litres, which makes it idea for carrying large suitcases. The standard model provides 640 litres, while the compact version will provide 280 litres. Clearly, for business users, the smallest Space Tourer will struggle to cope with anything other than a couple of small bags on the airport run.  
The interior is extremely comfortable, however, with plenty of head and legroom across all three rows of seats. This means the Space Tourer can - depending on what specification you choose - accommodate nine large adults. All of the seats are firm but supportive, with a wide base and plenty of back support. Business models also get controls for the air con in the back, along with darkened privacy glass and window blinds. 
Up front, the dashboard features a new seven-inch touchscreen display with DAB audio and Bluetooth connectivity for smartphones. Navigation is available as an option, along with a head-up display that will read speed signs and display them on the dashboard. 
The Space Tourer gets lots of equipment as standard; this means you don't have to pay extra for essentials, like cruise control or rear parking sensors. It also gets a full size spare wheel, along with automatic headlights and windscreen wipers. 
What's the Citroen SpaceTourer (2016) like to drive?
While the Space Tourer majors of value and practicality, it does manage to fall a little flat when it comes to handling. Indeed, the steering is overpowered and the manual gearboxes are anything but slick. However, despite the lacklustre drive, it's difficult to argue with the fact that the SpaceTourer is one of the most efficient large MPVs you can buy.
The four-cylinder diesels are split across 1.5-litre and 2.0-litre unit and all will - on paper at least - exceed 50mpg. The most efficient Space Tourer is the 115PS 1.5, which will hit an advertised 55.4mpg. In comparison, the most frugal Ford Tourneo Custom will provide an official 46.3mpg.
The 1.5 engines are offered with 95PS or 115PS, while the 2.0-litres are available with 150PS or 180PS. The 150PS unit is by far the best with lots torque and low engine clatter. Geared at 32.5mph per 1000rpm in sixth gear, performance is pleasantly ambling and you can allow it to trickle down to 1000rpm without protest.
Both the 150PS and 180PS versions of the 2.0 BlueHDi turbodiesel are offered with an eight-speed EAT8 automatic gearbox. In addition, the 2.0 BlueHDi 120 EAT8 brings with it a significant improvement in braked trailer weight over and above the 1.5L BlueHDi 120 manual. Versions with this engine and gearbox combination are capable of towing up to 2.3 tonnes.
For those in the front there are plenty of cubbys, cupholders and other places to store things, including a newspaper or clipboard slot on top of the dash. The driver is treated to a nice big digital speed display in the centre of the analogue dial.
Despite its considerable width, the SpaceTourer is easy to place, even on single-track roads with passing places. It's completely undemanding and very pleasant to drive.