Review: Toyota Proace Verso (2016)
Rating:
Cheap to run, capable of carrying up to nine, lots of interior space.
Rivals are better to drive, boot space is limited when all of the seats are in place, some of the engines lack refinement.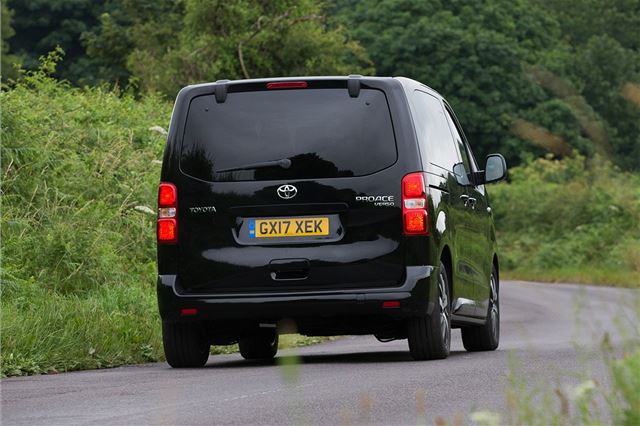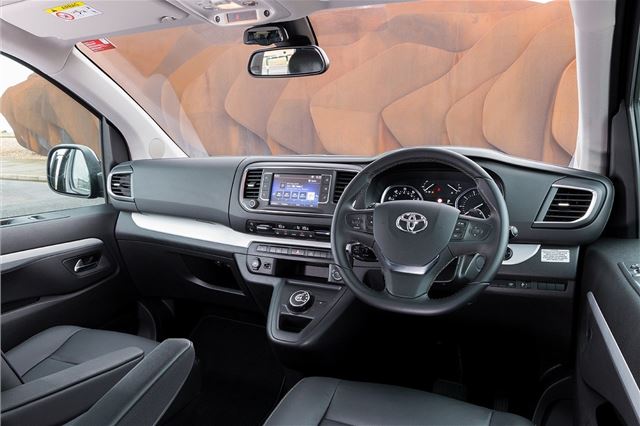 Toyota Proace Verso (2016): At A Glance
The Toyota Proace is a compact and flexible people mover aimed predominantly at taxi drivers and airport shuttle firms.
Like the van it is based on, the Proace Verso is built in France as part of a joint agreement with Citroen and Peugeot. This means it's almost identical to the SpaceTourer and Traveller, with low running costs and high levels of standard equipment. 
There are three body styles to pick from as well as three trims - Shuttle, Family and VIP - reflecting the market that the Proace Verso is aimed at. Entry Shuttle models are well-equipped, with nine-seats fitted as standard, along with automatic headlights, rain-sensing windscreen wipers, heated door mirrors and automatic dual-zone - for the front and rear - climate control.
The range-topping VIP model is aimed at the executive transport end of the market and features seven leather heated seats and a rear table. Like the Proace Verso in Family trim, the seats are rail-mounted, which means they can be moved forwards/backs or removed altogether.
Compact versions offer the least boot space with the rear seats in place - just 224 litres - but things are more practical with the medium and long bodystyles, which offer a respective 603 and 989 litres. Family-spec versions get a split tailgate, which means you can access the boot without having to lift the large, heavy tailgate.
The front-wheel drive Proace Verso is available with a choice of three powertrains featuring 1.6 and 2.0-litre turbodiesel engines. The 1.6 diesel is the most efficient on paper, returning a claimed 54.3mpg 137g/km of CO2 while the 177PS 2.0-litre will provide 47.9mpg and 155g/km, according to the official figures. Most of the engines are linked to a six-speed manual gearbox as standard, while the most powerful version gets a six-speed automatic. 
The Proace Verso isn't as good to drive or refined as its German rivals - such as the Mercedes-Benz V-Class or Volkswagen Caravelle - but it is efficient for its size and nimble in town. The high price and van-origins will limit its appeal for private buyers, but its flexible and practical nature will make it a tempting choice for professional drivers. 
What does a Toyota Proace Verso (2016) cost?
Buy a used Toyota Proace Verso from £25,995
Toyota Proace Verso (2016): What's It Like Inside?
The Proace Verso can carry up to nine adults - including the driver. All versions are well-equipped as standard, which means an entry-level model will get with DAB audio, Bluetooth phone connectivity and automatic air conditioning as standard. Rear passenger ventilation controls and automatic headlights are also included. 
VIP models are the most luxurious and expensive in the range, with electric side sliding doors, panoramic roof and large leather seats that can be swivelled 180 degrees. However, owing to the size of those seats, VIP models will only carry seven. 
Those in need of a fully-fledged nine seater will have to opt for the entry-level Shuttle trim; these get three rows of seats and a useful tilt and tumble feature that makes it easy to move seats to get in and out of the third row. Head and legroom is plentiful and three adults can sit abreast without feeling claustrophobia or bashing elbows with the person next to them. 
While the Proace Verso is very much geared towards professional buyers, a mid-range Family model is offered; these eight seaters are very similar to the entry-level Shuttle models, but get seatback tables and Isofix child seat anchors for all of the rear seats. 
Both Shuttle and Family models feature detachable seats, which return the vehicle to its van origins, but all of the seats are heavy and cumbersome to move. Not only will you need a strong set of arms you'll also need a large space to store them. 
As well as three trim levels, there are also three vehicle lengths to choose from - Compact, Medium and Long. Owing to the van's high roof and wide seats, interior space is seldom an issue, but Compact nine-seater versions offer very little boot space when all of the seats in place. Those in need of a nine-seater with storage for suitcases will need the Proace Verso in Medium or Long wheelbase. 
Loading and unloading the Proace Verso is simple, thanks to the tailgate that features a split opening, which means you can load bags without having to lift the huge tailgate - handy for multi-story car parks or airport drop-off points, where space is limited. 
What's the Toyota Proace Verso (2016) like to drive?
Like the standard panel van version, the Proace Verso is a pleasant place to while away the hours with a modern interior and height adjustable driver's seat that has plenty of support and comfort. Basic versions get high levels of tech that's designed to make life easier, with automatic headlights and windscreen wipers, cruise control and steering wheel mounted audio controls.
The all-diesel range is split between 1.6 and 2.0-litre engines, with the most-efficient being the 115PS 1.6-litre that will officially return 54.3mpg. The 2.0-litre units are equally impressive on fuel, with the 150PS unit returning an advertised 53.3mpg and the range-topping 180PS providing 49.6mpg.
That's impressive stuff when you compare it to the Tourneo Custom and Caravelle; however, while the Toyota takes top trumps for low running costs, it does fall a little short on handling and refinement. Both the Ford and Volkswagen are better to drive, with more responsive steering, while engine noise levels are significantly lower too. 
The 115PS four-cylinder diesel is more than up to the task of shifting nine people, but it becomes quite vocal under heavy acceleration. Likewise, the 150PS unit has similar traits and it's only the halo 180PS 2.0-litre engine that feels accomplished enough to match the refinement the engines found in the Ford and Volkswagen. 
Things improve on the motorway, with all of the four-cylinder diesels quietening down to a low level rumble, while the smooth six-speed manual gearbox does an efficient job of sliding through the cogs. A six-speed auto - fitted to the 180PS unit as standard - is also extremely good with smooth changes and all versions get hill-start assist to prevent the van from rolling backwards when you're crawling through traffic. 
There is only one roof height available in the Proace range and at 1.9 metres it makes it easy to access areas with height restrictions, such as airport car parks and multi-stories. The Proace Verso is also easy to move at low speeds, with Compact models completing a full turning circle in 11.3 metres, while the larger versions will require just 12.4 metres.