Ford Ranger (2011–2022)
What's good
The Ford Ranger looks great on the outside and the inside also offers more style and comfort than most rivals. There's also the option of a five-seat Super Cab model with good rear seat space.
Ford has packed the Ranger with safety kit and it's the first pick-up to gain a five-star crash safety rating from Euro NCAP. It comes with ESP traction control, hill start assist, trailer sway control and twin front, side and curtain airbags, as well as a driver's knee airbag.
Strong engine line-up offers users plenty of choice and the 2.2 is good for economy and emissions. The 3.2 makes a brawny towing vehicle, while buyers can also choose between two and four-wheel drive depending on model choice.
The Ranger can cope with heavy loads and has a practical, versatile load bed and fold down tailgate that sits level with the load floor. Towing capacities are also among the best in class.
What's bad
Recall 20-10-2012: Rear seat may not latch properly to rear striker plate, causing it to move forward and pose a hazard to occupants. Ford Recalls by VIN
Some of the cabin's plastics look a little cheap, especially on the base models, though build quality is good.
The entry-level XL model misses some creature comforts that are standard on the higher spec versions of the Ranger.
Engine noise intrudes into the cabin when accelerating hard in the Ranger, but they soon settle to be less noisy at cruising speeds.
All Ranger models over 2040kg kerb weight restricted to 50mph on two lane roads and 60mph on dual carriageways (can do 70mph on motorways). This affects most 3.2, but base model 2.2 XL under 2,040kg are not affected and can do can do 60mph on two lane roads and 70mph on dual carriageways. 
CV joints can fail and in January 2013 replacements were taking 6 weeks to arrive.
8Complaints of quality, not starting properly, misfire/jerking, plastic seat trims broken, air vent broken, radio cuts out, sat nav stops working.

Complaint of faulty paintwork over half the truck, two months old. Owner offered a complete repaint.
More complaints of faulty paintwork on a 2013 Ford Ranger, broken panel behind the bumper, water in the mirror indicator, a faulty tyre and after 2000 miles the tyres are scrubbing on the outer edges.
Complaint of persistent misfire of Ranger 2.2 TDCI purchased in May 2013 and nw with 18,000 miles, but misfire not cured.
More problems with 2013 Ranger 3.2 TDCI. Distinctive judder. Dealer replaced with a replacement NEW Ranger. This had the same problem and others including seat trim falling off. Vehicle been in the local Ford dealer six times and the problem of the judder still hasn't been resolved for over 10 months and still no fix.
Clutch hydraulics problem on 8 month old Ford Ranger. Master cylinder changed, but fault remained, so suspect slave cylinder.
08-09-2016: Ford expands door latch recall. Ford Motor Company is expanding a previously announced safety recall regarding door latches to include approximately 1,500,000 additional vehicles at the request of the National Highway Traffic Safety Administration, bringing the total to 2,383,292 vehicles. Affected vehicles include 2013-15 Ford C-MAX and Ford Escape, 2012-15 Ford Focus, 2015 Ford Mustang and Lincoln MKC and 2014-16 Ford Transit Connect.
O1-03-2017: R/2017/077: Folding rear seat may become insecure: On certain Ranger vehicles the rear folding seatback latch spring may break causing the latch mechanism to malfunction, potentially preventing the rear seat back from locking into the upright position. Fix: On affected vehicles replace the rear seatback latch assembly. VIN: 6FPGXXMJ2GCB30537 to 6FPPXXMJ2PCR35730. Build dates: 12-03-2013 to 10-11-2015.
17-6-2017: Report of multiple faults with Ford Ranger bought new October 21 2016. Had 5 new glow plugs. Stop/start failed. Been back to dealer 10 times and still not fixed . Owner asked for replacement but this was refused.
4-5-2018: Report of two front tyres of a November 2016 Ford Ranger shwoing serios wear on the inside edges at 11,800 miles.
8-5-2018: Report of 2013 Ford Ranger 2.2 litre diesel engine seizing due to oil pump failure. Same engine is used in the Transit van and Land Rover Discovery and a previous report on 28-3-2018: output shaft failure on July 2012 LandRover Defender 110 2.2 litre diesel Utility DPF XS Manual with overdrive at 23,000 miles. Vehicle had previosly been recalled for oil pump failure.
11-7-2018: Report of engine failure in 2016 Ford Ranger at 84k miles. No oither details given.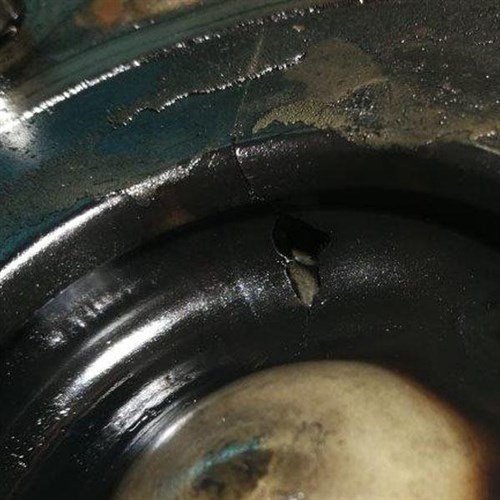 10-1-2019: Hole in piston reported in 2.2 TDCI Ford engine in 2013 Land Rover Defender 110 at 40,750 miles. Land Rover initially refused any liability.
10-2-2019: Report of failure of Body Control Module in 2015 Ford Ranger at 3 years 6 months old, so out of warranty. Replacement cost was £1,100. Ford refused to contribute. Transoired that what had happened was the front dipped headlight (not fused - direct to BCM) had melted the wiring into the light unit.
12-3-2019: Referring back to door latch failures (8-9-2016). On 18 November 2018, Ford Australia confirmed, very belatedly, reader's long-held belief that his Thai-built 4-door Ford Ranger is not safe. https://www.productsafety.gov.au/recall/ford-motor-company-of-australia-limited-ford-fiesta-and-ranger/ On 18 November 2018, Ford Australia recalled 85,862 Ranger vehicles (build date 23 May 2011 - 20 May 2015) for potentially hazardous Door Latch failures, and the recall includes the VIN of the Ford Ranger 4-door truck shipped on 12 July 2013 and that the reader purchased brand new in Thailand.  The reader had two door latches fail on his Ranger truck in very close succession. One door latch failure could be dismissed as unfortunate, but two failures in close succession on a 4-door truck is a 50% Failure Rate. Passengers could fall out of the moving truck, and other vehicles and/or pedestrians could be harmed by an unlatched door suddenly opening so causing a potentially serious accident. Also the doors might not latch when the truck is parked, creating a security risk. Ford used a similar door latch on the Ranger as on the Focus and in the USA an NHTSA recall on 400,000 Focus models escalated int a recall of 2,300,000 vehicles. However, neither Ford in Dearborn, Michigan, or Ford in the UK would investigate the issue. The owner felt he had no option other than to trade it in.
16-9-2019: Report of warning light caused by block DPF on Ranger 2.2 diesel. Reader had to pay for DPF deep clean to clear fault. 
What does a Ford Ranger (2011 – 2022) cost?