Used Pick-Up Buying Guide: Ford Ranger 2011-2020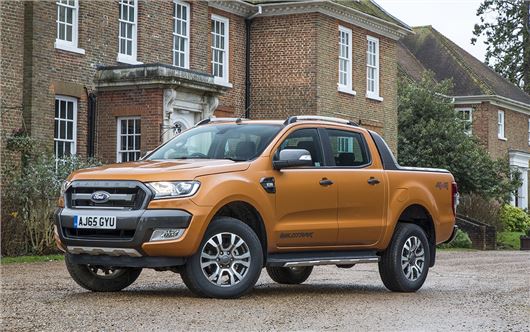 Ford's biggest-selling vehicle in the USA is its F-Series pick-up truck, and while the Ranger in the UK could never emulate that, it's still a successful addition to the Ford commercial range.
The current Ranger was introduced in 2011, it then gaining a comprehensive overhaul in 2015 for the 2016 model year, these changes signalled by styling changes and further engine improvements. Unlike its predecessor, which was a badge-engineered Mazda spin-off, the Ranger was conceived by Ford Australia. It featured an all-new ladder chassis, six-speed manual and automatic transmissions and competitive towing and payload limits. 
The Ranger came with the option of a number of convenience and driver aid safety features, from adaptive cruise control, lane keeping alert and lane keeping aid, driver alert, park assist to tyre pressure monitoring. Safety was a high priority, too, so much so that the Ranger became the first pick-up to win a coveted Euro NCAP five star crash test result - in 2011.
Interior space in the double cab is good, it comfortably sitting four adults, and five at a push, the interior feeling durable and looking good. Praised for both its on-road drive and off-road ability most Rangers get four-wheel drive as standard, it switchable on the move, and featuring a low-ratio gearbox for more extreme off-road conditions.
The payload is in excess of one-tonne on all models, while the towing capability is as much as 3500kg with a braked trailer. Like most of its rivals the Ranger has spawned a number of special editions, above the XL, XLT, Limited and Wildtrack models, Ford adding a Ranger Raptor to the range late in 2018 which apes the style and off-road prowess of its American F-Series relation.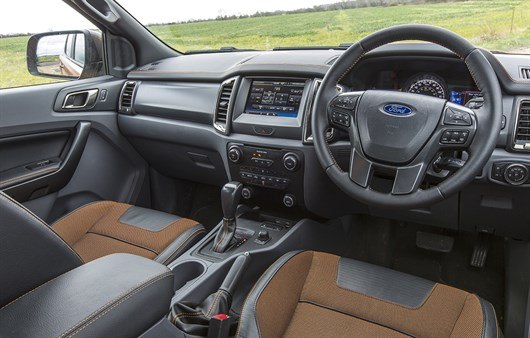 Engines
At its 2011 launch the Ranger was fitted with a choice of two diesel engines with a choice of outputs. The entry-level choice was a 2.2-litre TDCI turbodiesel four-cylinder with 135PS and 320Nm of torque. A more powerful version of the same basic engine was offered with 150PS, and a boost in torque to 375Nm. Above the four-cylinder engines Ford offers the Ranger with an in-line five-cylinder turbodiesel, it having 200PS and 470Nm of torque, the larger engine only offered mated to four-wheel drive.
As part of its 2015 overhaul the engines gained updated exhaust gas re-circulation, and start/stop systems, while the steering was changed to electronically assisted power steering to further improve fuel consumption.
The output of the range-topping five-cylinder 3.2-litre engine remained at 200PS, with the entry-level 2.2-litre dropping to 130PS and the higher power version rising to 160PS. The newer engines brought significant gains in economy over the earlier ones, bringing down day-to-day running costs.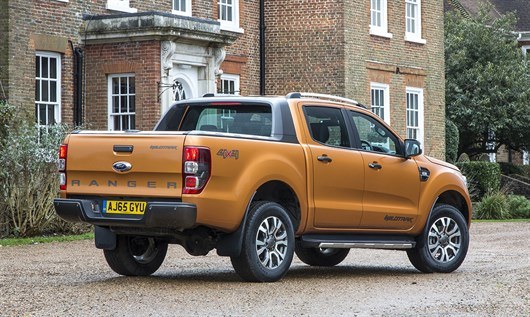 Maintenance
According to the service schedule, you'll need to visit your Ford dealer or favourite mechanic once a year or 20,000 miles - whichever comes sooner. However, for smooth running, we'd recommend having the oil and filter changed every 10,000 miles or 12 months. 
A major service will cost in the region of £240, with an interim service being £150. New front brake pads will cost about £140 fitted, while a new clutch will be just shy of £700 - so check it's not slipping if you're buying. The Ranger comes with a timing chain on the 2.2 and the 3.2-litre engines.
A replacement wheel bearing will be around £320 fitted, new front coil springs £400, and £350 more if you're replacing the dampers at the same time. It's worth getting the oil pressure tested given the possibility of the oil pump failing, the £30 or so to have the test well worth it for peace of mind. Should the oil pump itself need replacing you'll have a bill of around £650 to do so.  
Pricing
You'll do well to find many Rangers in the sub-£10,000 bracket.  Those that are here are typically early single-cab models, in base trim that have been bought to work and wear the mileages to prove that. Don't be frightened of them, as big mileages from business vehicles tends to suggest they've been looked after, just be sure to make sure it comes with a wad of receipts to demonstrate that it's been looked after properly.
Above £10,000 is where there begins to be a wider choice, and, more specifically, above the £12,000 mark, where you can afford to start being a bit choosy. Here you'll still be in the realms of higher mileage, early examples, most of which look like they've been bought as SUV alternatives, rather than working vehicles.
At around £14,000 there's a good number of these lifestyle Rangers, mixed in with a lot of white, clearly business-owned vehicles, the choice encompassing everything from the entry-level trims right up to the top level ones. Here you can buy the Ranger you need, whether it be a genuine working pick-up or just a useful towcar for the family.
£15,000-£18,000 is rich-pickings for a Ranger buyer. Here you can really afford to shop around, with everything available in this price bracket. You'll get a pre-facelift two-year old Ranger with under 20,000 miles here, or post-facelift version with higher miles. In all price segment it's the 2.2-litre engine that makes up the bulk of the choice, make sure you know which output you're getting as the lower power one can feel a touch overwhelmed. 
If you want the bigger engines then spend £20,000 or more, with this price point seeing a glut of choice of 3.2-litre examples, most coming with fully-loaded specifications. Above that and you're into the nearly new, ex-demo stock, where you can bargain hard from the dealers you'll likely be buying them from. 
To find the latest deals, visit: Honest John Vans For Sale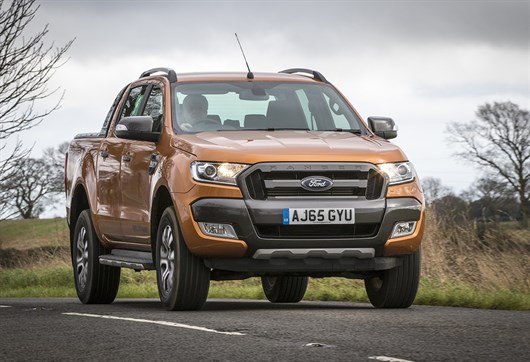 What we said
"Good to drive in all conditions, the Ranger benefits from smooth and responsive controls that make it an easy drive on busy motorways or twisty B roads, even with a fully laden trailer in tow. It is good off-road when fitted with four-wheel drive, with high and low ratio gearing that make is easy to tackle steep ruts and inclines.
"The Ranger's credentials as a workhorse are unquestionable but it does suffer from a lack of refinement. Especially when compared to the Nissan Navara and Volkswagen Amarok. That said, if you want a heavy duty workhorse, capable of cutting it off-road and moving big loads, few pick-ups come close to matching the Ford."
What to watch
As with any four-wheel drive commercial vehicle, have a good look underneath for any damage due to off-road scuffs and knocks. It's worth checking the rear driveshafts, too, as the gearshift cables can contact them, leading to loss of drive - this was the subject of a recall of vehicles built between Nov 2015 and Feb 2016.


Any sluggishness of response and high fuel economy might be related to the mass airflow sensor. It's a common fault on the Ranger, which can also manifest as making starting difficult.


Check the quality and ease of the gearshift. If it's been abused or used to tow a lot it can cause excessive wear, making gear selection difficult or noisy.


There have been several instances of the paintwork on some Rangers not being particularly good. Check the bodywork carefully for any scratching or poorly finished paintwork.


A 2018 recall relating to the automatic transmission relating to early models from September 2011 through to March 2012 noted the gearbox may receive an incorrect signal, changing from sixth to first. If you buy an early automatic, make sure this has been investigated. 


CV joints are a known to fail, so check for any knocking or rattling when driving, and get underneath and have a look at the condition of the covers.  


Euro6 models from 2016 onwards may have problems with their selective catalytic reduction system, which results in excessive consumption of AdBlue. An engine check light will glow too.


Listen for any rattling from the engine and don't ignore it. The Ranger has issues with its oil pump, losing pressure and ultimately failing. If it does so you could seize the engine. The engine check dash light should also illuminate, if it does have it checked, immediately.  
The Ranger offers a fine drive compared to its rivals, combined with an impressive focus on safety as well as decent levels of standard equipment. There are some issues relating to reliability, but that's true of any vehicle, and keep on top of servicing and keep an eye out for the What to Watch elements above and you shouldn't go wrong. 
Comments
Author

Kyle Fortune
Latest