Review: Vauxhall Vivaro (2019)
Rating:
Easy to drive, affordable running costs, will carry up to 1450kg.
Not as practical as the old Vivaro, side sliding doors feel cheap, cheapest model has no alarm or air con.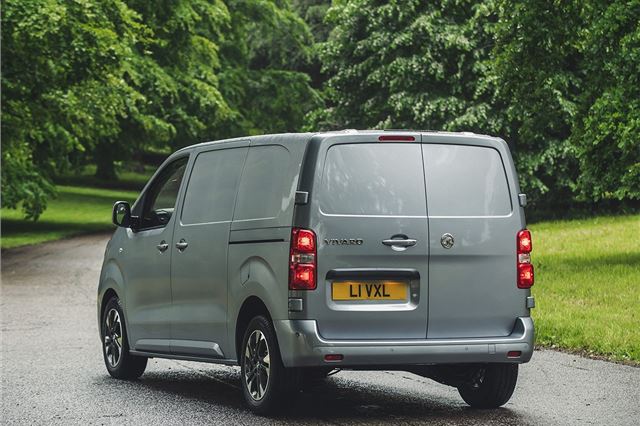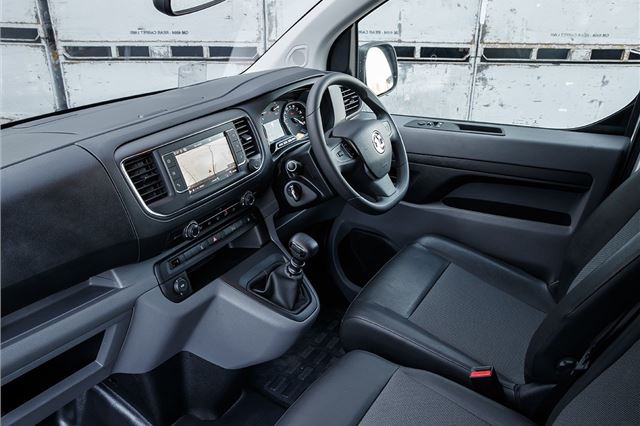 Recently Added To This Review
11 February 2019 Vivaro prices and specs announced
Priced from £21,240 excluding VAT, the third generation Vivaro is available in two lengths (4.95m and 5.30m), three body styles and three trims. The all-new Vivaro is available in Edition, Sportive... Read more
23 January 2019 Vauxhall reveals 2019 British-built Vivaro
Available to order March and arriving in Vauxhall showrooms summer 2019, the third generation Vivaro medium van is a based on a state-of-the-art platform and available in two lengths (L1H1 4.95m and... Read more
Vauxhall Vivaro (2019): At A Glance
The Vivaro is Vauxhall's best-selling van, and the third-generation model is one of the best medium size vans on sale right now. Easy to drive, efficient and capable of swallowing three Euro pallets, the Vivaro has plenty to offer businesses who want a comfortable and hard working van. 
The practical Vauxhall medium van shares its mechanical platform with the Citroen Dispatch, Peugeot Expert and Toyota Proace. However, while its stablemates are all built in France, the Vivaro is one of the few commercial vehicles to be built in Britain.
The Vivaro ranks among the best medium vans when it comes to payloads. There are two van lengths to choose from (4.9 and 5.3 metres) and heavy duty versions will carry up to 1450kg. All vans get twin side sliding doors, with space for a Euro pallet to be loaded either side. Mid-spec versions get a bulkhead hatch, which allows the Vivaro to carry copper pipes and planks of wood measuring up to four metres in length. 
A heavy hitter on payload, the Vivaro lags behind its rivals on outright loadspace. The old Vivaro provided 8.6 cubic metres, but this has been cut to 6.6 - this means some builders and delivery drivers (who prioritise useable space over payload) may find the Vivaro to be a snug fit for materials, parcels and equipment. There is no high roof option either. 
All versions are easy to drive in town or out on the motorway. The ride quality can be quite harsh when the van is empty on rough roads, but settles into a comfortable soft rhythm when laden. All vans get cruise control and hill start assist as standard, while mid-spec models get rear parking sensors, automatic windscreen wipers and auto headlights. 
High spec models get lots of car-like tech, which includes a head up display that shows the vehicle's speed on the lower part of the windscreen. Automatic emergency braking is also available, which can avoid a crash or reduce its effects by automatically applying the brakes. 
Buyers get the choice of 1.5 and 2.0 turbodiesel engines. The entry-level 120PS 1.5-litre unit is sufficient for light loadmoving and returns up to 47mpg according to the advertised WLTP figures. Most engines are linked to a six-speed manual as standard, while the range-topping 180PS 2.0-litre engine gets an eight-speed torque converter automatic.
A clear upgrade on its predecessor, the Vivaro blends heavy duty carrying capacity with car-like comfort and road handling. If you are thinking of buying a medium size van then the Vivaro should be on your shortlist. 
What does a Vauxhall Vivaro (2019) cost?
Buy a used Vauxhall Vivaro from £26,032
Vauxhall Vivaro (2019): What's It Like Inside?
The third-generation Vauxhall Vivaro is one of the heavy hitters in the medium van market when it comes to payload, with its 1450kg putting among the very best. Gross vehicle weights range from 2635kg - 3100kg, depending on spec, while towing weights peak at 2500kg. 
The Vivaro is available in two sizes (L1 and L2) and the smallest will carry two Euro pallets, while the larger version will carry three Euro pallets.
All versions get twin side sliding doors as standard that will take a Euro pallet sideways. However, while the side doors are wide, the sliding mechanism feels cheap and lightweight. This means the door rattles heavily if it's opened with any force. 
While the Vivaro will carry 200kg more than its predecessor, the maximum load area for the standard van has been cut from 8.6 to 5.8 cubic metres. Admittedly, this can be expanded to 6.6 cubic metres (with a load through hatch) but some users might find the Vivaro less practical when it comes to bulky items or internal load area racking. In comparison the Ford Transit Custom provides up to 7.2 cubic metres while the Volkswagen Transporter supplies up to 9.3.
The limits in overall load space are caused by the fact that the Vivaro has no optional high roof option, with its load height being a flat 1397mm. The rear doors open to provide a load width of 1282mm in width and 1220mm in height. 
The Vivaro's practicality can be bolstered with an optional load through hatch that extends the load space to 6.6 cubic metres for L2 models and 5.8 cubic metres (up from 5.3) in the smallest L1 version. The van can also be fitted with an electronically operated side doors, which can be opened hands-free thanks to an optional sensor in the side of the van that's activated with the kicking motion of a foot. 
Crew cab versions will carry six adults, although the passenger in the front middle seat will find legroom cramped due to the location of the gearbox. The rear seats can be folded away with the optional moveable bulkhead.
What's the Vauxhall Vivaro (2019) like to drive?
Vivaro vans have always had a reputation for being easy and somewhat car-like to drive. And very little changes with the third-generation van, thanks to its agile handling, punchy engines and responsive steering.
The all-diesel line-up is split between 1.5 and 2.0 turbocharged four-cylinder engines, while power outputs span 100PS, 120PS, 150PS and 180PS. The range-topping 180PS unit is the only engine to get the option of an eight-speed automatic torque converter gearbox, while a six-speed manual transmission is the sole choice on all other engines.
The 120PS 1.5-litre Vivaro is the sweet spot in the range, with 300Nm of torque providing plenty of low-gear acceleration for hauling moderate loads up to one-tonne. The 120PS version is also the most-efficient, with advertised WLTP figures peaking at 47mpg. Drivers who plan to utilise the Vivaro's 1450kg maximum payload might want to upgrade to the 150PS version of the 2.0-litre engine. Only businesses that need a heavy duty tow van will need to spend extra on the 180PS version. 
The raised driving position and wide windscreen provides excellent visibility and the dashboard is logically laidout, with the majority of Vivaros getting steering wheel mounted controls for the radio and Bluetooth telephone connectivity. The agile nature of the van's handling  makes it easy to guide it into a parking space, while the 12 metre turning circle makes it easy to navigate narrow streets. 
Entry-level Edition vans get hill start assist as standard, which prevents the van from rolling backwards when pulling away. But essentials like air conditioning and anti-theft alarm will cost extra. We'd recommend upgrading to the mid-spec Sportive model, which gets both, along with rear parking sensors and the bulkhead load through hatch.
Range-topping Elite versions of the Vivaro add touchscreen navigation, electric door mirrors and a blind spot monitoring system that will warn the driver if a vehicle is hidden from view alongside the van. The options list has a raft of smart tech, including a virtual rearview camera image that can be displayed either on the interior mirror or on the seven-inch infotainment display. The van will also prompt the driver to take a break after two hours of non-stop driving, or by monitoring the driving behaviour.
Drivers who regularly navigate rough or winter roads can fit an all-road pack, which increases ground clearance and adds IntelliGrip smart traction control allows the van to cope with mud, sand or snow.