Review: Citroen e-Relay (2022)
Rating:
Useable 139-mile range with the larger battery, standard 50kW rapid charging, cheaper than most large electric vans.
Not converted in-house so feels aftermarket, basic interior, sluggish low-speed performance.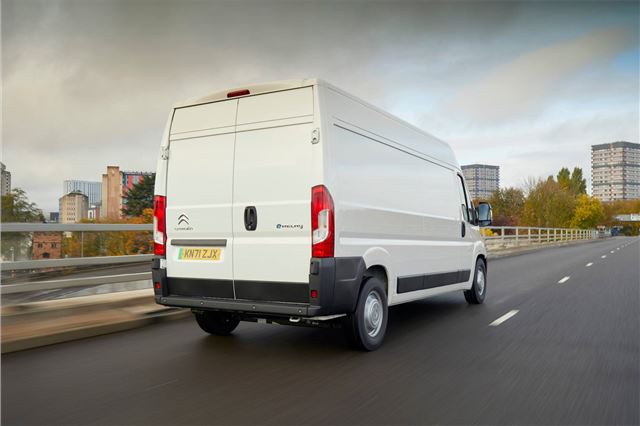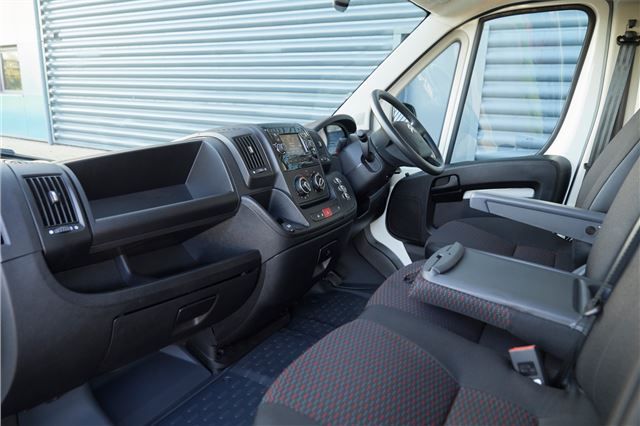 Citroen e-Relay (2022): At A Glance
Electric vans are now more viable and necessary than ever, and Stellantis has been leading the charge. Core brand Citroen already has two battery-powered commercial models - the e-Berlingo and e-Dispatch - on sale, and now the largest of the bunch, the e-Relay, has gone on sale. 
What's unusual here, though, is that while the two smaller electric vans have been developed and manufactured entirely in-house by Citroen, the e-Relay is effectively a third-party conversion. Partially completed diesel Relay vans are taken from the regular production line and shipped to Turkey, where they are fitted out with electric motors and battery packs by an EV specialist. 
While that's fine in essence, it has resulted in some rather unusual (and disappointing) quirks - more on that in the later sections.
We can only assume the relative age of the Relay (the design has been around since 2006) meant it wasn't cost-efficient to develop an electric version in-house, but Fiat's platform-sharing e-Ducato is an in-house design. That was done prior to the formation of Stellantis, however. 
Still, let's talk facts. the Citroen e-Relay is the basically identical cousin of the Peugeot e-Boxer, which is also converted to electric power in Turkey. Both are powered by a 120PS electric motor sending propulsion to the front wheels. 
Lithium-ion battery options are a cheaper 37kWh version or a 70kWh version. The former manages a claimed range of just 73 miles, while the latter promises a much more useful 139 miles. Citroen spokespeople themselves struggle to name many use cases for the smaller battery version, so it's the 70kWh model that'll make up the lion's share of sales - and that's the one we've tried. 
The Citroen e-Relay is available in three body sizes (L2H2, L3H2, L4H2), plus L4H2 window van and chassis cab options. Because the electric motor sits where the engine would be, and the battery pack is neatly packaged under the load bed floor, the e-Relay's cargo volume is unaffected at up to 15 cubic metres. A payload of up to 1,150kg is competitive, too. 
What does a Citroen e-Relay (2022) cost?
Citroen e-Relay (2022): What's It Like Inside?
Climb aboard the Citroen e-Relay and you might not intially notice you're in the electric version. That is until you poke around a bit and notice one or two rather unusual quirks.
For starters, there's the instruments, which appear to be exactly the same as the diesel version. Why do you need a rev counter, fuel gauge and temperature gauge in an EV? You don't, which is why the conversion company has simply removed the needles for those dials. Talk about no expense spared. 
Want to know how much range you have? You can only do that via a little display mounted in the otherwise redundant rear-view mirror. It's a little tricky to see, but works fine. It just looks incredibly aftermarket. 
But it gets worse - the e-Relay's heating and ventilation controls are still in place, but the temperature dial does nothing as it was originally connected to the diesel engine's heating system. With an electric heat pump now used instead, there's a little temperature display (that looks like a cheap thermometer) to the right of the steering wheel where you adjust the temperature. Again, it works fine, it just looks like it was done in somebody's shed. 
Aside from some (thankfully quality-feeling) drive select buttons in place of a gearlever, everything else is standard Citroen Relay fare. That means it's hard-wearing, practical and filled with useful storage areas. 
But it also means scratchy plastics, so-so comfort levels and pretty basic 'infotainment'. At least the driver's seat is comfortable, while forward visibility is excellent and the turning circle is decent. 
The 139-mile range is better than rivals such as the Mercedes e-Sprinter, which has a maximum range of 96 miles (and is only available in one size) and the Renault Master Z.E, which maxes out at 124 miles. 
Usefully, the e-Relay is also capable of rapid charging at up to 50kW. That's enough for an 80% charge in roughly an hour, which makes this perfect as a working van where users can plug it in over their lunch break. The fastest home wallbox, a three-phase 22kW system, can fully charge the 70kWh e-Relay in about nine hours.
What's the Citroen e-Relay (2022) like to drive?
Driving the Citroen e-Relay is simplicity itself, once your traditional van driver has got used to the lack of noise ("Is it on?" etc). On the dash there are three clearly marked buttons: Drive, Neutral and Reverse. 
Citroen has kept the manual handbrake found on the standard Relay, which does feel a bit odd when driving an EV. But otherwise it should be easy to operate for most. 
120PS sounds an entirely reasonable power output for a van - it's the same as the least powerful diesel Relay. But this electric conversion seems to limit the available torque at lower speeds, either to protect the drivetrain or to reduce wheelspin and the potential for yobbishness. Whatever it is, the e-Relay feels pretty leisurely from a standing start. 
That can cause problems when trying to smartly exit a junction or join a busy roundabout, but it's something you learn to drive around. Once above about 25mph, the acceleration does seem to increase and the top speed is a decent 75mph, meaning it doesn't feel completely out of its depth at motorway speeds. Our drive was unladen, however - we dread to think how slow the e-Relay is when loaded up with items. 
Certainly, though, the same applies to most other electric large vans. The Fiat e-Ducato, for example, is limited to just 62mph. Because these big vans aren't exactly aerodynamic, manufacturers are clearly very sensitive to how quickly the range will plummet at sustained high speeds. Given the e-Relay is designed for the urban dash rather than long-distance hauling, it's entirely forgiveable. 
We've no reason to doubt the 139-mile range: our drive at less than half that distance saw the range fall about as much as we'd expect. 
The lack of gears and a distant whine from the electric motor replacing a vibrating diesel engine does mean the e-Relay is more relaxing than its oil-burning equivalent. However, it does also mean you notice things like wind noise more - the Relay base vehicle is getting on a bit, and isn't as refined as we'd expect from a van in 2022. 
The throttle response takes some getting used to: our example seemed to operate a bit like a switch, meaning constant right foot adjustment to keep it at a steady 30mph. The brakes are fine, however, with regenerative braking helping to top up those batteries. 
Handling-wise, it feels much like a regular Relay. Because all the extra weight is contained within the floor for a low centre of gravity it might actually be more stable in the bends when unladen than the diesel model, but otherwise it's starting to feel quite old-fashioned compared with newer large van rivals (that's basically everything else on the market).