Ford Transit Custom (2013–)
Last updated 23 September 2019
The Transit Custom is a big step forward from the old Transit and that's most noticeable in refinement. It's a much quieter van to travel in thanks to better engines and improved sound proofing. The 2.2 TDCi engine is smooth and there's far less vibration throughout the cabin than before.
The same goes for the handling. It's great in town with a tight turning circle and nice easy steering while the big mirrors mean it's easy to spot passing traffic or wayward cyclists. On the motorway it cruises along in an impressively relaxed manner, barely breaking a sweat at 70mph. But where it really shines is on demanding roads when fully laden. The steering is responsive, the suspension controls body roll well and it doesn't bounce all over the place when you hit bumps or crests in the road.
Ford says it designed the Transit Custom to have the same natural and easy-to-drive character of its car range and that's certainly the case. The chassis is excellent and even unladen the van feels composed on rough roads. 
From 2013 - 2017, there was just one engine to choose from - Ford's 2.2 TDCi Euro5 diesel which came in three versions - 100PS, 125PS and 155PS. When unladen there's very little to choose between the three engines in everyday driving. Only if you really push them do you notice the extra power. The 100PS has 310Nm of torque and is fine for light work and ideal for round town. But if you're carrying significant weight or towing a trailer, the higher powered 125PS which has 350Nm of torque or the top of the range 155PS model with 385Nm will suit better.
In 2017 Ford replaced the 2.2 TDCi with the 2.0-litre EcoBlue. The Euro6 diesel engine provides better performance and lower emissions, with 105PS, 130PS or 170PS power ratings. Improved low-end pulling power – with 20 per cent more torque at 1250rpm – delivers more flexible and responsive performance in everyday driving, while engine noise is significantly lower on the motorway.
The 130PS EcoBlue is the sweet spot in the post-2017 model line-up, striking an excellent balance between economy and performance. Only those wanting the high-end Sport Van will need to venture to the 170PS version. Maximum towing weights peak at 2.8 tonnes while gross vehicle weight ranges from 2.6 to 3.4 tonnes. 
A six-speed manual gearbox comes as standard with a nice positive and smooth shift plus all models get an engine start/stop system to help improve fuel economy. In 2017 the a six-speed SelectShift automatic transmission was added to the range, but limited the 130PS and 170PS versions of the Ford EcoBlue engine.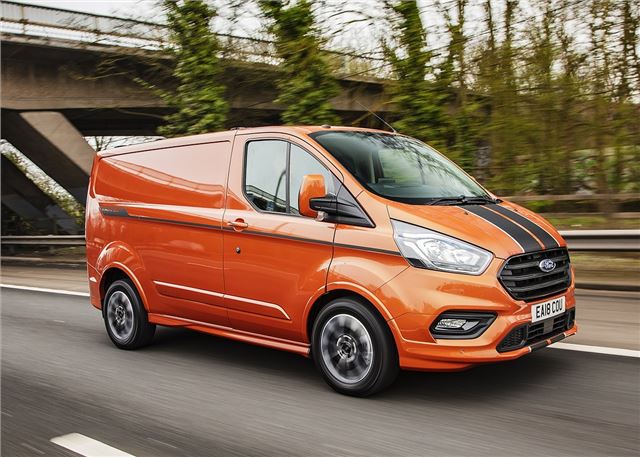 | Engine | Fuel tank | MPG | CO2 |
| --- | --- | --- | --- |
| 2.2 TDCi 100 | 80 L | 46 mpg | 162 g/km |
| 2.2 TDCi 100 5 | 80 L | 39–46 mpg | 162–191 g/km |
| 2.2 TDCi 100 ECOnetic | 80 L | 46 mpg | 162 g/km |
| 2.2 TDCi 125 5 | 80 L | 38–44 mpg | 172–197 g/km |
| 2.2 TDCi 155 | 80 L | 40 mpg | 186 g/km |
| 2.2 TDCi 155 5 | 80 L | 38–46 mpg | 172–197 g/km |
Also consider...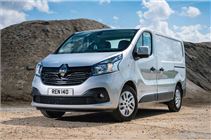 Renault Trafic 2014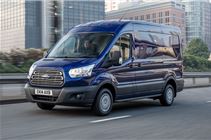 Ford Transit 2014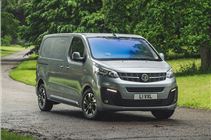 Vauxhall Vivaro 2019
Contract hire from

£157.00

+VAT pm
Lease from

£85.00

+VAT pm