Review: Mercedes-Benz eVito (2019)
Rating:
Exempt from VED and pollution zone charges, 1073kg payload, easy to drive, eight-year battery warranty.
Limited range of 93 miles, no fast charge option.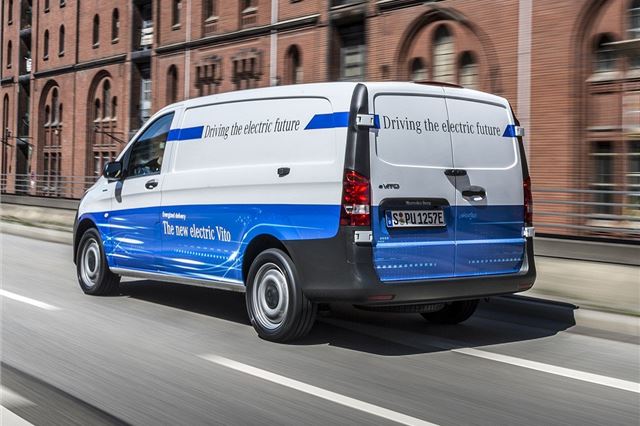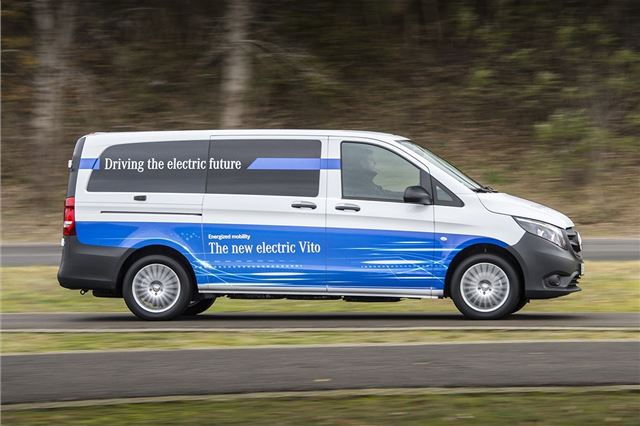 Recently Added To This Review
29 January 2020 UK prices and specifications for eVito
Available in two lengths, and priced from £39,895 ex VAT, eVito is eligible for the Office For Low Emission Vehicles (OLEV) Grant. This means that customers can benefit from a 20 per cent... Read more
23 November 2017 Mercedes-Benz eVito launched
with a range of around 193 miles and a top speed of 74mph, the all-electric van will carry more than 1000kg and provide cargo volume of up to 6.6 m3. Prices start at £35,000 before Government plug-in... Read more
Mercedes-Benz eVito (2019): At A Glance
The eVito is the electric van that kicks off the new range of plug-in commercial vehicles from Mercedes-Benz. Designed for delivery drivers and city-based van operators, the eVito covers 93 miles on a single charge and can carry payloads weighing up to 1073kg - significantly more than the Kangoo Z.E, e-NV200 or Partner Electric. 
Mercedes-Benz is open about the fact that the eVito will not suit everyone; however, if you're a city-based courier who does short distance, multi drop deliveries it will make a lot of sense. Even more so when you consider the expensive DPF problems that cause headaches for diesel drivers.
The all-electric van takes six hours to fully charge and the electric battery pack is stored under the loadspace floor so it doesn't impact load capacity. However, unlike some electric cars, you cannot hook the van up to a rapid charging point to boost the battery to 80 per cent in 40 or 50 minutes. And that means you have to carefully plan your routes and charging points. 
The eVito is available in two load lengths - long and extra long - and cargo volumes range from 6.0 to 6.6 cubic metres. Payloads are similar for both versions, with the long version carrying 1043kg and the extra long van taking 1073kg. All get twin side sliding doors as standard and gross vehicle weights (GVW) peak at 3.2 tonnes. 
The electric running gear has - for the most part - been lifted from the Mercedes-Benz plug-in car range and this means the motor is silent and smooth. A regenerative braking system is fitted as standard and once you get into the habit of the vehicle automatically breaking when you lift the throttle, it's easy to add some additional miles of charge to the battery. Over a day of driving, the eVito will regain as much as 15 miles. 
On the road the eVito feels similar to the 111 CDI diesel with smooth steering and a comfortable, well-judged ride that doesn't get overly bouncy when the van is unladen. The 84kW motor delivers 112PS to the front-wheels. And with 300Nm of torque available, the eVito easily whistles its way onto fast moving road; however, the van struggles for performance once you pass 50mph. 
The cabin has three seats as standard and an eight seat Tourer is also available. All vans get cruise control, multi function steering wheel and crosswind assist to prevent the van from drifting out of its lane in strong winds. Reach and rake adjustable steering costs extra, along with things like alloy wheels, body coloured bumpers and anti-theft alarm.
Despite its limited range and sparse equipment levels, the eVito will fill a niche for delivery drivers who need a medium van for short runs in towns and cities. Its 2p-per-mile running costs (depending on your electricity tariff) and exemptions from VED and urban pollution charges also give it plenty appeal for van drivers who cover low urban mileages. 
What does a Mercedes-Benz eVito (2019) cost?
Mercedes-Benz eVito (2019): What's It Like Inside?
The standard diesel-powered Vito is offered in three lengths, but the eVito drops the smallest van from the range in order to fit the battery pack. This mean lengths range from 5140mm for the long version and 5370mm for the extra long. The battery pack is fitted under the load floor, which means you get the same 6.0-6.6 cubic metres of load space as the standard van.
Utilising the load space is easy, thanks to the twin rear doors that can be opened to 180 degrees and secured so you can load/unload the van without having to open the doors each time you return to the vehicle. The cabin can also be separately locked to keep valuables safe as you work. All versions of the eVito will hold three Euro pallets, with the side doors being wide enough to accommodate the third pallet.
The sides of the load area are protected up to half height with plywood, but this can be extended to roof height if needed. All vans get a full size bulkhead as standard and a non-slip floor coating can be fitted at additional cost. There is also an optional LED lighting strip for illuminating the load area at night. 
While practical and easy to load/unload, the eVito suffers the same shortcomings as the standard van with the absence of a load hatch in the bulkhead hindering the van's ability to carry long items like copper pipes. There's no high roof option either. 
Alongside the panel van, Mercedes-Benz offers a minibus that will be useful for city-based taxi companies who need a large people mover without the restrictions of a diesel. 
The cabin of the eVito is solid and practical. The layout is easy to master and all vans get manual air con as standard, along with a multi function steering wheel that lets the driver adjust the audio or navigation (if fitted)  without taking their hands off the wheel. The foot-operated parking brake takes some getting use to and feels a little old fashioned for a modern electric van. Reach adjustment for the steering wheel also costs extra. 
The seats are firm and supportive, which makes them ideal for long days behind the wheel. All panel vans get three seats up front, although the middle seat is a tight fit for large adults. You also get a handful of storage areas for documents and cups, but nothing like the modern mobile office layout for laptops and tablet computers that you get with the eVito's diesel-powered rivals like the Transit Custom and Renault Trafic. 
What's the Mercedes-Benz eVito (2019) like to drive?
It might not travel as far as the diesel-powered van on a single tank of fuel, but the eVito has all of the handling and refinement characteristics that have made the Vito so popular with drivers for so many years. 
As you might expect from an electric van with a maximum range of 93 miles, the eVito is designed for the medium size van jobs that cause diesel engines (and DPFs) the most headaches. In this case, that's short runs for multi drop deliveries, which is the niche that the all-electric Mercedes-Benz is aiming for. For all other van drivers - especially those who regularly spend their working day out of town - the eVito will make little sense.
The 84kW motor delivers 112PS to the front-wheels and is clearly designed for short runs on city streets, with its 300Nm of torque running out of puff once you approach 50mph. The van has a limited top speed of 62mph, but this can be optionally increased to 74mph for those who need to venture onto the motorway. 
The eVito is easy to drive, with its light steering and silent motor making it a relaxing van to amble around town in. At low speeds it feels similar to the 111 CDI and even fully laden the van has a meaningful punch at low speeds, which means you won't be holding up traffic every time you meet a busy road or roundabout. 
As well as three driving models - comfort, economy and economy+ - that focus the electric motor towards performance or battery preservation, the eVito gets a comprehensive energy recovery system that tops up the battery by applying regenerative braking each time the driver lifts their foot off the throttle. Admittedly, it feels a bit odd at first, but after a few long runs it becomes surprisingly easy to find a rhythm. Alternatively you can switch the system off altogether, but Mercedes-Benz claims that 15 miles of battery can be recovered over a working day.
Like the standard van, ride comfort is excellent and the eVito doesn't pitch or roll about under heavy acceleration or braking. You also don't get the traditional bouncy ride when the van is unladen.
The eVito might be a little sparse when it comes to luxuries, like alloy wheels and touchscreen infotainment, but it gets plenty of safety kit as standard with crosswind assist and an anti-rollover system. The van will also monitor the drive to detect typical signs of tiredness and issue an alert if it thinks a coffee break is required.