Review: Renault Kangoo Z.E (2017 – 2020)
Rating:
Comfortable to drive, will cover up to 120 miles in real-world driving conditions, battery can be topped up with 22 miles range in one hour.
Cabin feels a little dated compared to its rivals, air con isn't fitted as standard, 640kg maximum payload.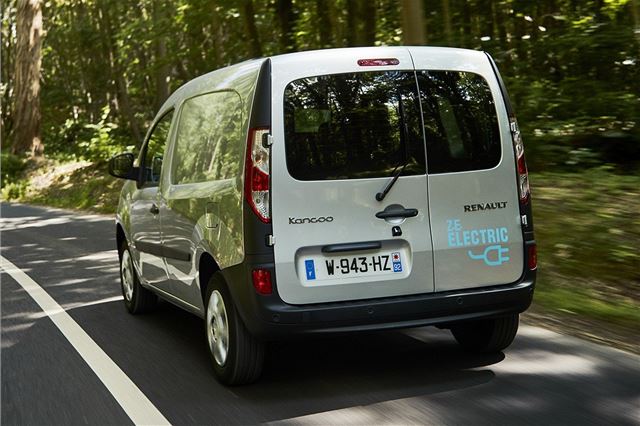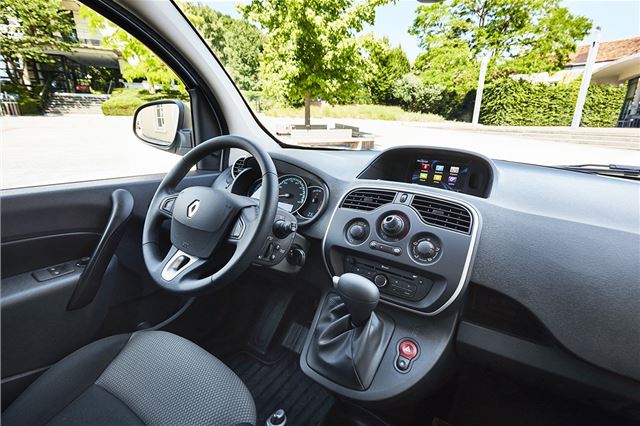 Recently Added To This Review
25 April 2018 Renault vans now available with supplied sign writing
Ordered at the same time, or soon after, the van sale is completed, the sign writing is created within three standard templates. These allow the customer to add their logo, expertise/services offered,... Read more
4 April 2017 2017 Kangoo Z.E revealed
Kangoo Van Z.E. 33's autonomy marks an increase of more than 50 per cent, which means it can cover ever more ground than its predecessor – reaching 170 miles over an NEDC cycle (equivalent... Read more
Renault Kangoo Z.E (2017 – 2020): At A Glance
The Renault Kangoo Z.E is the all-electric van with huge potential. Easy to use, practical and capable of travelling up to 120 miles on a single charge, the Kangoo panel van shows that you don't have to downsize your professional expectations when it comes to choosing a workhorse, with zero tailpipe emissions.
Officially, the 2017 Kangoo Z.E has an all-electric range of 170 miles, but in a bid to address range anxiety head-on Renault has taken the unusual step of publishing real world economy figures for the all-electric Kangoo panel van. This means a driver can expect the Kangoo to cover 75 miles in the winter months and 124 miles in the summer on a single charge, compared to the 50 and 78 miles seen in the previous version.
Recharging the battery is simple, with the socket situated at the font of the van above the grille. A full charge takes six hours - when plugged into a wallbox - and 22 miles can be added in just a single hour, which is handy for topping up the range when parked up during a lunchbreak. 
The Kangoo Z.E is available in two load lengths - standard or Maxi - and can also be specified as a two-seater panel van or as a crew cab, with five seats. In its largest form, the Kangoo panel van will provide 4.6 cubic metres of space, with a load length of 2.1 metres. This can be extended to 2.8 metres when you specify the optional folding passenger seat, which lets the Kangoo carry pipes and planks of wood. A roof hatch can also be added for carrying ladders; however, owing to the additional weight of the battery pack, the payload of the Kangoo Z.E - in both standard and Maxi versions - is limited to 640kg. 
Like the diesel-powered Kangoo, the Z.E is good to drive with progressive and responsive steering that makes it effortless to park or perform a three-point turn. Feedback levels are also good though the steering wheel and pedals, which means you can easily judge how much grip the front-wheels have when tackling a series or bends or leaving a motorway via a slipway with a sharp turn. 
The Kangoo's 33kWh battery is linked to a 44kW electric motor to produce 60PS, which is well-suited for urban use, with zero tailpipe emissions and a silent operation. However, the Kangoo Z.E is not particularly at home on fast flowing roads and requires careful judgement to join a busy dual carriageway, with the 0-62mph sprint taking a HGV-rivalling 22.6 seconds.
Motorway performance aside, the Kangoo Z.E remains one of the best all-electric panel vans you can buy. Operators can choose to buy the van outright or part-purchase the vehicle and lease the battery. Both provide affordable options for professional drivers; especially when you factor in the low running costs - from as little as 2p-per-mile - and exemption from VED, congestion charging and Ultra Low Emissions Zone fees.
What does a Renault Kangoo Z.E (2017 – 2020) cost?
Buy a used Renault Kangoo from £10,188
Renault Kangoo Z.E (2017 – 2020): What's It Like Inside?
With two load lengths and the option of a five-seater crew cab, the Kangoo Z.E will suit most delivery drivers and builders; however, unlike the diesel-powered version, payloads for the all-electric van is limited to 640kg. In comparison the standard Kangoo will carry over 800kg, while the Nissan e-NV200 will manage 703kg. 
Load volumes for the Kangoo Z.E are unchanged, however, with Renault storing the battery pack under the load floor to minimise its impact on cargo capacity. As a result, the Kangoo Z.E boasts 3.0 - 4.6 cubic metres of carrying capacity. Maxi versions also get the longest load floor, at 2.1 metres, and this can be expanded to 2.8 metres with the option folding passenger seat and load hatch. The smaller version will provide up to 2.5 metres. There is only one roof height though. 
All Kangoos feature side-hinged rear doors that open out to 180-degrees and a sliding left-hand side door that makes it easy to access the cargo space. Maxi models get left and right-hand side doors and if you buy one of the high spec vans you'll also get parking sensors and rubber load floor coverings. Ply lining for the load walls and floor are available as extras, but there is no tow bar option owing to the fact that the electric powertrain can only pull 374kg. 
The cabin is spacious and comfortable, but is starting feel a little dated compared to some of the Kangoo's rivals, with an abundance of hard wearing but cheap looking plastics. Touchscreen navigation is available as an option, but its location at the top, deep inside the dashboard, make it awkward to use.
While a little basic, the layout is effective. The battery charge indicator is included in the instrument binnacle and there is also a digital display to show how many miles of range the van has so you can keep track of the status of the battery.
As a standard panel van, the Kangoo features two seats and both have plenty of head and legroom. The driver also gets excellent all-round visibility and the wide door mirrors manage to minimise blind spots, which means you don't have to fret about missing passing traffic or cyclists. 
What's the Renault Kangoo Z.E (2017 – 2020) like to drive?
Popular with builders, utility workers and delivery drivers, the standard diesel-powered Kangoo owes much of its popularity down to the fact that it strikes a superb balance between car-like handling and everyday workmanlike practicality. The all-electric version is no different, although its limited payload and range will make it off limits for those who carry heavy loads or use the motorway on a regular basis.   
As you might expect from an electric van, the Kangoo Z.E is at its best in town, with the silent electric motor and comfortable ride making it a pleasant place to spend the working day. The suspension does an excellent job of soaking up potholes and speed bumps, while body pitching is kept in check to prevent loads from toppling over in the back.
The electric powertrain adds some considerable bulk to the Kangoo, with the battery pack - which is located under the load floor - increasing the kerb weight by 130kg compared to the standard van. This means motorway and dual carriageway performance is sluggish. The 0-62mph sprint, for example, takes 10 seconds longer than the 110PS diesel, which means you'll be waiting almost half a minute to reach a moderate motorway speed. 
The Kangoo Z.E is powered by a 33kWh battery, which is linked to a 44kW electric motor to produce 60PS. While it might be somewhat lacklustre on the motorway, the all-electric van comes into its own as a short run commercial vehicle, with its nimble handling, responsive steering and silent operation making urban driving an enjoyable experience. 
Using the electric powertrain is easy: simply thumb the starter button, put the single-speed transmission in to drive and away you go. Recharging the battery from zero takes six hours from a wallbox and 22 miles of range can be added from just one hour's charge. This means you can add some useable range when parked up for lunch or when you take a break. What's more, depending on the electricity tariff, the Kangoo will cost as little as 2p-per-mile to run.