Review: Mitsubishi Shogun Sport Commercial (2018 – 2021)
Rating:
Brilliant off-road, better to drive than its pick-up rivals on-road, 3.1 tonne towing capacity.
Not as good as a Toyota Land Cruiser Commercial, 605kg maximum payload, expensive to buy and run.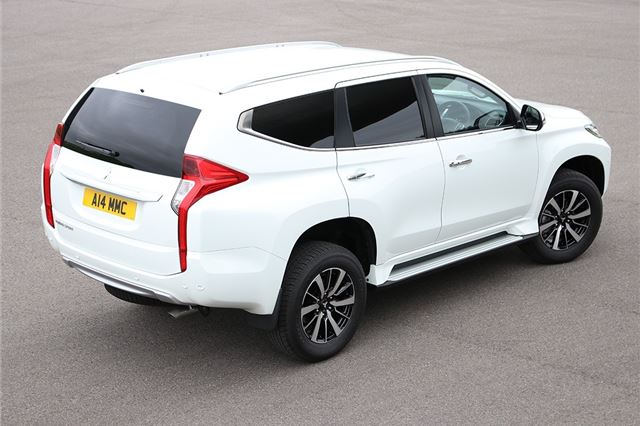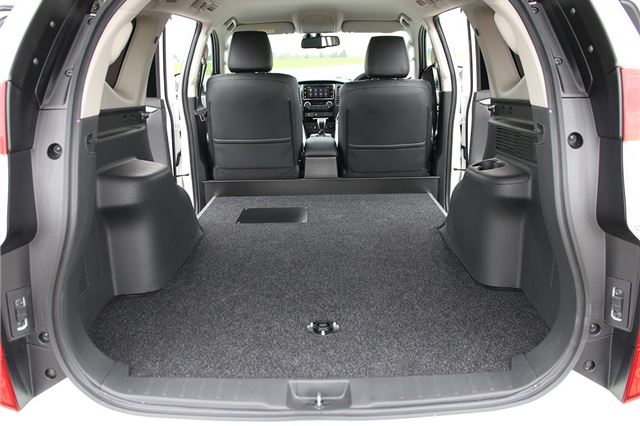 Recently Added To This Review
25 April 2018 Mitsubishi Motors officially unveils the all-new Mitsubishi Shogun Sport Commercial
. The purpose-built model, which is derived from the recently launched Mitsubishi Shogun Sport and is exclusive to the UK market. The new all-wheel drive Shogun Sport Commercial combines the go-anywhere... Read more
Mitsubishi Shogun Sport Commercial (2018 – 2021): At A Glance
Easy to drive, practical and powered by a brilliant four-wheel drive system, the Shogun Sport Commercial should be the ultimate 4x4 van. Sadly Mitsubishi's rugged appeal is dented by its high price, huge running costs and 605kg payload capacity. 
The Shogun Sport Commercial is based on the mechanical underpinnings of the L200 pick-up and geared for heavy duty off-road work, with 218mm of ground clearance and a water wading depth of 700mm. All versions use Mitsubishi's tried and tested Super Select II all-wheel drive system that allows the driver to switch from rear-wheel to four-wheel drive on the move.  
This SUV-based van gets everything you need to tackle rural or wintery conditions, with dedicated off-road driving modes, low-range gears and a central locking differential that will plough through heavy mud, sand and snow. 
The 2.4-litre turbodiesel - lifted from the Series 5 L200 - is linked to a smooth shifting eight-speed automatic. The four-cylinder diesel produce 180PS and is packed with torque, which means there is no shortage of low-gear pull for climbing steep hills or tackling loose and slippery surfaces. The 3100kg towing weight will also allow the Shogun to breeze along when hooked up to a horsebox or heavy trailer.
The load area is practical enough, at 1920mm long, 1000mm wide between the rear wheel arches and 1040mm high. But the boot opening is narrow and the 605kg payload is poor, even by car-derived van standards. The Toyota Land Cruiser Utility Commercial, for example, will carry up to 756kg.
Running costs are significantly higher than the Toyota: the Shogun Sport Commercial returns an official 32.8mpg, which even by pick-up standards is poor. That said, spec levels are high with all models getting touchscreen infotainment, LED headlights, a rear view camera and parking sensors. The conversion includes a six-inch bulkhead and a completely flat floor with bonded carpet.
As a rugged 4x4 van, the Mitsubishi Shogun Sport Commercial covers the basics, but falters against its key Toyota rival. The Land Cruiser is cheaper to run, better to drive and equally good off road. Factor in Toyota's comprehensive five-year/100,000 mile warranty and it's difficult to see how the Shogun can compete with Mitsubishi's five-year/62,500 mile cover.
What does a Mitsubishi Shogun Sport Commercial (2018 – 2021) cost?
Mitsubishi Shogun Sport Commercial (2018 – 2021): What's It Like Inside?
The Shogun Sport Commercial has a maximum payload of 605kg, which is significantly less than 1000kg offered by a typical double cab pick-up. Even the largest version of the Toyota Land Cruiser Utility will carry 756kg, which leaves the Mitsubishi at a distinct disadvantage when it comes to payload.
That said, you do get a longer loadspace in the Mitsubishi with an area that measures 1920mm long, 1000mm wide (between the rear wheel arches) and 1040mm high. In comparison, the Toyota offers a load length of 1170mm in the short wheelbase Land Cruiser and 1630mm in the long wheelbase version. 
Like all SUV-based commercial vehicles, the rear seats are replaced with a completely flat load area. We do question the use of a carpet for the loadspace floor, however, with Mitsubishi's rivals using a non-slip rubber covering that feels more durable and easier to clean. 
Accessing the load area is generally fine, with the tailgate lifting up and providing some shelter if the weather is wet. However, the boot opening is a little narrow and the high plastic lip has a habit of catching heavy items. Most of the interior is plastic lined and feels durable enough to survive light knocks. 
The rear side windows are covered with a opaque plastic film. Mitsubishi offers optional metal panels to improve security. However the rear window is clear and this makes it easy for people to see inside. We'd recommend buying some additional opaque film to cover the tailgate window, if you regularly carry expensive tools or equipment.
Up front, the cabin is identical to the standard Shogun Sport passenger car in '4' trim. This means standard equipment is high with leather trimmed seats, adaptive cruise control and dual zone climate control fitted as standard.
There is no factory fit navigation; instead, the car uses a touchscreen system with full Apple CarPlay and Android Auto connectivity. This means you can pair your smartphone and use its mapping to get around.  
What's the Mitsubishi Shogun Sport Commercial (2018 – 2021) like to drive?
The Shogun Sport might be based on the same body-on-frame frame construction as the L200 pick-up, but it delivers a much more refined and SUV-like road experience. This is down to the fact the Shogun Sport uses a multi-link rear suspension arrangement with coil springs, which is far more sophisticated than the leaf springs employed by the L200. 
This means the Shogun Short can travel over speed bumps and pot holes without violently shaking its occupants. Corners can also be tackled with confidence, without the vehicle body pitching heavily from side-to-side. 
The 2.4 unit is a competent workhorse with 180PS, but there is heavy clatter at start-up and an abundance of diesel din under hard acceleration. Things do quieten down at motorway cruising speeds, but the four-cylinder diesel feels like a throwback to a bygone age of SUVs where loud noises and heavy cabin vibrations are deemed progressive. We have no complaints when it comes to the eight-speed automatic gearbox, however, which is smooth and easy to use. Running costs, even by the advertised fuel figures, is high. The Shogun Sport will officially return 32.8mpg.
The Shogun Sport is fitted with Mitsubishi's proven Super Select II all-wheel drive system, which the driver operates via a rotary dial on the centre console. The vehicle's default setting is rear-wheel drive, but activating the four-wheel system is easy and can be achieved on the move up to 62mph. There is also high and low-gearing, along with a rear differential that can be locked via a button on the dashboard. 
A wading depth of 700mm means the Shogun can comfortably tackle deep fords or flooded country lanes. An electronic handbrake is also standard, along with a hill descent system that will maintain a constant speed when travelling down a steep or slippery gradient. 
Like the L200, the Shogun Sport is an accomplished tow car; the maximum braked tow limit is 3100kg and a smart trailer assist system will automatically controls the engine power and braking force at each wheel to stabilise the vehicle and trailer is any swaying is detected. The 2.4-litre engine develops 430Nm of torque from 2500rpm, which means there is no lack of low-gear grunt to lug a heavy trailer or horsebox up a steep hill or ramp.