Review: Renault Trafic SpaceClass (2017)
Rating:
Well-equipped as standard, comfortable transport for up to nine adults, affordable fuel costs.
Not as good to drive as its rivals, hit-and-miss refinement, some question marks over interior build quality.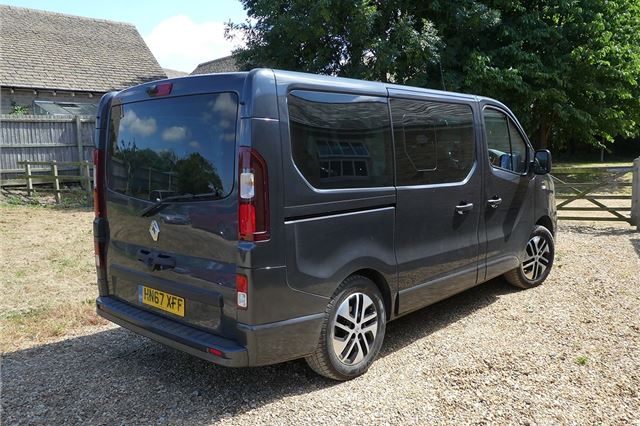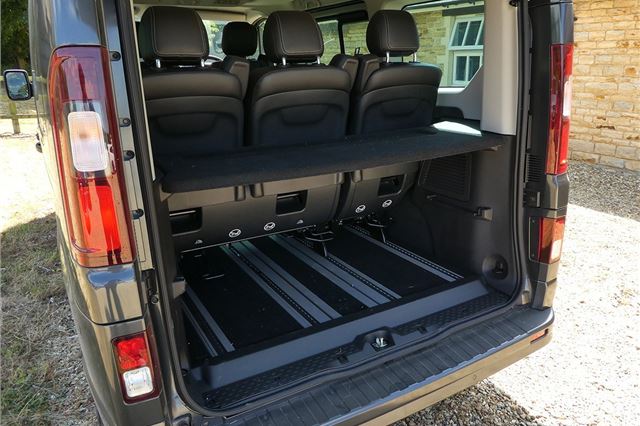 Recently Added To This Review
3 November 2020 Updated Trafic SpaceClass launched
The latest additions feature enhanced design inside and out, advanced semi-autonomous driver aids and Renault's latest infotainment technology. SpaceClass has been designed for drivers and passengers... Read more
20 November 2017 Trafic SpaceClass opens for orders
Renault Trafic SpaceClass is now available to order in the UK, with pricing from £32,500 excluding VAT. Built on the specification of the Trafic Passenger Sport, the Trafic SpaceClass offers flexible... Read more
Renault Trafic SpaceClass (2017): At A Glance
The Renault Trafic SpaceClass is a practical and well equipped people mover that provides comfortable, long distance transport for up to nine adults. Affordable fuel costs add a bit of value, but the SpaceClass feels undeniably short on quality and refinement when compared to its most-accomplished rivals.  
Going up against the Ford Tourneo Custom, Toyota Proace Verso and Volkswagen Caravelle, the Trafic SpaceClass matches its rivals for usability with rail mounted seats making it easy for taxi drivers, hotels and airport shuttle firms to tailor the layout to match their professional needs. There are more than 50 different configurations and high spec models get two pairs of pivoting chairs in the back for limo-like comfort. 
The SpaceClass matches its rivals for passenger space too, with nine-seater versions accommodating six in the back over two rows of seats and a further two passengers in the front. Getting everyone in and out is simple with twin side sliding doors and seats that fold forward. Comfort is heightened by the standard fit of privacy glass, climate control with manual heating and air conditioning in the rear passenger area and six individual LED reading lights.
The Trafic SpaceClass also features 220V and USB sockets throughout the interior for charging phones and electronic devices. But it lacks quality in some areas. Indeed, the seats have an annoying habit to creak and rattle over rough roads, while the rear heating and ventilation controls feel distinctly cheap and aftermarket.  
The all-diesel engine line-up mirrors high spec versions of the Trafic panel van, with all SpaceClass MPVs powered by Renault's excellent twin-turbocharged 1.6-litre engine. Outputs vary from 125PS to 145PS, while advertised fuel economy peaks at a respectable 48.7mpg. 
However, while the four-cylinder engines are smooth and powerful enough for the job of moving up to nine adults, they lack refinement and this means lots of noise and vibration makes its way into the cabin. The SpaceClass is cumbersome to drive too, with its heavy steering and slow brakes making it a difficult thing to ever truly feel relaxed in when behind the wheel. 
Competitively priced, well-equipped and affordable to run as a business vehicle, the Trafic SpaceClass covers all of the basics requirements for a large people carrier, but it falls a little flat on refinement and quality, which means it gives particular emphasis on the 'van' part of the van-based MPV. Those wanting a more modern, car-like people carrier might be better suited with one of the Renault's rivals from Ford, Toyota or Volkswagen. 
What does a Renault Trafic SpaceClass (2017) cost?
Buy a used Renault Trafic from £12,999
Renault Trafic SpaceClass (2017): What's It Like Inside?
Renault has a rich history when comes to building large and comfortable people carriers. The Espace effectively created the large MPV segment back in the 1980s - fast forward 20 years and you'll find that Renault has utilised all of its passenger-friendly knowhow into creating this, the SpaceClass.
Available in three trim levels - Standard, Adventurer and Prestige - the SpaceClass accommodates up to nine adults, with all versions getting darkened privacy glass for the rear windows. LED reading lamps and rail mounted seats are also standard, with the latter making it simple for the seats to be shifted around or removed altogether. Adventurer versions feature seats that can be fully flattened to provide a fold-out bed, which means the van can double up as a camper for two adults to sleep in. 
As a basic people carrier, the SpaceClass does everything it says on the tin, providing three rows of three seats with lots of head and legroom for (almost) everyone - only the middle passenger in the front loses out with the gearstick limiting knee space.
Getting in and out, however, is easy with twin side sliding doors. The second row of seats also tumble forward to improve access to the third row. Boot space is limited when all of the seats are in place, however, with space for just two suitcases. But you can stack another two cases to roof height if you remove the rear parcel shelf. 
The SpaceClass is an impressive MPV to look at, with leather seats, touchscreen infotainment and a rear control panel for ventilation. However, it struggles to hide its van-origins. Indeed, refinement is hit-and-miss with occasional bouts of engine noise and vibration in the cabin. The seats also have a tendency to rattle and creak, while the controls for the air con in the rear underline the lack of quality with the roof lining flexing heavily as you press the buttons and dials. 
You do get lots of natural light in the cabin, with those in the third row getting a pair of panoramic windows to take in the rolling hills of the local countryside or gridlocked M25, depending on where your journey takes you.
There are also three USB ports on the B pillar and a 12V socket in row three. The middle row gets two Isofix points for child seats, but those wanting a child-friendly minibus will be better suited with the Toyota Proace Verso owing to the fact it has six Isofix points across the two rear rows.
Shuttle firms can specify the SpaceClass as a seven or eight seater, with the second and third rows being replaced with two pairs of chairs that can be individually reclined or turned to face each other. A removable central table containing numerous storage spaces and cup holders is also available.
What's the Renault Trafic SpaceClass (2017) like to drive?
Van drivers will instantly feel at home behind the wheel of the SpaceClass, with its punchy range of twin-turbo engines, upright seating position and excellent road visibility making it an easy MPV to acclimatise too.
However, owing to some refinement shortcomings, there's no hiding from the fact that this is very much a van with some seats bolted in the back. Indeed, the cabin can get quite noisy and uncomfortable over less than perfect roads. 
The dashboard is one of the best in its class and has lots of useful of storage compartments for notebooks, loose change, parking slips and water bottles. The seven-inch screen is home to the MediaNav navigation system which can be mastered in just a few minutes, with sharp and clear displays and prompt screen changes. It also has DAB.
The suspension is comfortable enough on the motorway, but does transfer occasional thuds when asked to deal with rough roads. All SpaceClass models use front-wheel drive, but are offered with Renault's Grip Xtend traction control system that provides improved handling on hilly and wintery roads.  
The 1.6-litre twin-turbo diesel engine is available with 125PS or 145PS, with both linked to a six-speed manual gearbox. According to the official figures, fuel economy for the 125PS engine is 48.7mpg and 155g/km, while the 145PS provides 47.1mpg and 159g/km of CO2. Both versions of the twin-turbo engine pull strongly through all of the gears, which means it seldom feels short on performance when fully laden. 
The main area where the SpaceClass falls short is on refinement, with notable wind and road noise. The engine also provides a fair bit of vibration through the steering wheel when being pushed for torque, which becomes quite unpleasant. The brakes are also slow to react at low speeds too, which makes the SpaceClass feel extremely heavy when driven around down. 
Like most van-based MPVs, the steering doesn't have a lot of feedback. However, despite its overly light feel, it's accurate enough for judging grip and reducing body roll on the corners. All vans gets parking sensors and rear-view camera as standard, which makes it easy to guide the SpaceClass into a compact parking bay or space.