Campervanning: Is winter the new summer?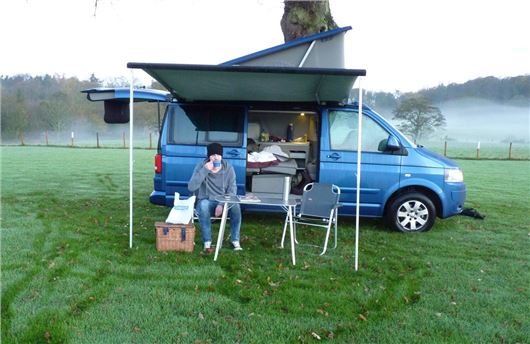 Published 17 March 2015
It's February, it's midnight, and four of us are shivering in a van parked next to a big tree on a field in Northumberland. Why? Good question. Welcome to our steel case of emotion.

I'll start by admitting that I'm no happy camper. The last time I went camping I woke up adjacent to a partially collapsed tent with the taste of Thunderbird still on my tongue. If you're after an expert's guide to hardcore camping, this isn't it.

But the point of a vehicle like the Volkswagen California, surely, is that it allows even the least proficient camper to pitch up somewhere and - well - be okay. So that's what we did. In February.

'We' is my family and I. My wife and our two kids, aged seven and five. Initially our intention was to drive to the south-west of Scotland and imbibe some of the beauty of the Lowlands, but flash flooding prevented that. Again, it's February.

So, instead, we pitched up closer to home, at a lovely little campsite in Northumberland almost on the banks of Bolam Lake.
But if there's one main thing that we learned from the subsequent camping, it's that the cold, not the wet, is consideration number one.
Bolam Lake is a new site, but it's affiliated with the Camping and Caravanning Club (CCC) and has reviewed well.

And there's the first thing to think about. When booking your site, the CCC is a great way to check for reputable sites, compare how much they cost, see what amenities they have and, vitally, see how other campers rate them.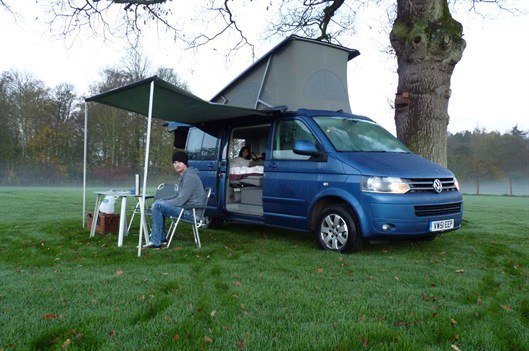 No man is an island. A cold island.

Ominously, our confirmation email from our site's owners advised that we "park close to the tree" because the ground was wet. This, I figured, would at least give us something to cling onto when our camper van sank into the ground.

The ground, it transpired, was rock hard on account of the cold, so no danger of sinking. I'm told that packing four carpet mats (one for each wheel) is a good way of preventing this particular issue if it could be a problem.

But if there's one main thing that we learned from the subsequent camping, it's that the cold, not the wet, is consideration number one.

The beauty of the California is that it caters to both the camping novice and the expert, the former because of the 'pull over and sleep' ease of use, and the latter thanks to myriad pro-camper features. These include electricity and water hookups, onboard water tank and a gas supply.

The necessary cables are stowed neatly in a compartment under the rear seat/bed and mean that on a site with the requisite supplies, the California can hook into mains electricity and water to become a compact second home.
If there's one thing I'd say about camping out of season – as in, not in the height of summer – it's that the generic tablet device shall be your saviour.
Alas, our site (which only opened to the public in June 2014) didn't yet have its electric hookup (it's coming early 2016), so we were forced to use the California on its interior battery, and bottled water. No big deal.

Now, if you have children, you'll know that being in a confined space with them can become quite 'challenging', to use the most pleasant available euphemism, within a matter of minutes. If we were in a tent, say, challenging would have become plain unbearable way before the time X-Factor would usually be starting and we'd be settling down to our kebab and chips.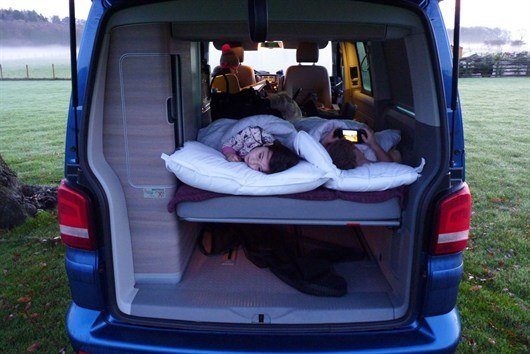 Just before it got very cold.
But at the risk of this beginning to read like one long advertorial for Volkswagen, the California bought us a good hour before everything went postal. So, at a time I'd usually be doing something – anything – to avoid watching Strictly Come Dancing, the Nichols were all getting involved in a game of discovery in the California. The adventure of necessity.
Finding, then putting up, the picnic table was one such game. (It's built into the sliding rear door) Then we worked out how to swivel the two front chairs through 180 degrees, which takes a bit of guesswork with the seat-back angle in practice. That bought us 10 minutes.

Putting up the pop-up roof, that took 15 minutes – one to push the button to put it up, and 14 to convince the kids to stop jumping up and down on the roof-mounted wooden bed slats. Locating every available storage space took another 10 minutes. Then retrieving and devouring our cooled smorgasbord of Aldi's best from the fridge, that was 20. The hours just flew by.

If there's one thing I'd say about camping out of season – as in, not in the height of summer – it's that the generic tablet device shall be your saviour. I'd like to pretend that we whittled wood and made a fire to sit around with hot chocolate and an acoustic guitar. I'd like to say that we packed Connect Four and enjoyed genteel family gamesmanship under the moonlight. I'd like to say that I'd packed everything we advise in our 'top ten things to pack for camping' – but I didn't.

The point of this trip was really not to suffer for a feature – as much as it felt so at the time – but rather to see how capable the California is at making camping fun, even for a group of novices. And at the most wrong time of year.

The answer is 'very capable'. To a point. Sorting out the interior bed was an absolute doddle and an extremely comfortable bed it made too, while the auxiliary heater did a decent job of making the cabin warm enough.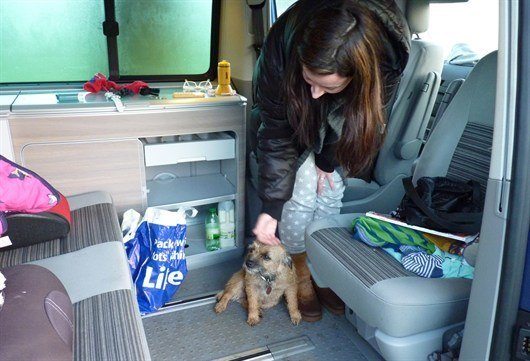 Someone seemed to enjoy a spot of camping.

That said, the pop-up level cannot, by nature of being made from canvas, provide the sort of elementary protection from the cold that you'll need – the two of us in the cabin got a far better, far warmer night's sleep than the two of us on top. And that's despite us, in a fit of uncharacteristic preparedness, packing mummy sleeping bags capable of sub-zero temperatures.

All-in-all, the nights' sleep you'll get in a California does make for a fresher morning than you'd get in a tent – and then you can simply put your bed away and get cooking on gas, literally. Before enjoying the fruits of your labour under the awning, sat on the deck chairs integrated into the tailgate. It's a wonderful time.

So, there are a few pieces of advice I'd give anyone looking to hire a California or any other sort of compact recreational vehicle, especially with a young family in tow:
A site with good reviews is essential. See the Camping and Caravan Club or Trip Advisor
An electrical hookup is preferable, but not vital – somewhere near places of interest, things to see and do, is more important
Make a virtue of the things to discover inside your vehicle
Take things to pass the time – board games or iPads
Remember your gas kettle and tea bags
Take many layers of warm clothing, many blankets. And a torch

And most importantly of all, agree who's in the cold beds and who's in the cabin beforehand. The last thing you want is a frosty atmosphere to go with the actual frost.
Oh, and go to a site with friendly proprietors, equipped with jump cables, because you might find that a bout of, say, 'battery mismanagement' means you'll need those things. Just a thought.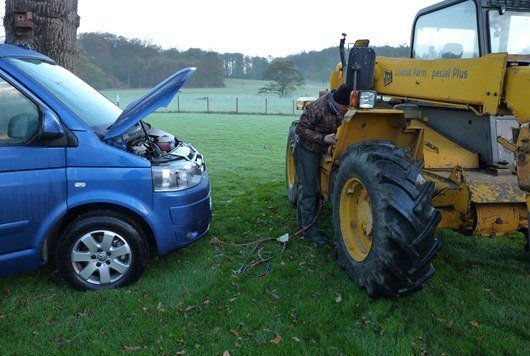 Nothing to see here...
Comments
Author

Mark Nichol
Latest
Save 12% on GAP Insurance
Use HJ21 to save on an ALA policy
See offer