Essential tips to keeping your camper van and its contents safe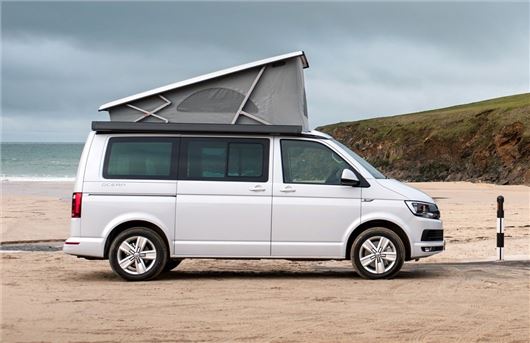 It only takes a few seconds for a thief to break into your camper van or motor home. Security is therefore a top priority, which is why we've consulted the Caravan and Motorhome Club to create a comprehensive guide to keeping your van locked and loaded at all times.
Safety starts at home
Camper vans aren't commuter vehicles and most of them will spend a significant amount of time parked at home. That makes them an easy target for thieves, so consider where you'll be leaving your van when you're not using it.
Off-road parking is always best, though many vans will be too large for your average garage. Think about how visible your vehicle is from the street and how easy it would be for someone to tamper with it.
If security is likely to be an issue then a secure storage facility may be the way to go – although it's not without cost. The Caravan and Motorhome Club has a list of storage UK facilities on its website. Alternatively, installing CCTV and security lights close to the van's usual location is a good way of warding off would-be criminals.
Kit it out
Modern camper vans are usually fitted with features such as alarms and immobilisers, but it's worth checking precisely what yours has to see if it's up to the task. The older the van, the less likely it is to sport up to date security gear, so retrofitting aftermarket equipment is worthwhile if yours isn't fresh out of the showroom.
Again bearing in mind that camper vans are often stationary for extended periods – either at home or elsewhere – the battery can run flat, leaving the alarm without power, so it's a good idea to make a note on your calendar or phone to check it at regular intervals. Extra precautions such as wheel clamps and steering locks will also go a long way, and it's worth buying quality gear approved by recognised safety bodies such as Thatcham, Sold Secure or SCM.
Track and trace
GPS-based tracking systems go one step further. They will help the police to recover your van in the event that it is stolen and, though fitting and subscription to the service is not without cost, some insurers may reduce your premium if you're using an approved company.
As with alarms, you need to make sure the battery has enough juice to power the tracking system, and the most effective services will include call centre backup (they're more likely to get a police response) and continue to track the van outside of the UK, as stolen vehicles are often shipped abroad. 
On the road
It sounds simple, but the best way to deter break-ins when you're out and about with your camper van is to keep anything the least bit valuable out of sight when the vehicle is unattended. Even if you're at a campsite, it's never a good idea to flaunt prized possessions then turn your back – and definitely remove as many contents as you can before the van starts another spell on your driveway. 
The beauty of a camper is that there are no hard and fast rules about where you stay. However, that also means you need to be diligent about where you park for the night. Well-run campsites are generally pretty safe, but unfamiliar roadside or motorway service areas, for example, may not have the same level or feeling of security, so pick your spot carefully and book a friendly place in advance if you can.
If your van has window blinds, always close them to cover the interior when you leave your van during the day or evening. If your van isn't fitted with blinds, invest in some window covers. If you must leave money or valuables inside invest in a compact safe, which can be secured to the body of the vehicle and fitted inside a cupboard hidden from view.
Never leave your van unlocked at night - especially if you're asleep inside - and pack away loose items, like picnic tables and chairs, as these are easy targets for petty thieves. 
Finally, keep the van's registration, insurance and other vital documents in a secure place at home – and it's a good idea to have a few photos of the vehicle on file. That way you'll have all the relevant information your fingertips if the worst happens. 
Comments
Author

Jack Carfrae
Latest