Our Vans: Mitsubishi L200 2.4 MIVEC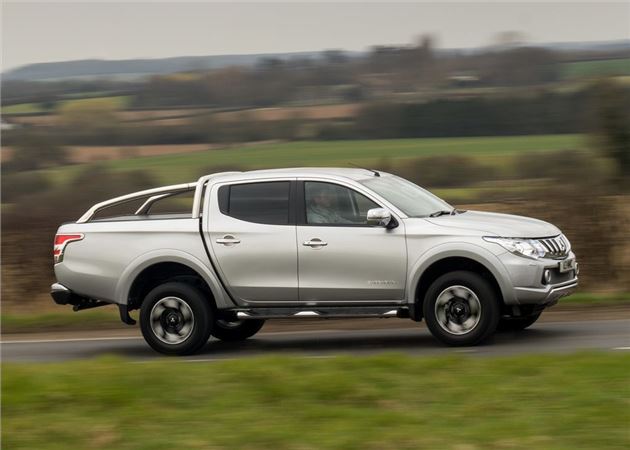 4 May 2016: Will the L200 really cover 700 miles on a single tank?
The Details
| | |
| --- | --- |
| Current mileage | 1874 |
| Claimed economy | 42.8mpg |
| Actual economy | 31.4mpg |
Mitsubishi claims the Series 5 L200 will cover more than 700 miles on a single tank of fuel. Yes, 700 miles. That's the equivalent of driving from my house in Cambridge to Glasgow. And then back again. All on one tank of fuel. Impressive, eh? 
Well, it would be if it was true. You see, after filling up my L200 last week, I discovered that it doesn't cover more than 700 miles on a single tank. In fact, it doesn't even cover 600 miles, or 550. Nope, try 524.8 miles, which is 175.2 miles short of what Mitsubishi advertises. Now, I know overstated fuel economy is nothing new, but even by Real MPG standards that is poor value.  
To make matters worse I have not carried anything in the back of the L200 or carried any passengers. In fact, for the past two weeks, it has just been me, which poses a real question: how many miles will the L200 cover with a full load and two or three passengers on board? At a guess, less than 500 miles.
Given the fact that everyone knows claimed fuel economy ratings are so misleading, I am unable to understand why Mitsubishi has gone to so much effort to advertise that fact that the L200 does more than 700 miles on a single tank. Especially when such things are so easy to challenge and disprove. Of course, it could be argued that the poor economy is down to driving style and conditions. But, unless I motor everywhere in second gear, there's no way a modern vehicle should miss its claimed economy by 170+ miles.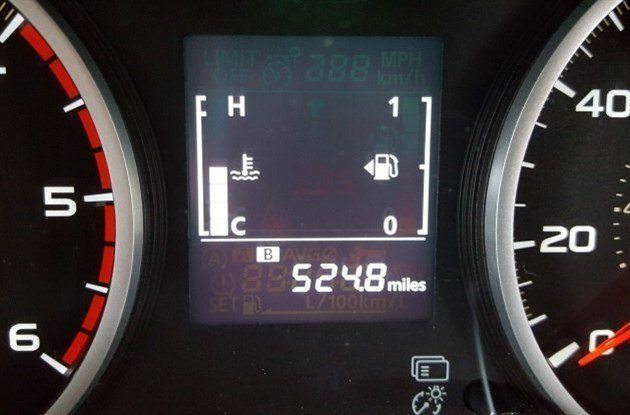 Mitsubishi says the L200 will do 700 miles on one tank of fuel. We beg to differ...
Fuel economy ranting aside, the L200 has impressed. The cabin is comfortable and durable, with really good seats and lots of head plus leg room for five adults. The off-road system is also second to none, which means the L200 really will go anywhere you point it. 
However, running costs rule the roost in the world of commercial vehicles and it is here that it will lose many fans, because its fuel costs are not much better than the old Series 4. It's a real shame because the 2.4-litre engine in the Series 5 is so much better than the old 2.5 unit, with more power and torque. 
The 2.4 unit is quieter too, which makes it a lot better for long distance driving. The Series 4 would drown out the radio and give you a headache on the motorway, with a loud drone. Thankfully, that isn't the case here, which means you can actually enjoy the infotainment system and listen to music or DAB radio.
On the downside, the ride can get quite choppy, but overall the L200 is a decent long distance cruiser. It also gets cruise control and air con as standard - on all models, not just Barbarian - which means you can trot along with ease. Just don't count the fuel bills, it might upset you. 
« Earlier: What's all that bleeping noise? Later: Going tow-to-tow with the opposition »
Updates

It's the end of the road for the L200 Barbarian. So what better time for Dan to provide his final thoughts on Mitsubishi's pick-up.

While the L200 might have its faults, its all-road credentials should never be doubted, says Dan.

Thinking of adding parking sensors to your L200? Don't bother, the rear camera sees all.

Using the L200 as a family runaround might not be cheap, but it sure is fun. As Dan discovers...

Things are not always what they seem in the world of pick-up trucks. As Dan finds out when he goes off to see the new Fiat Fullback.

With one of the smallest load beds in its class, the L200 isn't as practical as it should be, according to Dan.

Has the lifestyle sector made the modern pick-up soft? Dan looks for some answers with the Mitsubishi L200.

The L200 boasts some impressive load numbers, but how do they stack up against the competition?

4 May 2016: Will the L200 really cover 700 miles on a single tank?
Dan finds Mitsubishi fuel economy claims for the L200 to be somewhat wide of the mark. About 176 miles to be exact.

The L200 might be packed with useful technology, but it doesn't have to be so bleeping vocal about it.

Pick-ups might be big and burly, but they're have their vulnerabilities, as Dan has soon discovered...

Dan takes the L200 Barbarian. How will Mitsubishi's workhorse cope with life on the HJ Vans fleet?