Used Van Buying Guide: Nissan NV200 2009 - present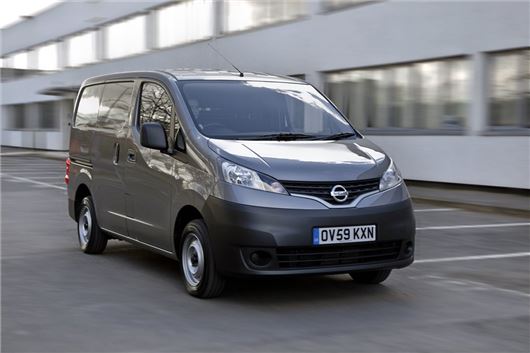 The Nissan NV200 was launched in late 2009 and won almost immediate praise, being good enough to win the Van of the Year accolade in 2010. Packing masses of space into its 4.4m overall length, Nissan's light panel van boasts a volume of 4.2 cubic metres - a full 900 litres more than a Citroen Berlingo.
Indeed, to match the NV200's volume you'll need to look at long-wheelbase versions of its rivals. Even here it excels, with 200 litres more than a Renault Kangoo long-wheelbase and matching that of a long-wheelbase Vauxhall Combo.    
What it delivers in space it might lack a bit in style, but that is a compromise most buyers will be happy to make such is its usefulness. Even today, few of its competitors are able to match its carrying volume, though most offer the possibility to better the 795kg maximum payload. 
In addition to the standard panel van there's a crew van which seats five, or a full seven-seater Combi, a wheelchair accessible adapted model and a refrigerated version (in partnership with Gruau SA) all from 2010 onwards. What you'll not find with the NV200 are the differing wheelbase or roof height options that competitors offer. 
To find the latest van deals, visit: Honest John Vans For Sale
Engines/transmissions
While other countries were offered a 108PS petrol 1.6-litre engine, UK customers only had the choice of a single 1.5-litre four-cylinder turbodiesel badged dCi with 85PS and 200Nm of torque. Borrowed from alliance partner Renault, the diesel unit is mated to a five-speed manual transmission driving the front wheels.
The NV200 has been subject to a number of recalls, including one relating to loss of steering thanks to a faulty steering wheel boss.
The official consumption figure is 54mpg on the combined cycle, with CO2 emission of 137g/km. To that single choice Nissan would add a more powerful version of the same engine, announcing it at the Hanover Motor Show late in 2010.
That more powerful 110PS joined the line-up from July 2011, only being offered on SE specification and upwards. Producing 2g/km more CO2 over the 85PS version, the bigger output also brought Euro5 emissions certification and a six-speed manual transmission. The Combi seated version upped the power of the base unit with 89PS in 2011, it also being Euro5 compliant, Nissan adopting it across the range, the firm quoting outputs throughout the NV200's life as 85, 86, 88, 89 and 90PS, though most default to 85PS or 90PS in the classifieds.
The NV200 is also offered with a plug-in electric drivetrain, borrowing its battery and motor from Nissan's Leaf electric car.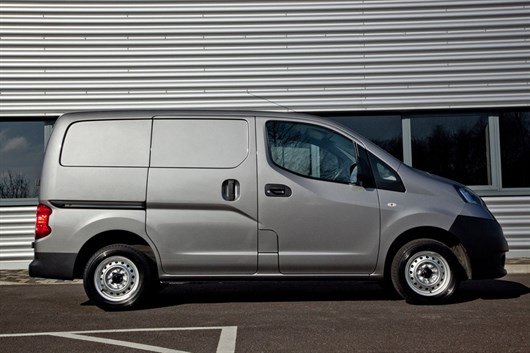 Maintenance 
As ever, buy on condition, and make sure it comes with a comprehensive service history. Do that and you needn't be afraid of high mileage examples, indeed, higher mileage models are often in better condition than low mileage short drop delivery vehicles.
Either way it should have visited the mechanic every 12,500 miles, or annually, Nissan offering the NV200 initially with a three year 100,000 warranty, that growing to five years.
Take it to a Nissan dealer and you'll expect to pay in the region of £244 for a full service, independents typically charging around £70-£80 less than that. Parts costs for a full service vary depending on where you take it, but they should be between £60-£100 as a guide, the service itself taking one or two hours.
A timing belt replacement will cost around £220 from a Nissan dealership, that dropping to around £160 if you shop around the independent service centres. The cambelt should be replaced every 54,000 miles or 48 months.
Replacing the brake pads on the front should cost anywhere between £80-£110, again depending on whether you take it to Nissan or an independent garage, the rear brake shoes between £60-£90. If your clutch goes you'll be looking at a bill of between £400-£660, for the two or three hour job. 
Pricing
Plenty of availability, so it's worth searching for the best equipped example within your budget. As with most commercial vehicles prices are more aligned with mileage than years. It is possible, as an example to buy a higher mileage 100,000+ miles 2012 1.5 SE for the same price as a 2010, 65,000 1.5 SE model.
Around £3000 will buy you the earliest, highest mileage examples, though the £5000-£6000 price category provides a huge choice of newer examples, in higher specifications (Bluetooth equipped) in the 30,000-60,000 mileage range. Look for those offered with additional warranties from traders, or having the balance of Nissan's own five year warranty.
Spend £7000 and above and you're getting into two to three-year old examples with good specifications and the later 90PS of the base engine, and more choices of the 110PS version. Look for models that have been equipped with air conditioning, or the Safety Pack, which included ESP stability control as well as a passenger and side airbags.
Increase your budget to £9000 and above and you'll be into year-old low-mileage NV200s, or specialist models like Wheelchair access Combis or refrigerated units. Spend any more and you'll be able to buy an ex-demo low mileage or discounted pre-registered, delivery miles example from a Nissan dealer.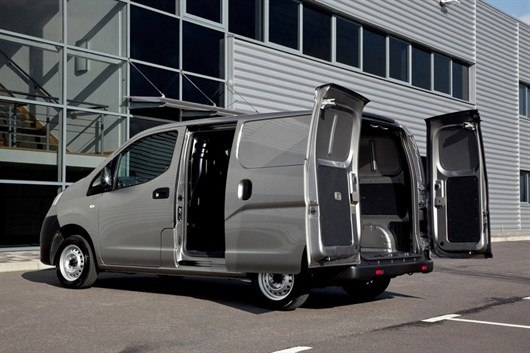 What we said
"The asymmetric rear doors open out to a maximum of 180-degrees to leave a clean and unhindered load entrance, while the twin sliding side doors that are standard on all NV200 models only go to highlight the thought and consideration that have gone into the van's design.
"Further evidence of Nissan's attention to detail in the design of the NV200 is its low load sill height and a load area length of just more than two metres. A little intrusion from the rear wheel arches is evident but it won't stop you from packing the Nissan to the gunwales with kit, helped by a taller roof height than much of the competition."
What to watch
Check the brake lights are working as the brake light switch is a fairly common breakage. It should be obvious, as it'll leave the ABS light glowing in the instruments.
Many complaint about the quality of the Bluetooth connection on the standard head unit. It's easy/inexpesinve enough to buy an aftermarket double DIN unit to solve this.
The NV200 has been subject to a number of recalls, including one relating to loss of steering thanks to a faulty steering wheel boss. It affects Feb 2012 to July 2012 built examples, so if you have one, make sure it's been checked.
Check the quality of the gearshift, the five-speed gearbox is - like the engine - car derived, so if it's been abused or frequently hauled at maximum capacity it might fail. It should be obvious if it's on its way out, with any noises, crunching or difficulty selecting gear pointing to a failing transmission.

Open the bonnet and check for any loose, leaking pipes, the turbo pipes in particular can come loose and cause the engine warning lights to come on and limp-home mode.

The exhaust is prone to rattling, check the tightness of the mounts underneath to prevent this.


Is the cover or waterproofing missing around the ECU? Ingress is a known weak point and if water gets in and corrodes the ECU you'll get all manner of warning lights and an expensive repair bill. 
Spacious yet compact, the NV200 is a perfect urban van that's yet to be surpassed on volume among its regular wheelbase rivals. Inexpensive to buy and run, the NV200 might not be the first light can you think of in the class, but it's well worth consideration. 
Comments
Author

Kyle Fortune
Latest