Used Van Buying Guide: Renault Trafic 2001-2014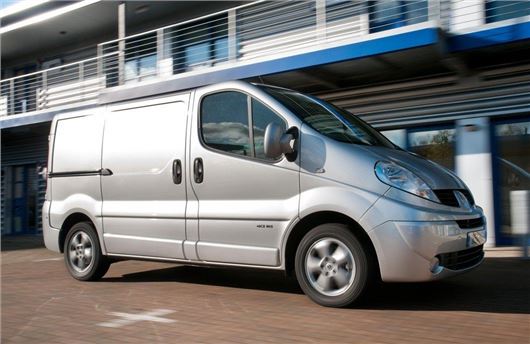 Introduced in 2001 and on sale through to 2014, the Renault Trafic was a collaborative effort between its alliance sister company Nissan and Vauxhall in the UK (Opel throughout Europe).
The Vauxhall wore Vivaro badges, while the Nissan was named the Primastar, it was built in various locations in Europe, including GM's plant in Luton, UK, and a Nissan plant in Barcelona. The Trafic was awarded the European Van of the Year in 2002, a year after it was launched. 
Like its rivals, the Trafic was offered in a variety of bodystyles and though its long life it was updated and facelifted on a few occasions, firstly in 2006, where it gained a slightly new look with revised bumpers and lighting (clear indicators over the previously orange ones), as well as a greater equipment offering as standard. 2010 would see Renault further enhance the Trafic, these referred to as phase three models, before its eventual replacement in 2014. 
Those phase three revisions to the Trafic range would see it fitted with a new dashboard, it bringing with it better stowage space and a document holder on the dash-top, as well as better integration of optional kit like Renault's TomTom sat nav. The fuel consumption saw a useful boost, too.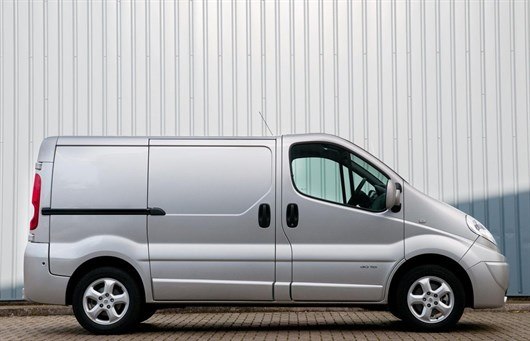 A favourite among builders and delivery drivers, standard equipment included a reach-rake adjustable steering wheel and a height adjustable driver's seat in all, though in 2012 the Trafic's vintage against its competition was made crushingly apparent with it only managing a two star 58 per cent adult protection score in the EuroNCAP crash tests - the Transit by comparison achieved a five-star score when tested as a family van.   
Engines/transmissions
The engine range consisted of a pair of diesels in 1.9 and 2.0-litre capacities, while a 2.5-litre dCi was also offered on range-topping models. During its life those engines would offer 80 and 100PS in 1.9 dCi guise and 90, 115 and 120PS in 2.0-litre form. The 2.5-litre unit's output was 135PS (from 2006 onwards 150PS), mated to a six-speed manual or robotised, two pedal version of it called quickshift. A 120PS 2.0-litre petrol version was also offered, it a rarity among diesel-biased UK customers.
From 2006 the Trafic's engines were all Euro 4 compliant and came as standard with a six-speed manual transmission. The specification of the facelifted Trafics would also be increased to include ABS anti-lock brakes with Electronic Brake Force Distribution (EBD), security improved with a remote central locking with deadlocking and a cat 1 alarm and immobiliser.  
Phase three Trafics would use the 2.0 dCi and 2.5 dCi engines, with the 2.0-litre coming with either 90PS or 115PS and 240Nm or 290Nm of torque, the 2.5 dCi being the 150PS output version. All brought improvements to economy and were fitted to six-speed manual transmissions as standard.  
Ask if the injectors have been replaced, they're a common failure - so much so it made headlines on BBC Watchdog
Maintenance 
Barry Niven, owner of Renault Trafic specialists, A&J Trading, in Barnsley, South Yorkshire, says servicing is key. Renault's official service schedule states 18,000 miles, but it's recommend they're serviced every 12,000 miles. The typical cost for that being £175 exc VAT.
Must checks include asking when the timing chain was replaced, as they're prone to stretching, a replacement typically required around the 100,000-130,000 mile mark and will cost £500 excluding VAT according to Niven. It's also wise to ask if the injectors have been replaced, they're a common failure - so much so it made BBC's Watchdog consumer programme. The problem centres around water ingress via the slam panel seal it allowing water to collect in the injector housings.
The rear brake callipers are another area to check, they can seize thanks to the rubber cover perishing, though you're only looking at around £85 a side if they need working on. The gearbox can be clunky from cold, though it will ease as its warms, it is always worth replacing the gearbox oil when servicing. The clutch concentric bearings are also problematic, they seize, if that needs fixing you'll face a bill of around £500 before VAT.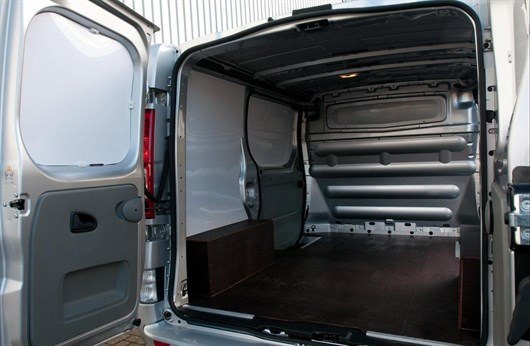 Bodywork, if not abused should remain rust free, replacement panels, doors and windows are all cheap, and readily available. The suspension doesn't wear any quicker than any of its rivals, again parts are easy to source and inexpensive.
As with all its rivals the exhaust gas recirculation (EGR) valve is known to soot up, causing them to stick open, these can be removed and cleaned easily enough as part of the usual servicing routine. During its life the Trafic was recalled on various occasions, these should have been dealt with on used examples, but it's checking that any recall work has been undertaken. 
Pricing 
Entry prices to Trafic ownership are as low as a few hundred pounds, but don't expect anything but lots of miles and mechanical woe at such bargain-basement levels. Good examples really start from around £1500 upwards, though really you want to be paying closer to £2000 if you want some reassurance that you're getting a decently looked after example. 2007 model year Trafics are available from around £2000, too, which get the neater looks, though they'll not be the best examples at that price.
The £3000-£4000 price point offers the best value to condition hunting, you can afford to be picky here, as there's lots and lots of choice around this price point. They were popular with AA patrols, so don't be surprised to spot plenty of yellow ones among the more usual white ones in the classifieds, at least you'll know the first owner knew how to look after them… 
To find the latest deals, visit: Honest John Vans For Sale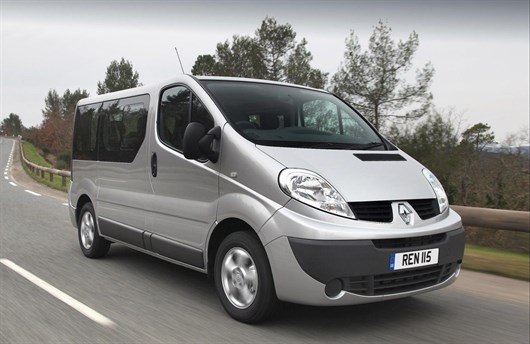 What we said 
"As an all-round choice, the 115PS turbodiesel is very good and it pulls strongly on the motorway and for overtaking slower vehicles. It's a smooth performer in every respect and, like the 90PS unit, it has light controls so you won't find your leg muscles take a pounding in stop-start jams.
"With a choice of two body lengths, two roof heights and two gross vehicle weights, the Renault Trafic remains one of the most versatile and practical vans on the market."
What to watch 
Service history is crucial, and it's preferable if it's been serviced more regularly than the 18,000 miles Renault suggests.
Any clattering or rattling can point to problems with the cam chain. Despite it being a chain it's known to stretch, ask if it's been replaced, it should be done around 100,000-130,000 miles.
General Motors PK5, PK6, PF1, PF6 manual transmission failure common in Vivaro, Movano, Traffic, and Primastar. The 'built-in' fault, which will result in failure, irrespective of how the vehicle is driven or serviced, is that the gearboxes are assembled in such a way that the preload on the bearings is massively over-torqued, which results in bearing failure, and the total destruction of the box from as low as 20,000 miles upwards. In some cases the boxes are built up so tight that it makes turning the box over by hand virtually impossible. Once the bearings are replaced, and shimmed correctly, the box will "go on" virtually indefinitely.
Ask when, and if, the fuel injectors have been replaced. They fail due to water ingress, it more common on earlier examples. If it's cutting out, or running roughly have them checked out.
Have the EGR valve cleaned periodically, likewise check the rear brakes for binding and ask when the gearbox oil was last replaced. 
An old van when it was replaced in 2014, the Trafic still has plenty of life left in it as a used purchase. Issues with it are well-known, and in fairness it's no less reliable than its direct rivals. Seek out a well-looked after example and keep on top of servicing and it should be relatively hassle-free as an ownership proposition.
It's simple enough to work on yourself, while there are plenty of garages competing to work on them, so servicing, running costs should be inexpensive. Part supply is plentiful, as are the vans themselves. 
Looking for more used van buying guides? Click here
Comments
Author

Kyle Fortune
Latest