Used Van Buying Guide: Toyota Hilux 2004-2015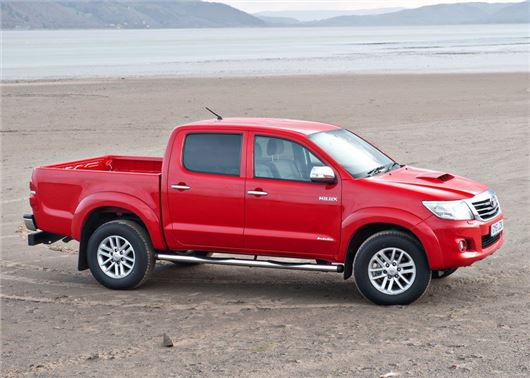 Say pick-up truck outside America and the Toyota Hilux is the vehicle most people will think of. It's an institution, having been around long enough for the current Hilux to firmly root itself in the public consciousness.
The Hilux remains at its heart a tough commercial machine, with a reputation built on Toyota's fastidious engineering and reliability. Top Gear telly was famously unable to kill a sixth generation model, and drove one, suitably modified by Arctic Trucks, to the magnetic North Pole. 
A tough machine then, which was offered in single, extra and double cab specifications, all UK Hilux coming with selectable four-wheel drive as standard. That dependable reputation does come at the expense of some civility, the Hilux not as sharp to drive as its rivals, with a firm ride when unladen, while the engine line-up doesn't have the easy performance of some - needing revving hard to produce their best.
It's hugely capable off-road, has a useful 860-1100kg load carrying capacity and can haul up to 2500kg with a braked trailer, too, that being 200kg less than Mitsubishi's L200. Throughout its 11-year run the Hilux would inevitably see several revisions to its specification - both under the bonnet and regarding equipment and styling. 
Engines/transmissions
The seventh generation Hilux was introduced in 2004 with a 2.5-litre with just 102PS and 260Nm, which proved fairly inadequate, Toyota quickly upping power and torque and adding a larger 3.0-litre to the model mix.
From 2007 Toyota would address some of the criticism of the Hilux engine offering, adding a 3.0-litre D-4D 170 engine to the line-up with 171PS, and upping power from the 2.5-litre four-cylinder to 120PS. Torque for that 3.0-litre unit being 343Nm, that peak output available from 1400rpm through to 3400rpm. The bigger engine was fitted to either a five-speed manual or four-speed automatic, the 3.0-litre additionally coming with a limited-slip differential to improve its road manners. The 2.5-litre engine's torque was increased, too, it swelling from 260Nm to 325Nm, it available from 1600rpm to 2600rpm.
The 3.0-litre engine would be further enhanced in 2008, with the Toyota Motorsport diesel performance kit which was fitted to the Invincible models being offered on a limited edition model which Toyota offered 500 examples of. Output increased to 197PS, torque to 430Nm, these combined helping reduce the 0-62mph time from 13.0 seconds to 10.5 seconds (11.4 secs for the automatic). 
The seventh generation Hilux was introduced in 2004 with a 2.5-litre with just 102PS, which proved fairly inadequate.
It didn't take long for Toyota to make further changes, with 2009 models getting revisions across the range. The automatic gained an extra gear, for five, while the torque output of the standard 3.0-litre engine increased to 350Nm. The changes helped improve economy and emissions, while all benefitted from bigger brakes as part of the changed specification.
Continuing with Toyota's near constant tinkering were some revisions to the 2.5-litre engine for 2010. It would see a 20 per cent boost in output - up from 120PS to 144PS, dropping the 0-62mph time by 2.5 seconds to 12.5 seconds. Torque improved too, adding 18Nm, for 343Nm at 2000rpm, the engine gaining new upgraded pistons to deal with its greater output.
Power would stay the same in 2012, but the addition of Euro5 light commercial vehicle standards would see the Hilux fitted with a Diesel Particulate Filter (DPF). This would reduced emissions and improve economy on paper, but in real world driving many suffered from a drop in mpg over non-DPF models that preceeded it, the Hilux remained a five-speed manual while many rivals offered six gears as standard. The engine and transmission line-up remained as per the 2012 revisions right through to this generation Hilux being replaced in 2015.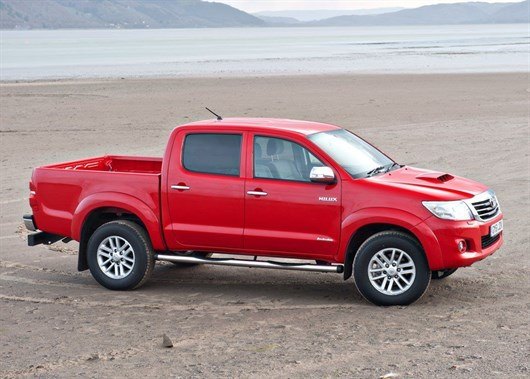 Maintenance
"If you're going to go crashing through the bush there is only one vehicle," says Clive Worswick, of Toyota Hilux specialists Bucklow Garage. Worswick should know too, as his business exports Hilux all over the globe. 
The Hilux has a few mechanical woes, mostly around the common-rail injection system. That's down to the quality of the fuel you put in it, says Worswick, with poor quality diesel not working well with the injectors. It's more common on the 3.0-litre than the 2.5-litre says Worswick, adding that if it's a problem it'll be smoky on start up, result in reduced performance and in some cases result in a tappet-like rattle from under the bonnet. Fixing it isn't cheap, it'll cost around £1000 before VAT for replacement injectors, it possible to refurbish them - for a few hundred pounds less.
Official service intervals are as high as 20,000 miles, but it's recommended to keep within a maximum of 12,000 miles or annually, while automatic boxes benefit from a fluid change at around 50,000-60,000 miles. Cambelts need changing around 90,000 miles, and costs about £200 + VAT, water pumps typically lasting 150,000 miles or so.
Check that the propshaft has been greased, the couplings still have greasing points, as they're typically overlooked when servicing. If the front one dries up it can lead to it failing and cracking the gearbox casing, which will result in an expensive fix. It's rare, though. A full service will typically cost about £250 +VAT, keep on top of that and the Hilux shouldn't present any issues.
Later cars, from 2012 onwards came with a DPF (Diesel Particulate Fliter) which doesn't do much for the economy, and can be problematic if it's left idling too long. There is a burn-through cycle, but if that doesn't work a full reset of the system can cost £300-£400.
Brakes are strong, as is the suspension, Worswick saying for every Toyota Hilux spring he's had to change he's had to do tens of multiples for other manufacturers, broken springs pointing to abuse and over-loading rather than being a common wear item.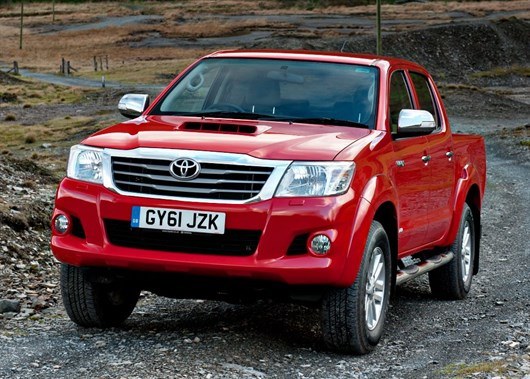 Pricing
The Toyota Hilux's reputation undoubtedly has a bearing on its pricing, it commanding more money in the classifieds than its pick-up rivals. You could buy one for about £4000, but a more realistic starting budget is around £5500, right through discounted near list prices on the last, nearly-new, and possibly still unregistered 2015 models still within Toyota's extensive dealer network. You might struggle to find early examples, as a sizeable volume of used Hilux are exported to Africa and Asia where their rugged dependability is hugely appreciated.
The biggest selection of used vehicles is around the £10,000 mark, where you'll have access to a huge number on sale, with reasonable rather than galactic mileages. You can afford to be picky here, so buy on condition, check out what extras - hardtops etc are included - and make sure it's got all its paperwork and service history. 
To find the latest deals, visit: Honest John Vans For Sale
What we said 
"The Toyota Hilux is as much a byword for pick-up trucks as the Ford Transit is for panel vans. This has come about by the Hilux seemingly having been on sale since Noah needed to nip down to the timber merchant's, but it's also based on unerring reliability and rugged construction."
"If the Toyota Hilux loses out to some newer rivals when it comes to driving, it still competes head on with them for the quality and construction of its cabin."
What to watch
If the mileage is reaching 90,000 make sure the cambelt is changed. The water pump should be replaced at the same time. 
The Hilux is largely free of electrical issues, though there was a problem with the switches on the steering column. Toyota issued a recall on this, if you're experiencing problems ask if it's been done, and contact Toyota if not.
Ask when the propshaft couplings were last greased, it should be done regularly, many garages unaware that it's a servicing requirement. If they dry up they can cause a lot of damage, if caught early you'll need to pay around £120+ VAT to have them replaced.
Any noise from the axles suggests it's frequently been overloaded, they can be repaired, but if you're buying look elsewhere as it points to abuse.
From 2012 onwards the Hilux is fitted with a Diesel Particulate Filter (DPF) but they don't like to sit idling too long and can be expensive to replace or reset. If you're looking to minimise bills, or are likely to leave the engine running while you're working elsewhere, look for an earlier, pre-DPF, Hilux.
Interior trim doesn't wear as well as earlier Hilux models, seats in particular aren't as resistant to wear and tear.
Listen out for any tappet-like sounds under the bonnet, if so it points to problems with the injectors.
Other hints that the fuel injection system is playing up is limited performance and smoke when starting up. Ask what fuel the owner has put in it, cheaper, poor quality fuel not doing the common rail injection system any good.
Not the sharpest looking, nor most exciting to drive pick-up you can buy, but for dependability it's right up there with the best. It deserves its reputation for rugged reliability, which isn't true of rivals like Nissan's Navara. That it holds its value well underlines this, as does the fact it's such a sought-after vehicle for export, where it'll provide years, if not decades of service in far-flung destinations where its load carrying capacity and strength aren't just desirable, but essential. 
Looking for more used van buying guides? Click here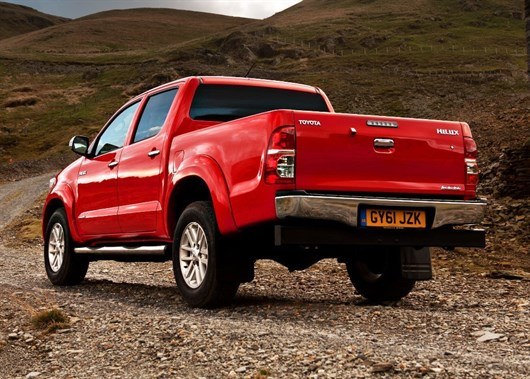 Comments
Author

Kyle Fortune
Latest