Used Van Buying Guide: Vivaro 2001 - 2014
Vauxhall's take on the Ford Transit, is, like so many commercials a joint-venture vehicle with Renault and Nissan. Built in Luton, the Griffin-badged Vivaro has lots to offer with low fuel costs and big carrying capacity, but what should you look out for when buying used? 
A popular choice, the front-wheel drive only Vivaro was offered with two lengths (4782mm and 5182mm) and two roof heights (1969mm and 2464mm). The loadspace available varied from 5.0-8.4 m3, the sliding side doors giving 1m wide access and 1.28m height - enough to easily accommodate Euro pallets.
Payloads varied from 1016kg-1271kg, that weight managed by a progressive-rate spring set up at the rear axle, while Vauxhall offered an optional FlexxCargo anchorage system to fix loads as conveniently as possible. The rear doors were either a pair of barn-style opening doors, or optionally a raising tailgate. From 2010 a full steel bulkhead was standard, it previously an option, though customers could specify it with a full height driver's guard if preferred.
For those wanting to shift human cargo the Vivaro was offered in 'Sportive' doublecab or fully-seated Combi formats in both long and short wheelbase forms. In addition the Vivaro could be converted with dropside flatbed and tipper rears, as well as access platform vans.
Engines/transmissions
At launch in 2001 the Vivaro was offered with a 1.9-litre turbodiesel four-cylinder unit with either 80PS or 100PS outputs. In addition, a larger 2.5-litre Dti unit was available, this delivering 135PS and 310Nm of torque. All early Vivaros were fitted with five-speed manual transmissions. A 2.0-litre petrol was also offered, but few bought the 16v 120PS petrol engine, making it a rare find in the classifieds.
In 2006 Vauxhall revised the Vivaro, and changed the engine offering in the process for Euro4 compliant ones. The base engine grew from 1.9-litres to 2.0-litres and this all-new engine badged CDTi and having outputs of either 90PS (240Nm) or 115PS (290Nm). The 2.5 CDTi grew in power to 145PS (320Nm), and all benefitted from the standard fitment of a six-speed manual transmission. A 'TecShift' automated manual transmission was additionally available as an option on the 2.0-litre 115PS and 2.5 CDTi models only. ESP was offered as an option across the range from 2006, too.
With the Vivaro in service right through to 2014, it would see further revisions to its engine choices, including the addition of the ecoFLEX models with either 2.0 CDTi 90PS or 115PS models with lower CO2 outputs than their non-ecoFLEX alternatives.
Between 2011 and its eventual replacement in 2014 the ecoFLEX models would benefit from Vauxhall's continued pursuit of lower emissions, with a Euro5 model having a fixed speed limiter for CO2 emissions of 174g/km and an official consumption figure of 42.7mpg.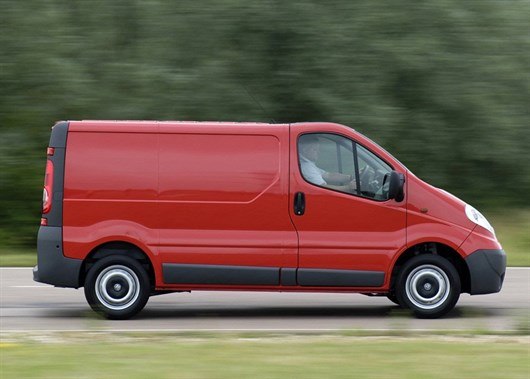 Maintenance
Service intervals varied throughout the Vivaro's production cycle, with the 20,000 annual mile service schedule of 2011 increased to 25,000 mile or two years from 2013. Specialists recommend that you ignore that, suggesting instead an annual or circa 12,000 miles for the greatest peace of mind. A service will be in the region of £150-£200 - preventative care better than business being sidelined due to breakdowns.
The engines come with a timing chain rather than a belt, but don't think that means it's maintenance free, as the chains can stretch
The engines come with a timing chain rather than a belt, but don't think that means it's maintenance free, as the chains can stretch, typically needing replacing between 100,000-130,000 miles. A replacement will be around £600. During its life the Vivaro was subject to a number of recalls, most of these quick fixes, relating to poorly tightened bolts or suchlike, but a couple were more significant.
Two are notable, one relating to corrosion-fused fuel injectors as a result of a leaky bulkhead seal, Vauxhall's service bulletin from August 2013 stating that it would make a 100 per cent goodwill contribution on vehicles up to seven years old and 248,000 miles. Previous service bulletins relating to this only offered partial contribution, depending on age and mileage. This was the issue that gained the Vivaro a degree of notoriety after being publicised on the BBC's Watchdog consumer television programme.
The other big issue with the Vivaro relates to the transmission. PK5, PK6, PF1 and PF6 manual transmissions are prone to failure, due to a build issue. The pre-load on the bearings are massively over torqued, leading to failure in gearboxes with mileages as low as 20,000 miles. Once these are repaired, and correctly installed they should last indefinitely - any Vivaros that might have had a problem certain to have been repaired by now.
These issues aside, maintenance should be as easy as any other van. Typical costs for service items are competitive, a replacement clutch fitted will cost around £550-600, new front brake pads £90 (around £200-250 including replacement discs), that timing chain replacement around £500, a new starter motor fitted £350, a pair of shock absorbers costing £200-£300 fitted and springs similar.
Pricing
There's a Vivaro to suit any budget. At the sub-£1000 to around £1500 bottom of the market it's a minefield of banjaxed non-runners and Cat D vehicles, though happy hunting if you're a handy mechanic and brave. You get what you pay for here, though there might be a few gems if you're prepared to hunt around. Better to spend a little bit more, and you'll be in the realms of running, recently serviced examples, these starting from about the £1800 mark, and not necessarily meaning galactic mileages, either.
The £2000-£3000 sphere sees a massive choice of vehicles on offer, allowing you to be relatively picky, with many having had comparatively easy lives - it simple enough to check out condition via online adverts. Ask what it's been used for, better that it's been carrying mail than rubble. Big mileage ex-fleet vehicles can be worth considering, as they're usually well maintained, though likewise, small, independent businessmen and women who've relied on their vehicle for work tend to look after them, too.
Above £3000 and the choice is vast, covering all age and type of Vivaros, from Crewcabs and dropsides to some specialist refrigerated models, and recovery vehicles. Ignore age, instead buy on condition, service history and mileage here, again, you really can afford to be picky given the vast number of vehicles on sale.
Up into the £5000 and above sphere and you'll start to find sub-100,000, lightly used examples, many residing in van sales centres and often coming with warranties. Again, the choice is so extensive you'll not be short of choice, so bargain hard for the best deal you can get. 
To find the latest used van deals, visit: Honest John Vans For Sale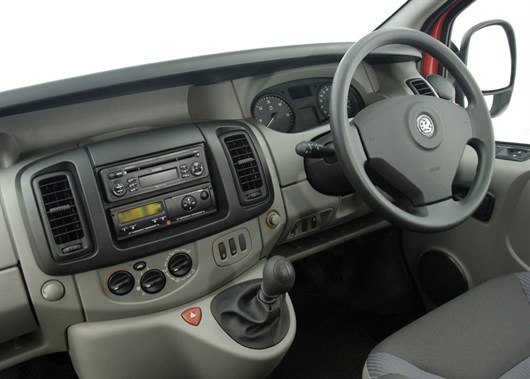 What we said
"Just as the controls give your physical being an easy time, so does the Vivaro's suspension. It's surprisingly supple for a commercial vehicle and doesn't deteriorate into wallow or excessive lean when the load bay is filled to its maximum capacity.
"The dash might not be the last word in cutting edge design, but what it lacks in flair it more than makes up for in clarity. It's easy to see the white on black dials and Vauxhall has placed the stereo and heating controls high up on the centre console to be within easy reach for the driver."
What to watch
Ask if the fuel injectors have ever been replaced, if it's running roughly or cutting out then have them checked.


Check the shift quality of the transmission, if it's notchy or vague the gear linkages might be worn. It's a relatively common fault, but an inexpensive fix - costing around £100-£150 to repair.


Rear brakes can bind, and springs can fail if heavily used. Both are straightforward and cheap repairs, but check prior to buying if either will need sorting.


Ask if the EGR valve has ever been cleaned, they clog up with soot and can cause issues. Likewise, ask when the gearbox oil was last changed, it often being missed on services. 


Any rattling or clattering from under the bonnet could point to a stretched timing chain. If it's not been changed around 100,000-130,000 miles it should have been.


If the biting point on the clutch seems very low have the pedal box checked out, there are reports of fatigued assemblies, causing the whole unit to shift, rather than just the pedal.


Ask when the alternator was last replaced, they are prone to dying at around 80,000 miles. It's a circa £350 for a new one fitted, and worth doing.
A popular choice among business buyers, the fine driving Vivaro might not have an entirely unblemished reputation for reliability, but neither do any of its rivals. Buy wisely and it should provide largely trouble-free service, though as with any used van buy on condition, service history and keep on top of regular maintenance. Do that and it'll serve you well.
Looking for more used van buying guides? Click here
Comments
Author

Kyle Fortune
Latest