Buy, Hire Or Lease A New Van?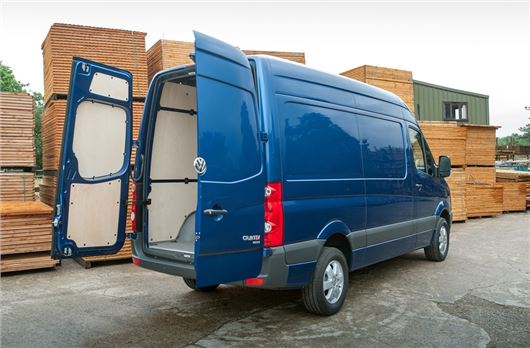 Published 13 May 2013
When you need a new van, there are many decisions to be made, but prime among these will be how you pay for it. The traditional route of buying the van outright with cash or a bank loan has long been supplemented with two more versatile and lower cost options: contract hire and leasing. We'll look at the benefits and drawbacks of each of these in turn.
Let's start with the tried and tested route of buying your next van outright. It's often said you should only buy something that will appreciate in value, while anything that depreciates should be leased. It's sound advice in lots of ways, but many businesses still like to own their van outright, especially small businesses or sole traders where the van is their most important work tool.
One of the key advantages to owning a van outright is you then have no additional outgoing payment, or a fixed cost to repay the loan used to buy it. This makes it easy to budget over a long period. Also, a new or nearly new van with will come with a full manufacturer's warranty that guards against any problems with the van.
A further advantage is you can do what you like with the van without any restrictions, so if you cover a very high mileage there are no additional costs other than servicing and fuel. You can also specify the van to your needs and tastes, and even have it sign written in whatever fashion you like.
Financially, owning your van means you can offset only the capital allowances against tax if the van is only used for business purposes and not personal use. If the van was bought using a bank loan, the interest charges can be reclaimed against tax too. All of the van's running costs can also be offset against tax when it's only used for business. You can also claim your own capital allowances and you don't have to be VAT-registered.
The downsides to owning your van are you are responsible for every element of its upkeep and it starts losing value the moment you drive away from the dealer's forecourt. For high mileage van users, the cost of maintenance and repairs may prove too high to make ownership a worthwhile option, particularly as the van will be worth less when you sell it on or trade it in against another van. You will also have to foot the bill for insurance, road tax and wear and tear items such as tyres and clutches.
This is why many van users now choose to hire or lease their van instead of owning them. When considering hiring your van, this is not the same as hiring one for a few days. A contract hire agreement will usually extend between 24- and 60 months depending on how long you intend to use the van and what sort of mileage you cover.
The key benefits of contract hire are it gives you a fixed monthly cost that makes budgeting easy and it removes the cost of a van from the company's books. It can also help free up vital capital by lowering the company's outgoings because contract hire needs only a small initial outlay of money to start the deal. The small upfront payment is because the company that hires the van to you will sell it at the end of the agreed period and recoup more of its outlay, which can be offset against what you pay.
If you choose a contract hire agreement, it also means you don't have to worry so much about fleet management because the hire company will deal with this. It also gives you greater flexibility with the number of vans on a fleet as they can be replaced or reduced as needs dictate. As the cost of contract hire payments are allowable against tax, there is no loss here when compared to owning the can outright. If you were to pay for a van with a hire purchase agreement, you cannot reclaim the VAT on the monthly payments, though there is tax relief on the full cost of the vehicle.
Another plus of contract hire is you don't have to think about what to do with the van at the end of its life. The hire company will simply take it away and it's up to you to decide if you want to replace it with another van on a contract hire scheme or use another method to fund your new van. You also don't have to bear the cost of depreciation of the van.
Most contract hire schemes include a servicing and maintenance package, so all of your routine services will be paid for. This makes it easy to budget as you will have no unexpected costs.
The downsides to a contract hire option are you must abide by the terms of the contract. Most schemes will be based on an agreed mileage over the duration of the contract and returning the van in a good condition. There will be penalties for not meeting these terms.
There are also contract purchase schemes that are very similar to contract hire other than you have the option to buy the van outright at the end of the agreed term. The price you pay to own the vehicle will have been agreed at the start of the contract and is often referred to as the Minimum Future Guaranteed Value or Balloon Payment. You can pay this and own the van or simply return it as you would with a contract hire agreement.
A finance lease agreement has many similarities to contract hire, but you can never own the vehicle at the end of the agreed term as it must be sold to a third party. Finance lease deals are usually only offered to VAT-registered businesses, so may not be available to some smaller companies or sole traders. The monthly payments include all running costs other than fuel and you can claim up to 50% of the VAT payments with the vehicle shown on the company's balance sheet.
For some businesses, finance lease deals make the most sense, but you need to be aware that interest rates can vary and if rates go up, so will your monthly payment. You may also be charged documentation or administration fees at the beginning of the deal. A key point for many businesses is a vehicle funded by a finance lease deal appears on the balance sheet and is regarded as a debt. In contrast, a contract hire agreement is seen as an expense by the tax and is kept off the balance sheet.
Which method of paying for your next van will depend to a great deal on the size of your business, usage and plans for the future.
Comments
Author

Dan Harrison
Latest