Updated Renault Master priced from £21,120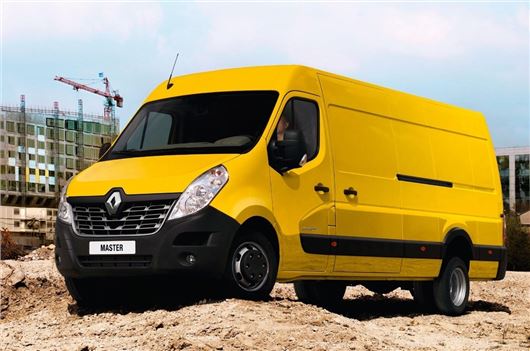 Published 09 July 2014
The updated Renault Master is available to order now, with first UK deliveries due in September 2014. Prices start at £21,120 plus VAT for the panel van and £27,000 for the crew van. The range of converted models kicks off at £23,300 and includes tippers, chassis cabs, box vans and Lutons.
In total more than 120 versions of the Master are available, with gross vehicle weights of 2800kg, 3300kg, 3500kg or 4500kg. Changes over the outgoing Master include revised front-end styling, a new twin-turbo 165PS dCi diesel engine and new standard equipment including DAB, hill start assist and trailer sway assist.
Two trim levels are available – Business and Business+. Besides the new technology, standard gear includes a height-adjustable driver's seat, electric windows, a full steel bulkhead, electric heated door mirrors. Moving up to Business+ adds air-conditioning, hands-free key, more cabin storage and rear parking sensors.
Optional equipment includes cruise control with a speed limiter (£250), climate control (£950), air suspension (£2000) and an integrated TomTom navigation system (£650). Renault will also fit racking or storage systems before delivery as part of its Ready4Work offer.
NEW MASTER PANEL VAN
 
 
Version
 BASIC PRICE
 OTR PRICE
BUSINESS SWB LOW ROOF
FWD SL28 dCi 110
£21,120.00
£26,229.00
FWD SL28 ENERGY dCi 110
£21,370.00
£26,529.00
FWD SL28 dCi 125
£21,920.00
£27,189.00
FWD SL28 dCi 125 Quickshift6
£22,720.00
£28,149.00
FWD SL33 dCi 110
£22,320.00
£27,669.00
FWD SL33 dCi 125
£23,120.00
£28,629.00
FWD SL35 dCI 125
£23,820.00
£29,469.00
BUSINESS SWB MEDIUM ROOF
 
 
FWD SM33 dCi 110
£22,920.00
£28,389.00
FWD SM33 dCi 125
£23,720.00
£29,349.00
BUSINESS MWB MEDIUM ROOF
 
 
FWD MM33 dCi 110
£23,920.00
£29,589.00
FWD MM33 ENERGY dCi 110
£24,170.00
£29,889.00
FWD MM33 dCi 125
£24,720.00
£30,549.00
FWD MM33 ENERGY dCI 135
£25,670.00
£31,689.00
FWD MM33 dCi 125 Quickshift6
£25,520.00
£31,509.00
FWD MM35 dCI 110
£24,620.00
£30,429.00
FWD MM35 ENERGY dCi 110
£24,870.00
£30,729.00
FWD MM35 dCi 125
£25,420.00
£31,389.00
FWD MM35 ENERGY dCi 135
£26,370.00
£32,529.00
FWD MM35 dCi 125 Quickshift6
£26,220.00
£32,349.00
FWD MM35 ENERGY dCi 165
£27,170.00
£33,489.00
RWD MML35 dCi 125
£27,120.00
£33,429.00
RWD MML45TW dCi 125
£29,320.00
£36,069.00
RWD MML45TW ENERGY dCi 165
£31,070.00
£38,169.00
BUSINESS MWB HIGH ROOF
 
 
FWD MH35 dCi 110
£25,220.00
£31,149.00
FWD MH35 dCi 125
£26,020.00
£32,109.00
FWD MH35 ENERGY dCi 135
£26,970.00
£33,249.00
BUSINESS LWB MEDIUM ROOF
 
 
FWD LM35 dCi 110
£25,420.00
£31,389.00
FWD LM35 ENERGY dCi 110
£25,670.00
£31,689.00
FWD LM35 dCi 125
£26,220.00
£32,349.00
FWD LM35 ENERGY dCi 135
£27,170.00
£33,489.00
FWD LM35 dCi 125 Quickshift6
£27,020.00
£33,309.00
FWD LM35 ENERGY dCi 165
£27,970.00
£34,449.00
RWD LML35 ENERGY dCi 135
£28,870.00
£35,529.00
RWD LML35 ENERGY dCi 165
£29,670.00
£36,489.00
RWD LML35TW dCi 125
£28,920.00
£35,589.00
RWD LML35TW ENERGY dCi 165
£30,670.00
£37,689.00
RWD LML45TW dCi 125
£30,120.00
£37,029.00
RWD LML45TW dCI 150 Quickshift6
£31,720.00
£38,949.00
RWD LML45TW ENERGY dCi 165
£31,870.00
£39,129.00
BUSINESS LWB HIGH ROOF
 
 
FWD LH35 dCi 110
£26,020.00
£32,109.00
FWD LH35 ENERGY dCi 110
£26,270.00
£32,409.00
FWD LH35 dCi 125
£26,820.00
£33,069.00
FWD LH35 ENERGY dCi 135
£27,770.00
£34,209.00
FWD LH35 ENERGY dCi 165
£28,570.00
£35,169.00
RWD LHL35TW dCi 125
£29,520.00
£36,309.00
RWD LHL35 ENERGY dCi 135
£29,470.00
£36,249.00
RWD LHL35 ENERGY dCi 165
£30,270.00
£37,209.00
RWD LHL35TW ENERGY dCi 165
£31,270.00
£38,409.00
RWD LHL45TW dCi 125
£30,720.00
£37,749.00
RWD LHL45TW ENERGY dCi 165
£32,470.00
£39,849.00
RWD LHL45TW dCi 150 Quickshift6
£32,320.00
£39,669.00
BUSINESS+ SWB LOW ROOF
 
 
SL28 dCi 110
£22,220.00
£27,549.00
BUSINESS+ MWB MEDIUM ROOF
 
 
FWD MM33 dCi 110
£25,020.00
£30,909.00
FWD MM33 ENERGY dCi 110
£25,270.00
£31,209.00
FWD MM33 dCi 125
£25,820.00
£31,869.00
FWD MM33 ENERGY dCi 135
£26,770.00
£33,009.00
FWD MM35 dCi 125
£26,520.00
£32,709.00
FWD MM35 ENERGY dCi 135
£27,470.00
£33,849.00
FWD MM35 ENERGY dCi 165
£28,270.00
£34,809.00
BUSINESS+ LWB MEDIUM ROOF
 
 
FWD LM35 dCi 125
£27,320.00
£33,669.00
FWD LM35 ENERGY dCi 135
£28,270.00
£34,809.00
FWD LM35 ENERGY dCi 165
£29,070.00
£35,769.00
 
 
 
NEW MASTER CREW VAN
 
 
Version
 BASIC PRICE
 OTR PRICE
BUSINESS MWB MEDIUM ROOF - 7 SEATS
 
 
FWD MM35 dCi 110
£27,000.00
£33,285.00
FWD MM35 dCi 125
£27,800.00
£34,245.00
RWD MML35 dCI 125
£29,500.00
£36,285.00
BUSINESS+ MWB MEDIUM ROOF - 7 SEATS
 
 
FWD MM35 dCi 125
£28,900.00
£35,565.00
NEW MASTER CONVERSIONS : all BUSINESS trim level
 
 
Version
 BASIC PRICE
 OTR PRICE
CHASSIS CAB MWB SINGLE CAB
 
 
Chassis Cab FWD ML35 dCi 125
£23,300.00
£28,845.00
Chassis Cab RWD ML35 dCi 125
£24,200.00
£29,925.00
Chassis Cab RWD ML35 ENERGY dCi 135 
£25,150.00
£31,065.00
Chassis Cab RWD ML35 ENERGY dCi 165 
£25,950.00
£32,025.00
Chassis Cab RWD ML35 TW dCi 125
£25,200.00
£31,125.00
Chassis Cab RWD ML35 TW ENERGY dCi 135 
£26,150.00
£32,265.00
Chassis Cab RWD MLL35TW ENERGY dCi 165 
£27,750.00
£34,185.00
Chassis Cab RWD MLL45TW ENERGY dCi 165 
£28,950.00
£35,565.00
CHASSIS CAB LWB SINGLE CAB
 
 
Chassis Cab FWD LL35 dCi 125
£24,100.00
£29,805.00
Chassis Cab RWD LL35 dci 125
£25,000.00
£30,885.00
Chassis Cab RWD LL35 ENERGY dCi 165 
£26,750.00
£32,985.00
CHASSIS CAB MWB DOUBLE CAB
 
 
Chassis Double Cab FWD ML35 dCi 125
£24,550.00
£30,345.00
Chassis Double Cab RWD MLL35TW ENERGY dCi 165 
£29,000.00
£35,685.00
CHASSIS CAB LWB DOUBLE CAB
 
 
Chassis Double Cab FWD LL35 dCi 125
£25,350.00
£31,305.00
Chassis Double Cab RWD LLL35TW ENERGY dCi 165 
£29,800.00
£36,645.00
PLATFORM CAB
 
 
Platform Cab FWD LL35 dCi 125
£24,400.00
£30,165.00
Platform Cab FWD LL35 dCi 125 Quickshift6
£24,400.00
£30,165.00
Platform Cab FWD LL35 ENERGY dCi 165 
£26,150.00
£32,265.00
DROPSIDE MWB SINGLE CAB
Chassis Cab Dropside FWD ML35 dCi 125
£25,150.00
£31,065.00
Chassis Cab Dropside FWD ML35 ENERGY dCi 165 
£26,900.00
£33,165.00
Chassis Cab Dropside RWD ML35 dCi 125
£26,050.00
£32,145.00
Chassis Cab Dropside RWD ML35 ENERGY dCi 135 
£27,000.00
£33,285.00
Chassis Cab Dropside RWD ML35 TW dCi 125
£27,050.00
£33,345.00
DROPSIDE LWB SINGLE CAB
 
 
Chassis Cab Dropside FWD LL35 dCi 125
£25,950.00
£32,025.00
Chassis Cab Dropside FWD LL35 ENERGY dCi 165 
£27,700.00
£34,125.00
Chassis Cab Dropside RWD LL35 dCi 125
£26,850.00
£33,105.00
Chassis Cab Dropside RWD LLL35 TW dCi 125
£28,650.00
£35,265.00
Chassis Cab Dropside RWD  LLL35TW ENERGY dCi 165 
£30,400.00
£37,365.00
DROPSIDE DOUBLE CAB LWB
 
 
Chassis Double Cab Dropside FWD  LL35 dci 125
£27,200.00
£33,525.00
Chassis Double Cab Dropside RWD  LL35 dci 125
£28,100.00
£34,605.00
Chassis Double Cab Dropside RWD  LL35 ENERGY dCi 165  
£29,850.00
£36,705.00
Chassis Double Cab Dropside RWD  LLL35TW ENERGY dCi 165 
£31,650.00
£38,865.00
TIPPER SINGLE CAB MWB
 
 
Tipper single Cab FWD  ML35 dci 125 
£27,050.00
£33,345.00
Tipper single Cab FWD  ML35 ENERGY dCi 135 
£28,000.00
£34,485.00
Tipper single Cab RWD  ML35 dci 125
£27,950.00
£34,425.00
Tipper single Cab RWD  ML35 ENERGY dCi 135 
£28,900.00
£35,565.00
Tipper single Cab RWD  ML35TW dci 125
£28,950.00
£35,625.00
Tipper single Cab RWD  ML35TW ENERGY dCi 135 
£29,900.00
£36,765.00
TIPPER DOUBLE CAB LWB
 
 
Tipper Double Cab RWD  LL35 dci 125
£30,000.00
£36,885.00
Tipper Double Cab RWD  LL35 ENERGY dCi 135 
£30,950.00
£38,025.00
Tipper Double Cab RWD  LL35TW dci 125
£31,800.00
£39,045.00
Tipper Double Cab RWD  LL35TW ENERGY dCi 135 
£32,750.00
£40,185.00
LUTON LWB
 
 
Luton FWD LL35 dCi 125
£31,850.00
£39,105.00
Luton FWD LL35 ENERGY dCi 135 
£32,800.00
£40,245.00
Luton FWD LL35 ENERGY dCi 165 
£33,600.00
£41,205.00
BOX VAN
 
 
Box Van 20M3 FWD LL35 dCi 110
£27,750.00
£34,185.00
Box Van 20M3 FWD LL35 dCi 125
£28,550.00
£35,145.00
Box Van 20M3 RWD  LL35 dCi 125
£29,450.00
£36,225.00
Box Van 22M3 RWD  LLL35TW dCi 125
£32,250.00
£39,585.00
Comments
Author

John Slavin
Latest