Volkswagen Amarok 2022: Prices, specs and release date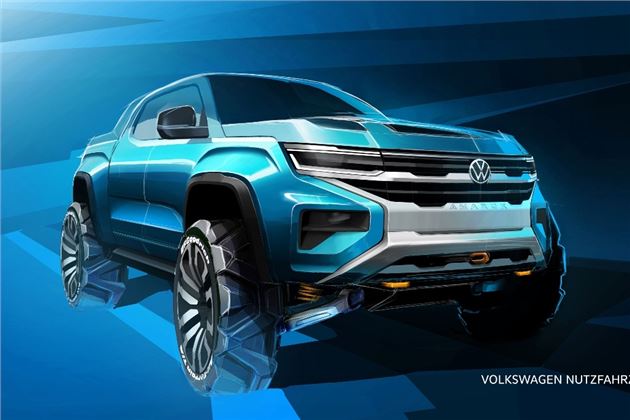 2022 Amarok teased in new artwork pictures
New Volkswagen pick-up will go on sale in the summer
Prices expected to start in the region of £27,000 before VAT
Volkswagen has teased the new Amarok one-tonne pick-up in a series of artwork images. The new Amarok is expected to cost around £27,000 when it's launched in the summer. First deliveries are pencilled in for the end of 2022. 
2022 Volkswagen Amarok release date
Order books for the Volkswagen will open in the next few weeks and prices for the entry-level double cab model with the turbocharged 2.0-litre diesel engine are expected to start at £27,000 before VAT. The 3.0-litre V6 diesel will most likely command at least £30,000, while high spec models will exceed £40,000 before you add VAT.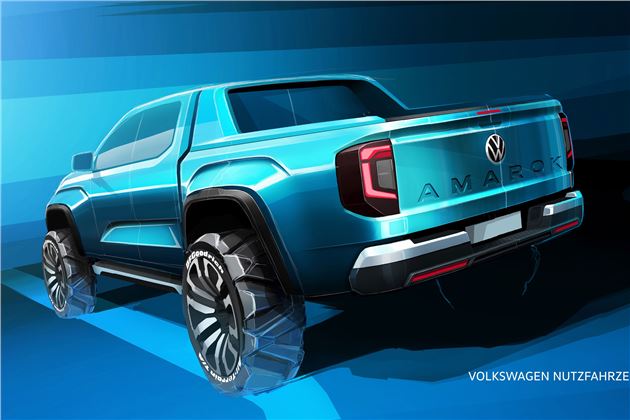 2022 Volkswagen Amarok styling and interior
The latest pictures of the Volkswagen Amarok provide the strongest indication yet that the styling will be big and bold. The artwork suggests the 2022 Amarok will be aggressively styled, with a huge front grille that rises up from the front skid plate and blends into the LED headlight housing. Huge wheel arches complete the muscle car look, along with tough all-terrain tyres. 
The rear of the Amarok features a raised load bed frame that gives the vehicle a sporty appearance that will almost certainly appear on future Sportline versions of the pick-up. The load area is accessed via a  drop-down tailgate that has Amarok stamped into the exterior metal.
Volkswagen hasn't provided any details about the size of the new Amarok, but it's safe to assume the new model will extend the vehicle's dimensions. The outgoing Amarok is no shrinking violet, however, measuring 5254mm in length and 1954mm wide.
The Amarok revolutionised the pick-up market when it was launched in 2011, introducing car-like comfort and refinement. We expect the 2022 Amarok to raise the bar even further, with an upmarket interior that will rival the best SUVs. 
Volkswagen will introduce a digital dashboard for the first time in the Amarok, with the traditional instruments and dials replaced with a large screen that will show route directions, maps and key off-roading data. You will also get Volkswagen's latest touchscreen tech, with high spec versions of the Amarok getting a 10-inch screen at the centre of the dashboard.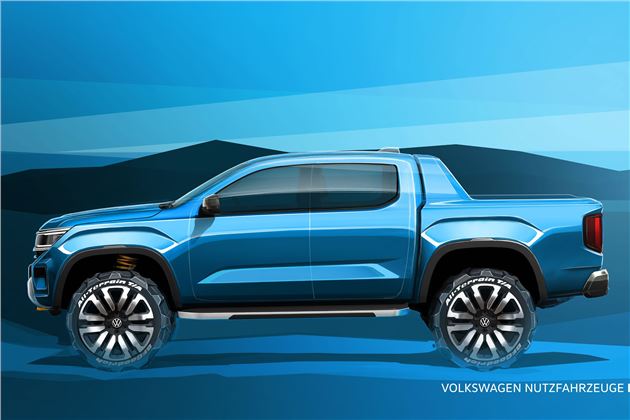 2022 Volkswagen Amarok engines 
Volkswagen has already confirmed that the new Amarok will be offered with its latest 3.0-litre V6 turbodiesel engine. However, given that the Amarok has been developed in partnership with Ford, we expect the Ranger's 2.0-litre EcoBlue diesel to also be available. Power outputs will range from a not so modest 170PS to a whopping 250PS+, which means the Amarok will be capable of hauling heavy loads on and off-road.
Volkswagen notes the new pick-up will be available with the latest autonomous driving aids, meaning it will be able to accelerate, brake and steer itself where conditions allow. You will also get 4Motion four-wheel drive as standard, along with selectable driving modes that will allow the Amarok to tackle heavy mud, snow or sand. A lockable diff will also be offered and activated at the press of a button. 
Maximum payloads will exceed 1000kg, which means the Amarok will qualify for a range of tax benefits for professional operators who use their vehicles for work. The Amarok's maximum braked towing capacity is also expected to be extended from 3.1 tonnes to 3.5 tonnes.
Before you step into a showroom, read our in depth guide to all the new cars coming in the next 12 months and beyond – some are well worth the wait.
Latest van and pick-up advice
We'll have more news on the new Amarok in the coming months. 
Is there a new VW Amarok coming?
Yes, the new Volkswagen Amarok will be revealed in the middle of 2022.
Will the new VW Amarok be a V6?
The Volkswagen Amarok will be offered with a V6 diesel that'll produce about 200PS.
Is the Volkswagen Amarok made in Germany?
The Volkswagen Amarok has been built in Germany and Algeria, but the 2022 model will be built in Silverton, South Africa. 
Ask HJ
Any suggestions on a new pick-up truck?
The lease on my daughter's Peugeot Partner van ends in two months time. She is thinking of changing to a pick-up, probably with 4-wheel-drive and able to seat 3-4 adults. Mileage is 20k a year, no towing required and for business use only. Any suggestions, please?
The best pick-ups on sale right now are: The Ford Ranger: https://vans.honestjohn.co.uk/van-reviews/ford/ranger-2011 Nissan Navara: https://vans.honestjohn.co.uk/van-reviews/nissan/navara-np300-2015 Volkswagen Amarok: https://vans.honestjohn.co.uk/van-reviews/volkswagen/amarok-2011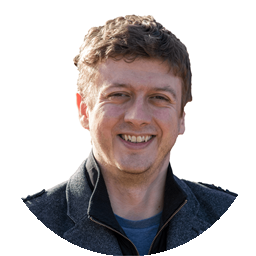 More Questions
Ask HJ
What double cab pick-ups do you recommend?
I'm selling my 2009 Land Rover Defender 90. I want more comfort and rear seats. It'll mainly be used on rural roads and mild, non-damaging offroading - as well as for my property business. I like the idea of a Toyota Hilux for offroad ability, what are they like with 50,000 plus miles? Any other suggestions for a three-year-old double cab pick-up?
The Toyota Hilux is a very good pick-up, although its reputation for toughness is reflected in its pricing, with used models commanding more than its rivals. That said, 50,000 miles on a Hilux shouldn't be a problem if the vehicle has a full service history. Official intervals are as high as 20,000 miles, but I'd choose one that's been serviced every 12,000 miles. The automatic boxes also need a fluid change at around 50,000 miles, so ask for proof that this has been done. For the full Toyota Hilux used buying guide, see: https://vans.honestjohn.co.uk/used-van-buying-guides/toyota/hilux-2004-2015/ If it's refinement you want, however, then I'd also recommend the Volkswagen Amarok. It's good on and off road, while its interior is on par with anything you'll find in the Volkswagen car range: https://vans.honestjohn.co.uk/van-reviews/volkswagen/amarok-2011/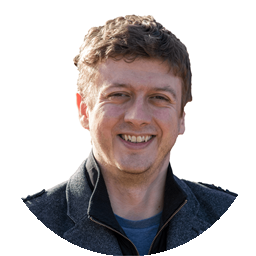 More Questions
More On New Vans
Find Your New Van