Volkswagen Amarok 2022: Prices, specs and release date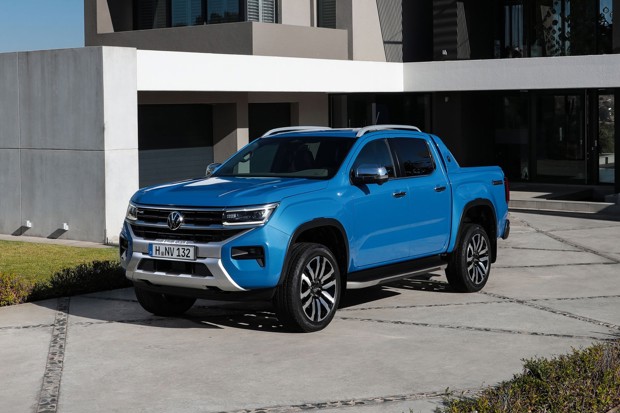 2022 VW Amarok is revealed to the world
New petrol and diesel engines, a big tech boost and extra ruggedness
Available as a single cab variant for the first time
Prices expected to start at around £30k
Volkswagen has unveiled the new Amarok pick-up truck, set to be sold as a global model. It has been designed and developed in partnership with Ford, and will share its platform and some of its engines with the next Ford Ranger. 
There are a couple of key first for the new VW Amarok that the outgoing model didn't have. The first is that it will be available as a single cab model with a longer load bed, as well as the usual double cab variant. The second is that it will be offered with a turbocharged petrol engine in certain markets, alongside four diesel engine options. 
The new Volkswagen Amarok will go on sale later this year, with a host of new technology features aiming to make it the most clever and refined pick-up truck on the market. 
2022 Volkswagen Amarok prices and release date
Orders for the new Volkswagen Amarok will be open in the coming months. Expect the first examples to enter showrooms right at the end of 2022, although UK deliveries might not be until early 2023. 
Pricing for the new VW Amarok has yet to be detailed. With a single cab variant now offered, expect a rough starting price of around £30,000, with double-cab variants starting at around £33,000. Variants with a V6 diesel engine in higher trim levels, such as PanAmericana and Aventura, should push the price well over £40,000.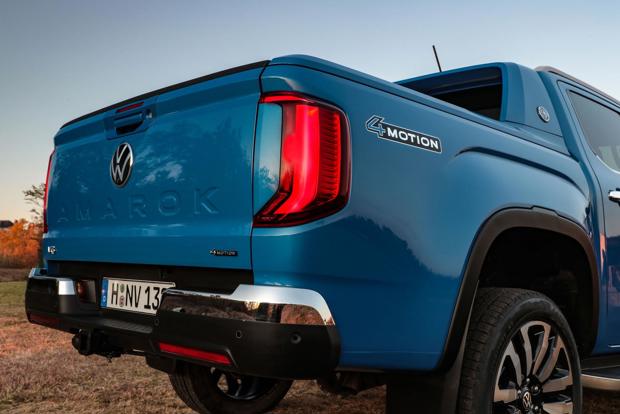 2022 Volkswagen Amarok styling, interior and technology
The new VW Amarok has evolved in design terms with a more rugged and confident look, but it'll remain instantly familiar to owners of the previous-generation pick-up truck. 
At the front, new twin chrome grille slats meet LED headlights which are standard on every variants, while the squared-off shape and high bonnet line gives it an imposing stance. 
At the side there's more pronounched wheelarches, plus wheel sizes ranging from 16 inches to 21 inches depending on spec. At the rear, the tailgate is now embossed with 'Amarok' in large lettering right across it, while the tail-lights are C-shaped and available with LED tech on higher trims. 
Stepping inside reveals a substantial step forward in terms of technology - you'd almost think you'd stepped inside a large SUV. All models get digital instruments as standard and a 10-inch portrait-angled touchscreen infotainment system with Apple CarPlay and Android Auto. Respectively those upgrade to a full 12-inch customisable digital cockpit and 12-inch touchscreen on higher trims. 
The tech fest continues when it comes to driver assists, with standard kit including adaptive cruise control, lane assist, automatic emergency braking and a dynamic road sign display. You also get parking sensors and a reversing camera on entry variants, with a full 360-degree around view camera system on high-end variants. 
Despite this focus on technology, VW hasn't forgotten the Amarok's working vehicle roots. Unlike VW's car models there is some physical switchgear in the cabin including 'hard keys' below the touchscreen for certain functions. There's also up to 20 storage compartments dotted around the interior. 
Double-cab variants also get more space than before thanks to an increase in the Amarok's overall size. At 5.3 metres long it's 96mm larger than the old truck, but the wheelbase has grown even more with the overhangs shrinking. That means extra space in the rear seats, plus a larger load bay that - on the single cab variants - can take two Euro pallets.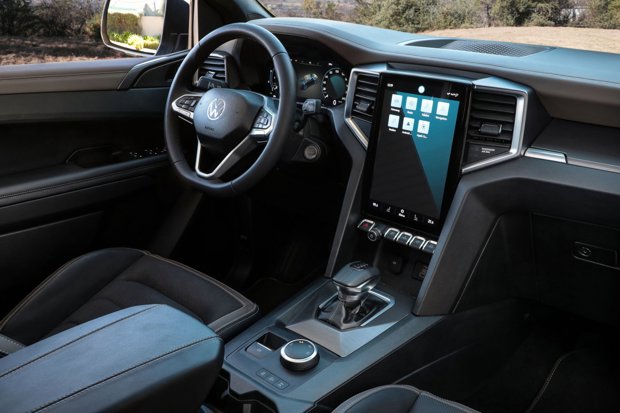 2022 Volkswagen Amarok engines, payload and off-roading
The new Volkswagen Amarok is the first to be available not just with diesel engines, but a petrol option also. It remains to be seen what will be offered in the UK, however. 
VW claims the new pick-up is "ready for electrification", meaning hybrid or electric versions could be added at a later date. However company bosses state the global truck market - particularly in markets such as Australia and Africa - is simply not yet ready to embrace battery-powered pick-ups in significant numbers. 
Four diesel engines will be available globally in the Amarok. It's expected the UK will shun the entry-level diesel, meaning base Amaroks will be powered by a 2.0-litre four-cylinder diesel putting out 170PS and 405Nm of torque. A six-speed manual gearbox will be offered here alongside a six-speed automatic, while selectable all-wheel drive or rear-wheel drive is available.
Moving up the range there's a twin-turbo version of the 2.0-litre diesel putting out 204PS and 500Nm of torque. Depending on market it'll come with either permanent or selectable all-wheel erive, plus a Ford-sourced ten speed automatic gearbox. 
Topping the diesel line-up will be a 3.0-litre V6, which is an evolution of the engine in the outgoing Amarok. Putting out 250PS and 600Nm of torque, it'll be solely mated to a ten-speed automatic gearbox and permanent all-wheel drive. 
New to the Amarok is a petrol engine option: a 2.0-litre four-cylinder witth 302PS and 452Nm of torque. Again mated to a ten-speed auto and permanent all-wheel drive. All Amaroks now get an 80 litre fuel tank, while on the diesels the AdBlue tank size increase to 19.3 litres. Fuel economy figures have yet to be revealed. 
The larger bed also has a bigger maximum payload - up slightly from 1.15 tonnes to 1.2 tonnes. The cargo bed gets lashing rings which can each take a load of up to 500kg, plus a cargo roll cover that can be manually or electrically operated depending on version. The towing capacity of the VW Amarok has also increased to 3.5 tonnes, matching key rivals. 
VW has also focused on improving the off-road prowess of the Amarok. There are up to six drive modes depending on model, allowing you to tell the truck which sort of surface you're driving on. What's more, the reduced overhangs have improved the Amarok's approach and departure angles for serious mud-plugging.
You can spec a 20mm ride height increase, all-terrain tyres, underbody protection and even a snorkel for wading. But even on the standard Amarok the wading depth has increased from 500mm to 800mm. 
Maximum payloads will exceed 1000kg, which means the Amarok will qualify for a range of tax benefits for professional operators who use their vehicles for work. The Amarok's maximum braked towing capacity is also expected to be extended from 3.1 tonnes to 3.5 tonnes.
Before you step into a showroom, read our in depth guide to all the new cars coming in the next 12 months and beyond – some are well worth the wait.
Latest van and pick-up advice
The new, second-generation Volkswagen Amarok has been revealed. It gets a more rugged, evolved design, a huge increase in car-like technology and a range of new diesel engines, plus a petrol option for the first time. 
Is there a new VW Amarok coming?
Yes, the new VW Amarok has been revealed. It will go on sale later in 2022, so expect first deliveries in early 2023. 
Will the new VW Amarok be a V6?
The Volkswagen Amarok is offered with a 3.0-litre V6 diesel engine producing between 241PS and 250PS depending on market. There are also four-cylinder petrol and diesel engines, however. 
Is the Volkswagen Amarok made in Germany?
The Volkswagen Amarok has been built in Germany and Algeria, but the 2022 model will be built in Silverton, South Africa. 
Ask HJ
Any suggestions on a new pick-up truck?
The lease on my daughter's Peugeot Partner van ends in two months time. She is thinking of changing to a pick-up, probably with 4-wheel-drive and able to seat 3-4 adults. Mileage is 20k a year, no towing required and for business use only. Any suggestions, please?
The best pick-ups on sale right now are: The Ford Ranger: https://vans.honestjohn.co.uk/van-reviews/ford/ranger-2011 Nissan Navara: https://vans.honestjohn.co.uk/van-reviews/nissan/navara-np300-2015 Volkswagen Amarok: https://vans.honestjohn.co.uk/van-reviews/volkswagen/amarok-2011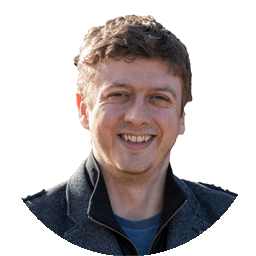 More Questions
Ask HJ
What double cab pick-ups do you recommend?
I'm selling my 2009 Land Rover Defender 90. I want more comfort and rear seats. It'll mainly be used on rural roads and mild, non-damaging offroading - as well as for my property business. I like the idea of a Toyota Hilux for offroad ability, what are they like with 50,000 plus miles? Any other suggestions for a three-year-old double cab pick-up?
The Toyota Hilux is a very good pick-up, although its reputation for toughness is reflected in its pricing, with used models commanding more than its rivals. That said, 50,000 miles on a Hilux shouldn't be a problem if the vehicle has a full service history. Official intervals are as high as 20,000 miles, but I'd choose one that's been serviced every 12,000 miles. The automatic boxes also need a fluid change at around 50,000 miles, so ask for proof that this has been done. For the full Toyota Hilux used buying guide, see: https://vans.honestjohn.co.uk/used-van-buying-guides/toyota/hilux-2004-2015/ If it's refinement you want, however, then I'd also recommend the Volkswagen Amarok. It's good on and off road, while its interior is on par with anything you'll find in the Volkswagen car range: https://vans.honestjohn.co.uk/van-reviews/volkswagen/amarok-2011/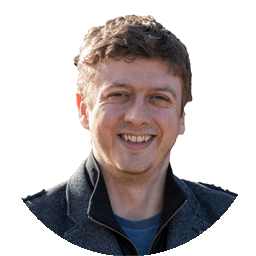 More Questions
More On New Vans
Find Your New Van