British Gas to trial Nissan electric vans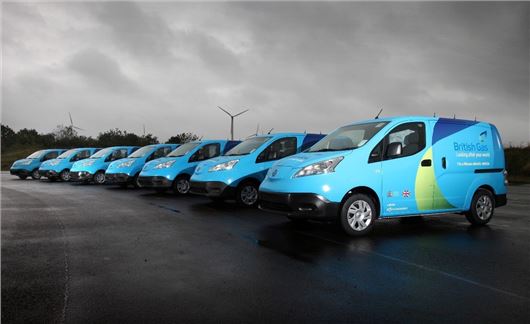 Published 29 November 2013
British Gas is to trial 28 Nissan e-NV200 vans over the winter to ascertain whether or not electric propulsion is viable. The e-NV200 van isn't on sale to the public yet but should be in 2014. Despite having a limited range of around 100 miles it should suit the usage of British Gas drivers, who operate only in a predefined zone. It might also suit small urban businesses whose drivers cover relatively few miles day-to-day.
The trial will be operated in conjunction with Hitachi Capital Commercial Vehicle Solutions and Gateshead College, who will work together to ascertain the total running costs for the vehicles, which notably takes place over winter. Winter driving has a greater impact on electric vehicle range thanks to energy losses associated with heating the cabin.
Colin Marriott, general manager fleet at British Gas said: "We're committed to leading the industry in reducing the amount of carbon and other harmful tail pipe emissions emitted by our 13,000 strong vehicle fleet, This trial, the largest of its kind in the UK, is a great opportunity for us to understand how the Nissan e-NV200 vans perform during the winter as we move towards our goal of having at least 10% of our fleet running on electricity by 2015.
"We have worked closely with Nissan and Hitachi Capital to ensure that the Nissan e-NV200 is ready to support our engineers during even the most demanding of winter conditions. All 28 have also been provided with a British Gas home charging point and access cards to public infrastructure to keep the vehicles charged up.
Comments
Author

John Slavin
Latest