New Direct Line app could save van drivers money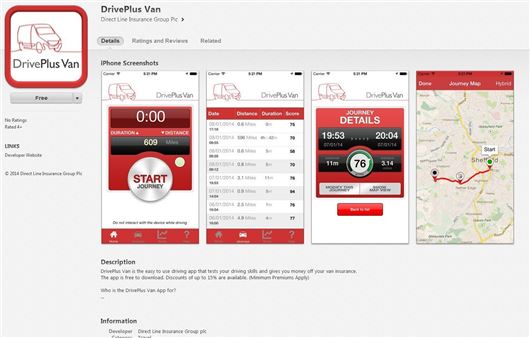 Published 28 January 2014
Direct Line has launched a new telematics app that can save van drivers money on their insurance. The free to download DrivePlus Van app is available on iOS and Android and lets drivers monitor their driving behaviour. It will track 300 miles of driving before giving drivers a score out of 100.
The telematics app uses the GPS functionality in your phone to look at how van owners drive, taking into account things such as acceleration, braking and cornering. Once a score has been generated - with 100 being the safest - the app will generate a promotion code.
This allows van owners to redeem a discount on their insurance via the phone or the Direct Line for Business website. It could save prospective or existing Direct Line customers up to 15 per cent on their van insurance. A similar app is already available for car drivers.
The DrivePlus Van app lets users untag journeys that are not applicable, for example if they're a passenger in another car, and records journey time, distance travelled and a driving score which enables the driver to effectively monitor their journey. It will also indicate what the journey events were that impacted the overall score.

Jasvinder Gakhal at Direct Line for Business said, "Telematics has been used for a number of years by Fleet managers in order to track their vehicles and optimise productivity.  Here at Direct Line for Business we're bringing that technology to owners of single vans in an easy to use app. With capital still stretched for many small businesses, owners of commercial vans are understandably concerned about the cost and risks of
operating their vehicle. Telematics encourages responsible driving and through our App this can earn drivers a significant discount on their van insurance."
Comments
Author

David Ross
Latest