Truckman cuts tailgate weight by 95 per cent with new Pro-Lift range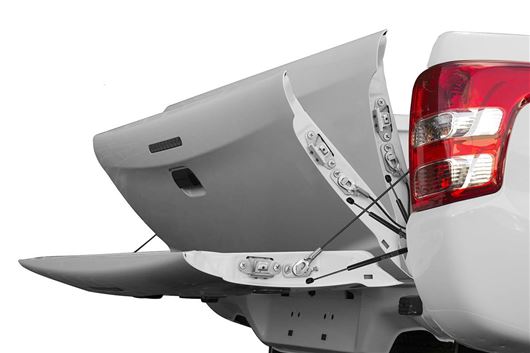 Published 16 August 2017
Truckman claims to have made light work of pick-up tailgates with the launch of the Pro-Lift range.
Utilising gas struts and specially-designed springs, the Truckman Pro-Lift pick-up accessory is said to reduce the weight of a tailgate - when lifting and lowering - by 95 percent. It's on sale now from £198 (including VAT).
Top 10 most economical pick-ups you can buy right now
Design to help pick-up drivers who have difficulty with the weight and bulk of the traditional pick-up tailgate, the Pro-Lift can be ordered online and fitted at home. The fitment is advertised as "quick and easy", although buyers can ask Truckman to fit the struts and springs, although you'll need to pay an addition £55 and take your vehicle to the firm's Dudley HQ for this to be done.
The Truckman Pro-Lift can be fitted to all pick-up models from Fiat, Ford, Isuzu, Mitsubishi, Nissan, Toyota and Volkswagen. It is also available through Isuzu dealerships, having recently secured Approved Accessory status from the pick-up specialist.  
Comments
Author

Dan Powell
Latest
Save 12% on GAP Insurance
Use HJ21 to save on an ALA policy
See offer