Review: Garmin Nuvicam LMT-D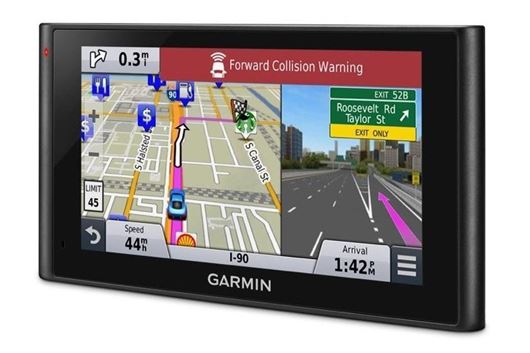 Published 24 July 2015
What is it?
It's a large, clear, feature-packed sat nav system with a built in dash camera. That's a clever combo, really – dash cameras are becoming more and more popular, so combining one with another essential in-car gadget makes sense, plus it means the dash camera can record extra information like location and speed – typically the reserve of pricier standalone cameras.
It has all the latest Garmin navigation features too, so it can pair up to a mobile phone for hands-free calling and web connectivity, plus it features traffic alerts and different route options depending on whether you want to get where you're going quickly or efficiently. There's also social media connectivity, including FourSquare for tracking down or adding locations like restaurants.
What's it like?
As a sat nav it's good. The screen is large and clear, plus its touchscreen is very responsive, making programming destinations easier. Choosing the fastest option typically results in a sensible route, accounting for traffic issues. If there is a problem en-route the Nuvicam will try to find an alternative, faster route, though sometimes it will decide the current directions, despite the traffic, are still the fastest.
Traffic updates are sent directly to the navigation system – so there is no need to pair up a mobile phone if you don't want to – plus they last for the lifetime of the device, with no subscription required. The same is true of map updates, with lifetime European mapping included in the price.
Directions are clear and easy to follow and are timed well, so there's no last minute panic near a motorway exit or a roundabout. Not only are the audio instructions easy to follow, but there are clear on-screen instructions too, showing accurate road signings and lane layouts to help you plan for upcoming turns or roundabouts.
Another really neat touch is the implementation of landmark-based guidance – the navigation will say things like "Turn right before the supermarket" instead of "Turn right on the B 7872", which makes life easier in unfamiliar places. It's all very good, but the latest TomTom Go 6100 has a clearer, easier to read screen.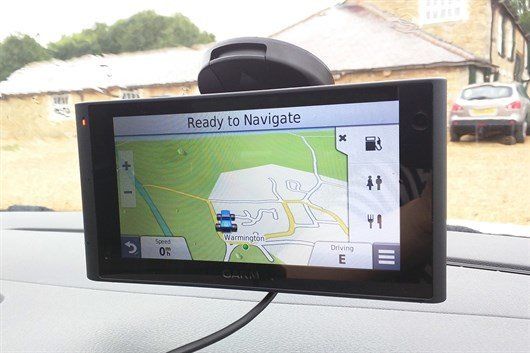 The Nuvicam is big, slick and user-friendly
There is always a sense that a free system on a mobile phone is almost as good, too. Waze, for example, will typically identify building traffic before the Nuvicam. In fact, during testing Waze directed us off a motorway to a faster route a good five minutes before the Nuvicam knew of any upcoming traffic jams.
But obviously the Nuvicam has a trick up its sleeve in the form of its built-in camera. The camera shoots in both 720p and 1080p high-definition resolutions with very impressive, clear images. The Nuvicam marks its footage with GPS coordinates, time and accurate speed, which can help prove who was at fault in the event of an accident.
There is enough built-in storage to record about an hour and a half of footage. These files are saved in one minute clips and the memory card will start overwriting the oldest file once it's full, so it will always record the most recent hour and 30 minutes. If something happens that needs to be saved the driver can save that clip by pressing the large button on top of the unit. It's also easy to remove the unit from its magnetic mount and use it as a stills camera, for example if you need take pictures of damage.
Not only does the camera record driving, it also watches the road ahead and tells the driver when they are driving too close to the car in front. It also has lane departure warning alerts that work just as well as the systems built in to modern cars by manufacturers.
How much is it?
The Nuvicam is available for around £280. That's quite a lot of money for a sat nav, but as navigation systems go it's one of the best – and that's before you consider the built-in camera. If you're sold on the benefits of a dash camera then Nuvicam is a really, really impressive piece of technology well worth a buy.
However, if you're just looking for a navigation system and you're not too bothered by the dash camera then there are lots of cheaper alternatives, including the very nifty Waze app for smartphones. If you have a smartphone already then it's worth trying Waze before spending a big sum of money on the Nuvicam.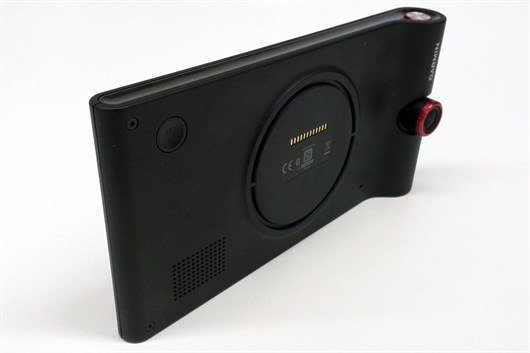 Possibly the smartest sat nav on sale...  
Comments
Author

John Slavin
Latest
Save 12% on GAP Insurance
Use HJ21 to save on an ALA policy
See offer