Review: Volkswagen eCrafter (2019)
Rating:
Easy to drive, zero tailpipe emissions, 1.7 tonne payload limit, packed with useful tech.
Limited range of 107 miles, not available until late-2020.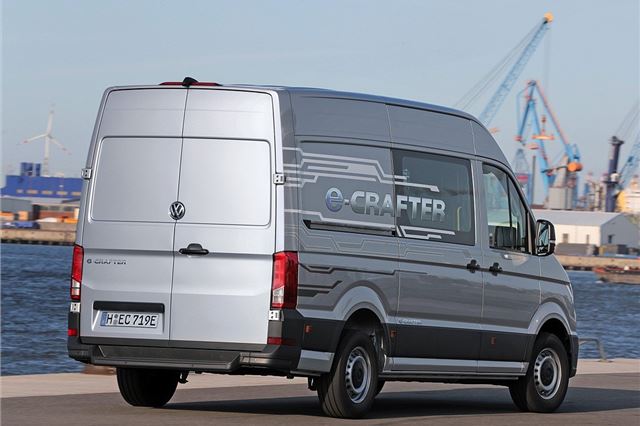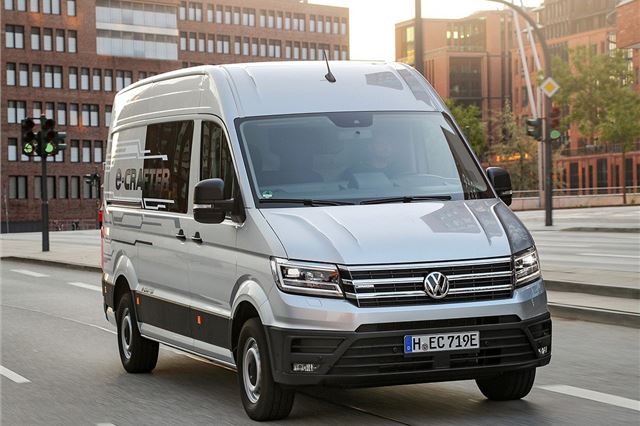 Recently Added To This Review
1 September 2018 e-Crafter zero-emission van goes online
The e-Crafter was developed in parallel with models that have Euro6 diesel engines (TDI). The lithium-ion battery in the underbody enables full utilisation of the 2590 mm tall high-roofed van's cargo... Read more
Volkswagen eCrafter (2019): At A Glance
The Volkswagen eCrafter might look and drive like a standard van, but its mechanical bits are all powered by electricity. And this makes it a great option for businesses who want a large van for short runs or delivery work in a large town or city.
Obviously, with a maximum range of 107 miles, the Volkswagen eCrafter will not suit everyone. In fact, for the majority of operators, it will be a niche oddity. But Volkswagen is open about the fact that this is a van designed for delivery drivers. And here it makes a lot of sense.
At the business end of things, payloads range from 1.0 to 1.75 tonnes and gross vehicle weights (GVW) span from 3.5 to 4.2 tonnes. This means - with some basic training - you can drive the largest version of the eCrafter on a standard driving licence.
Like the standard Crafter, Volkswagen's large van is easy to drive and use on a daily basis. The electric motor produces 136PS and 290Nm of torque, which is well-suited for shifting heavy loads at urban speeds. The motor pulls strongly between 15mph and 30mph and this means you can join a busy road with confidence. The motor does lose some of its spark as you head further afield, on a dual carriageway, with its top speed limited to 56mph.
For the most part, the eCrafter drives very much like a speed-capped 2.0 TDI with 102PS. The steering is light but provides enough feedback for the driver to get a feel of the van's grip levels. The eCrafter is also offered with a comprehensive array of driver aids, with automatic emergency braking, blind spot monitoring and a park pilot system that will self-steer the van into a space. This means you don't have to be an experienced commercial vehicle driver to feel at home behind the wheel.
Running on batteries, the eCrafter requires some forward planning to get the most out of it. A full charge from a 7.2kW wall box will take roughly five hours, but the battery can be boosted from zero to 80 per cent in just 45 minutes when hooked up to a 40kW fast charger. Volkswagen say there is no limit to the number of fast charges you can do over a single working day, which means you can time the battery boost to coincide with driver breaks to ensure the van spends the least amount of time off the road.
As an urban workhorse, the eCrafter is a capable and likeable large van. It boasts huge carrying capacity and its fast charge ability make it surprisingly versatile. There is a question mark around the support network, with Volkswagen yet to confirm how many dealers will be capable of servicing and maintaining electric vans. But as a first attempt, the eCrafter is an accomplished effort.
What does a Volkswagen eCrafter (2019) cost?
Buy a used Volkswagen from £23,398
Volkswagen eCrafter (2019): What's It Like Inside?
The cabin of the eCrafter isn't as plush as the Mercedes-Benz eSprinter, but there is no shortage of comfort or storage. The two-tier door pockets are particularly useful, with the upper level being perfect for loose change, pens and scraps of paper. All versions get three seats as standard, with a foldable middle seat that doubles up as a laptop table. 
There are numerous cup holders or power sockets too, which makes it easy to charge up electrical items like phones and laptops. The door pockets are also large enough to accommodate a tablet PC. 
In-cab comfort is good, with the heavy seat padding providing lots of support for the upper legs and lower back. An optional ErgoComfort seat, with shock absorber cushioning, adds more comfort on the motorway with 14 different settings, but can get a little springy on B roads.
Payload ratings are broad with the eCrafter carrying payloads from 1.0 to 1.7 tonnes. What's more, with the battery packs situated under the load floor, you get the same 10.7 maximum cubic metres of load space in the medium wheelbase van as you would with the diesel version. 
As before, access to the load area is easy with a low loading floor and wide door openings. A single side sliding door is fitted as standard and provides an opening of 1311mm. A second sliding door can be optionally added. The rear doors open to provide 1552mm and most medium wheelbase vans will carry four Euro pallets. 
For those who want their vans to be forklift-friendly, an optional 270 degree opening mechanism for the rear doors can be fitted, along with wooden sidewall and floor protection. There are also numerous tie-down points to prevent loads from shifting. 
What's the Volkswagen eCrafter (2019) like to drive?
If you've never driven an electric van then the eCrafter will be a great place to start. It's comfortable, driver-friendly and packed with lots of useful tech that will transform even the most-timid of drivers into a confident and capable large van pro.
The electric motor is the star of the show, with its silent operation delivering 136PS to the front-wheels via a single speed gearbox. Torque (all 290Nm of it) is instant, which means a fully laden eCrafter will whizz away with impressive gusto.
However, while packed with low-gear pull, the eCrafter is occasionally too quiet for its own good. Indeed, venture through a busy town centre and it won't be long before a pedestrian will wander out in front, simply because they never hear you coming. 
On the road the electric Crafter does everything that you'd expect of the diesel-powered van, but there is some notable weight with the largest 4.2 tonne versions requiring respect and patience when it comes to corners and breaking. Front-end grip is generally fine, but the body does have a tendency to lean a little more than expected. Acceleration will fizzle out once you pass 40mph too, with all versions restricted to a top speed of 56mph. 
Unlike its rivals, you don't get a baffling array of driving modes. Instead, you simply hop in, switch on and drive away. The battery charge level is displayed on the instrument binnacle, while the touchscreen infotainment system provides a detailed snapshot of exactly how far the van will travel on a single charge.
Like many electric vans the eCrafter uses regenerative braking that tops up the battery as you lift off the accelerator, to top up the battery and add valuable miles to the range. The system itself is completely automatic, which means you don't have to play around with different settings to get the most out of it.
Given that the eCrafter is pitched at delivery companies, it perhaps shouldn't come as a surprise to see that Volkswagen has packed lots of computerised driver help into its large van.
Standard features include parking sensors, a rearview camera and automatic emergency breaking. A hands free parallel parking system is also available, along with Volkswagen's latest touchscreen navigation with voice control and mobile phone connectivity.