MINI Clubvan (2012 - 2014)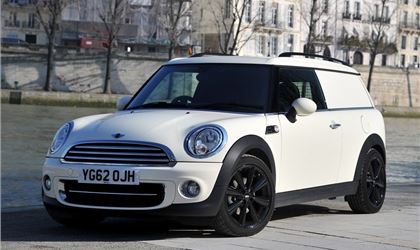 Cooper D Clubvan Light Van
reviewed by eggbilly on 17 December 2013
5
Tax/Insurance/Warranty costs
5
Cost of maintenance and repairs
5
Experience at the dealership
5
How you rate the manufacturer
Fantastic and great fun even on long journeys
Bought this for our surveying practice as we'd previously used a Vauxhall Combo van for travelling with tools, but it was hard work and very noisy.

So, after searching online for "comfortable small vans" we found Honest John's review of the Min Clubvan, which until that day, didn't even know existed.

Our local dealer didn't have one in stock to look at, but I spotted one at another dealer when driving past - it was logo's up with CLUBVAN all over it, so I stopped and asked for a look.

The dealer lent me the car for half a day to play in and by the time I got back, I was ready to sign the order! Ours was delivered two weeks later.

In the six months I've had this van, it's clocked up a little over 10,000 miles and has been fantastic in every respect.

Never mind deliveries, this is fantastic for professionals who do site work. It's so small that it can be parked just about anywhere - it certainly beats the 4x4's that we typically use to get the tax advantages, but it only has two seats - so if you need personnel carrying features, forget this.

The best thing is that it drives like a car. A fast car.

In fact, on motorways, it's too easy to trip over the speed limit and into three figures - so you have to keep your eye on the two (yes, there's two) speedo's.

The ride is quiet and very comfortable, with surprisingly good head and leg room and nice comfortable seats.

The load carrying capacity isn't great, but it's all we need and we regularly travel away and have to take tools and cases with us and so far, that's not been a problem. Our surveyor ladders fit nicely into the back too.

I think the only extra we ordered was the rubber floor mat in the back, to stop things sliding around. That works really well and is moulded to fit the space perfectly.

As the back is insulated and carpeted, it's very quiet with little road noise.

Fuel economy has averaged 58MPG to date - and whilst it was doing better in the early days, that was because it was being treated carefully. Now it races around everywhere, because it's built for it.

To date, I've only seen one other one on the road. I think that driver hadn't seen another one before either, as he came racing up behind and then alongside flashing his lights and waving!

So far, I've been asked to show somebody the van at least once per week - it's a real attention grabber and people seem to love it.

As for me, well, I had a Mercedes E class for personal use - but after getting this, ended the lease 3 months early and now drive the Clubvan permanently. It's far more fun and satisfying - the best car I've had by a long way and then of course, there's the tax reasons for getting one. I've leased this one because the VAT comes back each quarter and monthly payments come straight off the corporation tax.
Write your review
About this van
| | |
| --- | --- |
| Price | £1,308–£13,587 |
| MPG | 43.5–72.4 mpg |
| Real MPG | - |