Nissan Primastar (2002 - 2015)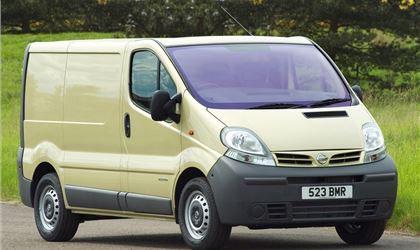 SE SWB DCI 1995CC
reviewed by DuncanFC on 8 December 2014
2
Tax/Insurance/Warranty costs
1
Cost of maintenance and repairs
1
Experience at the dealership
1
How you rate the manufacturer
Absolutely s***e
I bought this van second hand in August 2012 with 30,000 miles on the clock and a 3-year warranty. It has been a catalogue of disasters ever since.

In March 2013 with approx 40,000 miles on the clock it was discovered that the van required a new gearbox bearing. The van was under warranty but it took 1 week to repair and I was given a Micra as a replacement vehicle - great for putting tools and equipment in to as you can imagine so I had to cancel and re-arrange jobs.

Come May 2013 the van started veering horrendously while driving in a straight line. This time the steering column needed replaced. I insisted on a replacement van which was not forthcoming but I could take it up with the Nissan HQ. I hired a van for the 4 days my Primastar was off the road but when I put the invoice into Nissan HQ and after much heated debate they told me there was nothing they could do.

Then July 2013 the van then started juddering when pulling away before eventually dying on it's a*** when pulling away, not ideal when trying to turn right into the path of oncoming traffic. I was told the van needed a new clutch. Nissan also told me, as the van was just out of warranty I would now need to pay for the work. Having researched online about this clutch judder I found that this is a common problem in Nissan Primastars, a problem that Nissan deny knowing about but there are a lot of people online who have the same problem. And the problem is not caused by general "wear and tear" of the clutch as Nissan would have you believe but by a design issue with the compatibility of the slave cylinder with the van.

Fast forward to December 2014, other than a faulty Brake Warning light which has been coming on and off for the past 2 months, the van has run very well, even regaining my trust enough to put some signage on it in October 2014. However, as of today 8th December 2014, the clutch has failed and I've just been informed that it's a faulty slave cylinder and it will need replaced at a cost of just under £900.

What do I think of this van and Nissan? I wouldn't touch them with a barge-pole. Their customer service is terrible, they want you to pay £75 just to "diagnose" the problem, they are a rip off and their van is absolutely s***.
Write your review
About this van
| | |
| --- | --- |
| Price | £16,380–£23,800 |
| MPG | 32.1–41.5 mpg |
| Real MPG | 93.7% |
Just reviewed...