Used Van Buying Guide: Sprinter 2013-2018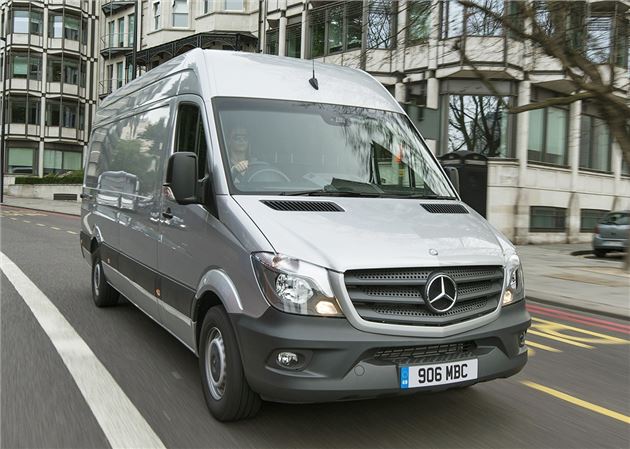 A large van mainstay, the Mercedes-Benz Sprinter was overhauled in 2013 to add to the already appealing package it offered. As part of the extensive revisions over the previous Sprinter, Mercedes-Benz improved economy and emissions, added new safety equipment and mildly refreshed the Sprinter's looks.
The first van it in its class, which in Europe is referred to as 'Sprinter Class', Mercedes-Benz claimed its new large van could return up to 44mpg. Helping achieve that was the addition of Mercedes-Benz's BlueTec diesel engine, which featured SCR technology that uses AdBlue to clean up the exhaust gases. The changes not only benefitted economy and emissions but also improved refinement due to the reduction of combustion noises.
Outwardly a new three-slatted grille presented a more striking appearance up front, this framed by new headlights. Changes in the functional, smartly finished cabin included new seat upholstery, a thicker steering wheel, larger air ventilation outlets. The radio was improved, allowing Bluetooth connection for telephony and music connection, while a Becker Map Pilot system became available, too.
Mercedes-Benz's focus on safety with its passenger cars is carried over to its commercial vehicles, with the Sprinter gaining a number of industry firsts relating to safety. Standard equipment on the Sprinter included Mercedes-Benz's Crosswind Assist, a system within the ESP (electronic stability program) setting that helps prevent the Sprinter from being blown about in crosswinds.
Optional safety equipment like Collision Prevention Assist, Blind Spot Assist, Lane Keeping Assist and Highbeam Assistant were offered as individual options or as part of a bundled package - these being Driving Assistance Package and Lane Tracking Package. From 2015 all Sprinters were equipped with a Rescue Assist QR code, which allows rescue services quickly ascertain the position of vital vehicle components, like the fuel tanks, cables and airbags, Mercedes-Benz making these available as a retro-fit option on all vans built since 1996.  
The chassis was lowered with the introduction of the new Sprinter model, addressing one of the criticisms of its predecessor, that being a high loading floor. That lowered chassis also helped the Sprinter improve its drag co-efficient, to the benefit of economy.
The changes were instrumental in maintaining the success of the Sprinter, it a strong seller against its competition from Ford, Fiat and Volkswagen, winning plenty of awards in its life. An indication of its enduring appeal was in its run-out year it beat all its previous year's sales records, before Mercedes-Benz replaced it at the tail end of 2018 with its third generation model. Built in Dusseldorf, Germany, it's worth noting that the Sprinter had a German twin (not quite identical) wearing Volkswagen badges as the Volkswagen Crafter.  
Body styles include the panel van, chassis cab, crew cab, Tourer (minibus) in short, medium, long and extra long-wheelbase models - those to longer-wheelbase coming in high-roof specification. The majority of Sprinters sold are rear-wheel drive, but four-wheel drive is an option for those needing the additional traction it brings. Payloads vary depending on model, ranging from 714kg through to 2550kg.
Mercedes-Benz Sprinter engines
The mainstay of the Mercedes-Benz Sprinter engine line up is the 2.1-litre four-cylinder turbodiesel, it offered in 95PS, 129PS and 163PS guises, with 250/305/360Nm of torque respectively. Above that Mercedes-Benz offered a 3.0-litre V6 turbodiesel, with a 190PS and 440Nm output.
The engine line up were badged the 210 CDI for 95PS, 213 CDI for 129PS, 216 CDI for 163PS, with the 190PS V6s getting 219 badging. The 2 on the badging denotes 3.0 tonne Gross Vehicle Weight changing that to 3 signifying 3.5 tonne, 4 for 4.6 tonne and 5 for 5 tonne. Mercedes-Benz also offered a 156PS natural gas/petrol four-cylinder 1.8-litre engine, this was a tiny seller in the UK.
From 2016 all EU Sprinters were switched to Euro VI emissions ratings. The entry four-cylinder is 114PS badged 211/311/511 is not 114PS, with 214/314/414/514 models getting 143PS and 216/316/416/526 versions being 163PS. The V6 remained rated at 190hp. As standard all were specified with a manual transmission, though an automatic transmission was available on some models. Mercedes-Benz also offered Sprinter 4x4 versions throughout the range, too.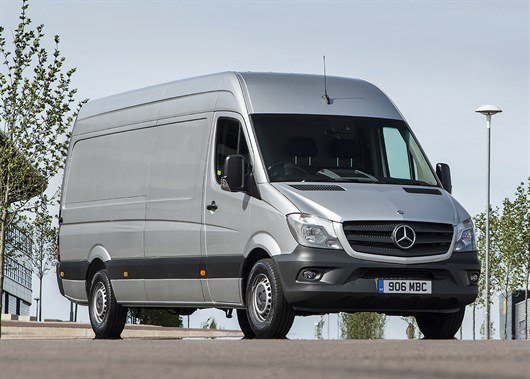 Mercedes-Benz Sprinter maintenance
All Sprinters were fitted with Mercedes-Benz's ASSYST service computer, which brought flexible, needs-based servicing to the Sprinter. It would assess usage and schedule services accordingly. For short-drop vehicles service intervals would be shorter, while longer-haul users would have lengthier intervals between services and oil changes.
These could be as much as 37,000 miles or two years although we'd always recommend an oil and filter change every 12,000 miles or 12 months, whichever is sooner. All Sprinters also came with MobilioVan lifetime mobility guarantee, as well as Mercedes-Benz Service 24hr, which provided breakdown cover throughout the UK and Europe.
From 2016 Mercedes-Benz introduced national service pricing in the UK, with a small 'A' service on the Sprinter costing just £130, right through to a comprehensive full service for £443. An approved used service plan, costing around £17 was offered to Sprinter owners, too.
Independents currently offer a full service in the region of £250, with interim servicing costing about £140. Standard maintenance costs should be around £200 for new front discs and pads, around £500 for a replacement clutch, under £20 for an oil change and oil filter. 
What to look out for
Listen for any unusual puffing sounds from the engine, as the seals around the high pressure diesel injectors can leak. A full repair will be in the region of £500.

Any wandering or knocking from the suspension points to worn bushes. Check the condition of the springs, and dampers, too, looking for any leaks and free play. Similarly, if there's uneven tyre wear the suspension alignment is likely to need checking.

The propshaft - all Sprinters are rear-wheel drive - can fail at around 100,000 miles. Have it checked, and listen for any rattling, particularly when pulling away.

Check the brakes lights work, these, and a few other electrical gremlins will cause the ECU to throw up warnings. Plugging it into a diagnostic machine should locate any issues. 

The paint on Sprinters has always been an issue, and while newer models don't tend to suffer quite as much, do a thorough inspection of the bodywork before buying, and try to have stone chips and any deep scratches in the paintwork repaired to prevent any corrosion. 

There have been a number of official recalls on the Sprinter, check your, or any prospective purchase of a Sprinter on the DVSA website to see if it has been subject to any of these.
Looking for more used van buying guides? Click here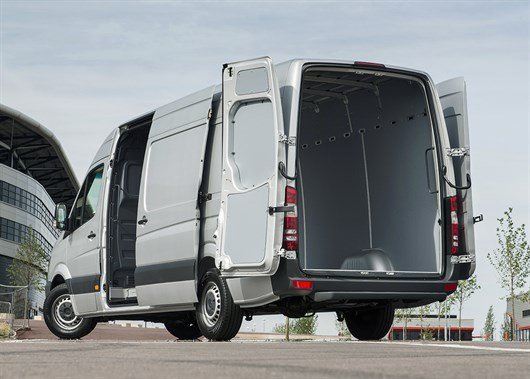 Mercedes-Benz Sprinter pricing
The entry point currently to Sprinter ownership is around £4000. At that price you'll be looking at high mileage models, deep into the 100,000+ sphere with many having double that. Don't rule them out as inexpensive workhorses, though, as high miles doesn't necessarily relate to a tough, abused vehicle, those previously owned by large operators which typically are rigorous with their servicing.
Even at this price point the variety of vehicles on offer is sizeable, so if you're not after a regular panel van you'll find Lutons, Curtainsides, Dropsides, Chillers, Chassis Cabs and more, allowing you to find the vehicle that best suits your business's specific needs. Between £5000 and £8000 and the choice just gets wider still, with masses of choice across all body types. Engines, as in any price point tend to be the 2.1 turbodiesel, mated to the manual transmission. Automatics and 4x4 versions are much scarcer, though they're out there if you're prepared to search.
£8000 and above gets you into newer, lower mileage vehicles, again the choice being expansive, though in every price point you'll do well to find anything other than white examples.
Spend over £10,000 and the choice is newer still, with light use and excellent order throughout. Up the budget further and you'll likely be buying off Mercedes-Benz Commercial Vehicle dealers forecourts.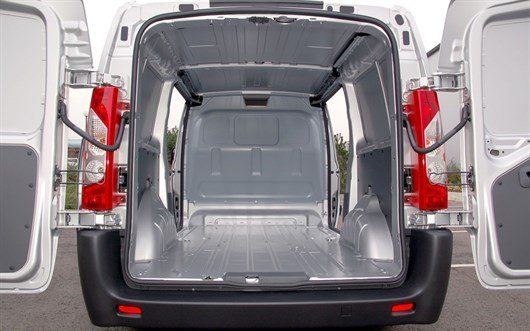 What we said
"The Sprinter is renowned as one of the best handling large vans on the market, with light and responsive steering that makes it easy to navigate around town or guide the van into a tight parking space. 
"The load area is as versatile as before with load securing rings and lashing rails in the floor, sides and roof as an optional extra - essential if you're moving large and bulky items. You can choose plywood for the sides for extra protection, plus this boxes in the rear wheelarches making the space more usable."
Where can I get a history check for a Mercedes-Benz Sprinter van?
Lots of companies offer a van history data check and we'd recommend using one, even if the seller says this has already been carried out. Better to spend a few pounds and be safe than sorry – and checks can be carried out online, via mobile phone or by apps on tablet PCs.
| | | |
| --- | --- | --- |
|   | Single check cost | Multiple check cost |
| Basic check | £9.99 | - |
| Full history check | £14.99 | Five checks for £29.97 (£24.99 for RAC members) |
| | | |
| --- | --- | --- |
|   | Single check cost | What you get |
| Free history check | Free | A valuation and MoT status and history |
| Basic history check | £3.99 | Whether the vehicle is stolen, exported, a write-off or scrapped. Also, the vehicle details, a valuation and MoT status and history |
| Comprehensive check | £9.99 | Everything you get in the basic check, plus whether the vehicle has outstanding finance on it |
| | | |
| --- | --- | --- |
|   | Single check cost | Multiple check cost |
| | | - |
| | | £29.97 (for three) |
Ask HJ
We bought a Euro5 van in 2016 - should it have been Euro6?
I bought a new Mercedes-Benz Sprinter from a Mercedes dealer in April 2016. It has a Euro5 engine so is liable to the ULEZ charge. I believe I have been sold it fraudulently as according to legislation "Euro6 is the sixth incarnation of the European Union directive to reduce harmful pollutants from vehicle exhausts. The Euro 6 standard was introduced in September 2015, and all mass-produced cars sold from this date need to meet these emissions requirements." So we should not have been sold it in April 2016 – eight months after it was introduced. Can you help?
It's important to note that the ULEZ is not based on a van's Euro rating - it's actually decided by the levels of particulate matter (PM) and nitrogen oxides (NOx) that the van emits. And some Euro5 diesels qualify for the ULEZ because the PM and NOx levels are low enough to meet the standards. That means your van might not be liable for the charges. You can find out here: https://vans.honestjohn.co.uk/ulez-van-checker-will-you-have-to-pay-the-low-emissions-charge/ When it comes holding the dealer liable for the Euro5 engine in your Sprinter, I think you'll struggle. Euro6 on all new large vans was not mandatory until September 2016.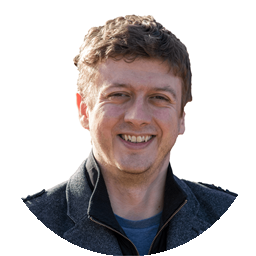 More Questions
More Van Advice
See also
* Sometimes we show a link with a * next to it. It means that it is an affiliate link and as a result helps HonestJohn.co.uk stay free to use. It's tracked to us and if you go through it, it can sometimes result in a payment or benefit to the site.