Used Pick-Up Buying Guide: Nissan Navara 2005-2016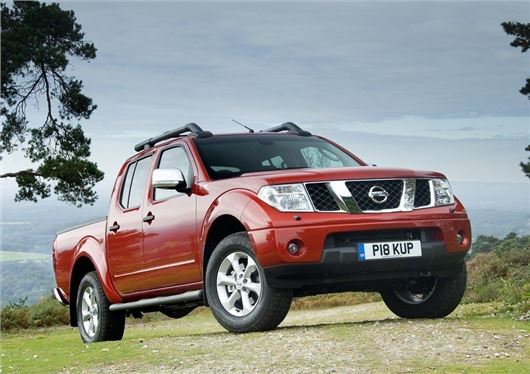 The Nissan Navara arrived into a burgeoning pick-up marketplace in 2005 and sold well right up until it was replaced with an all-new model in 2016. 
With good road manners to back its clear good looks, useful carrying and towing capacity, the Navara was a big success for Nissan, its wide remit of appealing to business as well as retail customers seeing it offered with a wide range of trims.  
Initially offered in S, SE and Outlaw trims, Nissan would change the offering to include its Visia, Tekna and Acenta trims from 2010 as well as offering Platinum and Sport X into the model mix, too. None are lacking in kit, the entry models obvious from their relative lack of exterior chrome and details like roofbars. Like all of its lifestyle-orientated competitors the Nissan Navara was available in a sizeable number of special edition models too.
Body styles were limited to two choices - Double Cab or King Cab - with the former being a genuine five-seat proposition. The King Cab also has some passenger space behind the front seats, but not so much you'd want to spend much time in them.
There are all manner of roll top, shutters and hard-top options available to cover the loadspace, though many limit the Navara's usefulness
Unsurprisingly the Double Cab dominated UK sales, though if you're after maximum load capacity the King Cab's lengthier pick-up bed (1861mm over 1511mm) is the more useful proposition. There are all manner of roll top, shutters and hard-top options available to cover the loadspace, though many limit the Navara's usefulness. With a braked trailer the Navara will tow as much as 2.6 tonnes as well as carry 1054-1250kg in the back, depending on the model. 
Engines/transmissions 
Nissan's initial engine choice with the Navara was limited to a single 2.5-litre four-cylinder turbodiesel. It produces a not insignificant 171PS and 403Nm of torque and it might be fitted with balancer shafts for refinement, but it's not the smoothest engine out there. Power was increased in 2010 to 190PS, torque to 450Nm - from 2000rpm - the Navara also benefitting from electronic stability control and other improvements to its passive safety specification.
The revisions in 2010 also brought a Renault-derived 3.0-litre V6 turbodiesel into the model mix, it develops 231PS and 550Nm of torque (from 1750rpm), the V6 dCi coming with a standard automatic transmission.
In 2012 Nissan added a lower power Visia spec model with a 144PS version of the 2.5-litre four-cylinder unit for business users with an eye on running costs. Its torque output remained at 450Nm, the economy gains marginal on both fuel consumption and emissions, Nissan quoting an official combined consumption figure of 34.5mpg. The higher power 2.5 dCi claims 33.2mpg while the V6 boasts 29.7mpg, but you'll do very well to get anything like that in real-world driving. 
As standard the four-cylinder dCi came with a six-speed manual transmission, though was optionally available with a five-speed automatic. The six-speed manual is among the slicker operating manual transmissions in this class, slotting across its gate with a lightness and ease that belies the Navara's tough hauling and carrying capacity.
All Navaras come with Nissan's All-Mode electronic four-wheel drive. Drive choices include 4x4 high and low range models as well as a two-wheel drive choice. Off-road it's unlikely you'll ever find it lacking in ability, though if it'll be spending most of its time in the muck then it'll get further if you fit some proper off-road tyres.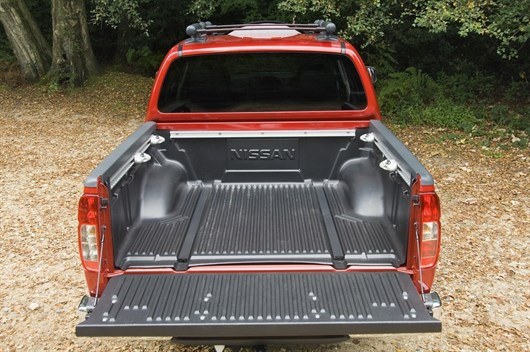 Maintenance 
In 2017 Nissan admitted that there was a chassis rust issue with the Navara D40 - built between 2005 to 2008. The issue concerns corrosion on the chassis and can result in the vehicle's underpinnings cracking and eventually breaking the vehicle in two if left untreated. A national inspection scheme was launched to reassure customers; however, if buying a D40, we'd recommend having a chassis inspection. 
Timing chains are another known issue, which can stretch and break, which can be disastrous. If it breaks it will mean an expensive engine rebuild, or an all-new (or now reconditioned) engine, which is expensive. There are fixes, with one of the most well-known being Billcar Ltd, a specialist 4x4 engine repair and service centre which offers a duplex timing chain modification that solves the problem. They recommend as a minimum the original chain should be replaced by a duplex one at 60,000 miles. Other problems associated with the 2.5-litre dCi centre around the solenoid valves in the turbo and the high pressure fuel rail. A clutch kit for a Navara will cost around £250-£300 and around the same to have it fitted, while new brake pads for the front will cost around £100-£120, and rears about £90.
It's always prudent to ask if there have been any upgrades to the timing chain
With the engine problems in mind a full service history is essential, and it's always prudent to ask if there have been any upgrades to the timing chain, and who did the work.
Servicing should be 12,000 miles (or annually) with every second service a more comprehensive one. Shop around, but look to pay around £150 for a small service and double that for the larger one. Some recommend service intervals of 6000 miles.
It's well worth asking when the last time the transfer box and diff oils were changed, and if they've not been done then have it done. Another area of concern is halfshafts and bearings, they're a known weak area. If the halfshafts do go, it an inevitability, then you're looking at about £200 a side to repair. The fuel rail pressure valve can fail, if it does so it'll be in the region of £1000 to repair, as the inlet manifold requires removing for the repair to be done correctly.
Front wheel bearing hubs and anti-roll bar links are all known to wear quickly. Nissan isn't alone in having issues with its Navara, but it does seem more prone to needing repairs than many of its rivals, Mitsubishi's L200 by comparison having the title of Warranty Direct's most reliable car over 15 years in 2012. Buy with caution then, and maintain meticulously.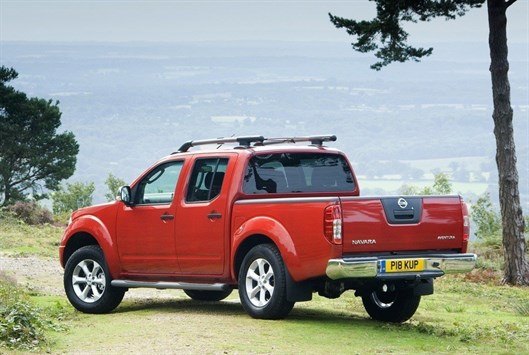 Pricing
Around £4000 is the starting price for the earliest examples of the D40 Navara. With plenty sold you won't be short of choice, and with many used as family cars rather than working vehicles even at this price point you can afford to be picky regarding condition. Those used commercially will inevitably have led a tougher life, but the Navara's towing capability is a draw for many buyers, so ask what it's towed if there's a towbar fitted. Around the £5000 mark you'll be spoilt for choice, so bargain hard and look for the lowest miles and best maintained.
Post-2010 Navaras typically start around £7500 depending on condition and mileage, the very last 2014/15 cars available from around £17,500 to £26,000. If you're buying a recent one, push for big discounts, as the new Navara's availability means dealers will be keen to clear stock.  
To find the latest deals, visit: Honest John Vans For Sale
What we said
"On the road, the Navara's 2.5-litre engine doesn't feel quite as punchy or brawny as the figures suggest and it doesn't like to be worked too hard when carrying a full load."
"Only the likes of the Land Rover Defender and Isuzu D-Max will outdo the Nissan when it comes to foraging into the rough."
What to watch 
The timing chain is a serious problem with the Navara, so don't ignore any rough running or rattling under the bonnet. Doing so could result in you needing a complete engine rebuild or all-new engine.


Halfshafts are another area of high wear, it's not uncommon for the Navara to go through many sets in its life. If there's any noises coming from the rear axle it's likely they'll need replacing.


Check the fluids in the diffs and transfer box and change if there's no record of it having been done. If it gets dirty it causes corrosion to the electronic connections and will cause issues with the 4x4 system.


The door locks can fail, so check all work correctly. Likewise the electrically adjusted driver's seat (depending on whether it's fitted, of course).


A complete service history is vital, if it's not got one, or there are any missing services then walk away. The potential expense of a badly maintained Navara could be ruinous.  
Any wandering or movement on the road accompanied by knocking is related to the upper and lower ball joints. They'll need replacing if so. 


Check the oil for any metal particles. If there's any present then you'll be looking at an expensive bill, the likelihood being you'll need to replace items like the turbo, pumps and other auxiliaries.
The propshaft needs grease applied regularly, if it's not been don it can wear the joints, leading to it going oval. Vibration through the drivetrain points to this. It'll not be a chap repair, either, costing upwards of £700.


Check, and never ignore, the engine warning light. If it's glowing it could be related to the EGR valve, which can block and cause the engine to suffocate. 
If built between 2005 and 2008, ensure that the Navara has had a chassis inspection. The seller should have paperwork to prove this has taken place.  
Good looking, capable and well-equipped the Navara looks like a tempting proposition. Though there's no doubt it's a case of buyer beware used, the Navara's mechanical maladies are fairly well known, and not insubstantial.
Many run faultlessly, though likewise some cause endless trouble, though you can minimise the chances of that by buying one that's been meticulously maintained. With its key rival known for their reliability it's a difficult vehicle to recommend though, Nissan admitting it's gone to great lengths with its replacement to fix the many problems associated with this 2005 - 2016 model. 
Looking for more used van buying guides? Click here
Comments
Author

Kyle Fortune
Latest