Review: Peugeot e-Boxer (2022)
139-mile range makes it useable for many companies, standard 50kWh rapid charging, one of the more affordable electric large vans.
Performance is restricted off-the-line, aftermarket feel to the EV conversion, still looks expensive next to diesel version.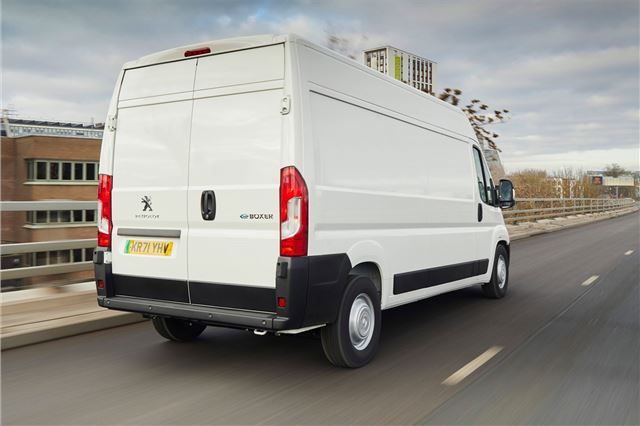 Peugeot e-Boxer (2022): At A Glance
The Peugeot e-Boxer is essentially an identical vehicle to the Citroen e-Relay, and is the French brand's attempt to finally provide a viable electric alternative to large diesel vans. 
With many cities around Europe and the UK moving to restrict or ban diesel vehicles, there's never been a better time than now for fleets to make the jump to EV. Parent company Stellantis has been leading the electric van drive, and already offers the small e-Partner and medium-sized e-Expert. 
Unlike those models, which were designed from the get-go to be offered with both combustion engines and electric power, the large Peugeot Boxer has been around with only cosmetic and cabin upgrades since 2006 - way before electric large vans were viable. 
Peugeot has gone down a cost-effective route to make the e-Boxer as a result. Rather than repackaging the van in-house, it takes partially finished examples of the Boxer and ships them to Turkey, where a third-party converter shoehorns an electric motor and battery pack where the engine, gearbox and fuel tank would otherwise be. The same applies to the e-Relay.
Interestingly, sister company Fiat - which makes the near-identical Ducato - elected to develop the electric e-Ducato in-house. But this was done prior to the formation of Stellantis. We suspect, then, that the e-Boxer is largely a quick and cheap conversion before an all-new model comes along, which will be developed from the start with electric power in mind. 
Anyway, on to the van itself. The e-Boxer is powered by a 120PS electric motor propelling the front wheels via a single-speed gearbox. Two lithium ion batteries are available: the cheapest version has 37kWh, while a longer-range 70kWh model is also offered. 
With a quoted range of a mere 73 miles, we're not sure the smaller battery version will of much use to anyone except companies running last-mile delivery services. We're reviewing what is expected to be the much more popular 70kWh version instead, with its 139-mile range offering much greater flexibility.
The Peugeot e-Boxer is, unlike its Mercedes e-Sprinter rival, offered in a range of body sizes (L2H2, L3H2, L4H2) plus an L4H2 window van and a chassis cab. With the electric motor wedged into the engine bay, and the battery pack neatly packaged within the floor, the e-Boxer offers a competitive 15 cubic metre cargo volume and a payload of up to 1,150kg. 
What does a Peugeot e-Boxer (2022) cost?
Buy a used Peugeot Boxer from £29,700
Peugeot e-Boxer (2022): What's It Like Inside?
The Peugeot e-Boxer's interior is basically the same honest but old-school layout as the diesel Boxer. But there are some interesting quirks that mark it out as a third-party conversion. 
First off, there's the instrument cluster, which contains the same rev counter, temperature gauge and fuel gauge as the diesel Boxer. What use are they? Err, no use whatsoever, as the converter has simply removed the needles from them. Classy...
If you want to see how many miles you have left in the battery you'll need to glance at the rear-view mirror, which is otherwise redundant given it faces a bulkhead. Here, a little screen displays range and battery voltage - it serves its purpose, but doesn't look like something a large, respected car company would willingly install in its models. 
The same applies to the heating and ventilation situation. Because there's no piped-in heat from the engine bay, the e-Boxer has an electric heat pump. But that makes the regular temperature knob redundant. Rather than remove it and leave a gaping hole in the dash, it's still there, with a basic little temperature display and 'climate control' mounted to the right of the steering wheel. 
That means passengers cannot adjust the heating, but hey ho. It works okay, it just looks out of place in a mass-market product such as this. 
Beyond that, and some brushed aluminium switches to select drive, neutral and reverse, it's standard Peugeot Boxer fare. So it's built to withstand plenty of abuse, and filled with lots of practical storage touches. The driver's seat is comfortable and forward visibiity is faultless. 
Sadly, just like the diesel Boxer, it's really starting to feel its age. That a Ford Transit and Mercedes Sprinter feel a generation or two newer isn't by design - it's just that the Peugeot has been around since 2006. 
This cost-effective van conversion does have benefits, such as the useful 139-mile range of the bigger battery model. That's well ahead of the 96 miles offered up by the Mercedes e-Sprinter, and beats the Renault Master ZE's 124 miles. 
Another bonus, too, is standard-fit rapid charging. Able to take charge in at up to 50kWh, the e-Boxer can restore 80% of its charge in around an hour. That's ideal if the van is static during its operator's lunch break. On a 22kWh, three-phase charger, you'll need about nine hours for a full charge, however. 
What's the Peugeot e-Boxer (2022) like to drive?
The Peugeot e-Boxer is no ultra-high tech EV crammed with futuristic features, and as such those climbing aboard will feel pretty much at home if they've driven a diesel Boxer before.
However, there are some changes. Chief among which is the removal of the dash-mounted gearlever, replaced by three brushed aluminium buttons marked Drive, Neutral and Reverse. The manual handbrake remains intact, however, which is rare for an EV and marks the e-Boxer out as a third-party conversion. 
Its output of 120PS is the same as the entry-level diesel e-Boxer, but for the first few hundred yards you might think something was wrong. In an apparent effort to increase range, reduce drivetrain wear or just stop your local delivery driver from careering through a shop window, you don't seem to get full power from the off, unlike almost every EV. 
With the available torque seemingly limited until 25mph or so, pulling out of a busy junction or onto a roundabout can be a bit daunting at first. You soon learn to drive around it, though, and once on the open road the performance is reasonable - if still fairly leisurely. It tops out at 75mph - which is actually very good for an electric van of this size - but we can't imagine how long it takes to get there when loaded up. 
By comparison, a Fiat e-Ducato tops out at just 62mph. But high, continuous speeds are not what either van is built for because the range will plummet. It's mainly designed for urban driving with occasional higher speed bursts, and seems perfectly suited to that role. 
The e-Boxer's 139-mile range seems pretty realistic on our (admittedly limited) first driving impressions. The electric van is also noticeable smoother and more relaxing to drive than the diesel version, with no physical gears and engine vibration. You do notice other noises, such as wind noise and general road roar - the Boxer base van is one of the oldest designs of its type on sale, and it shows. 
The throttle response is a bit binary, meaning holding the e-Boxer at a constant 30mph means frequently adjusting your right foot. We've no issues with the braking, though: sometimes the regenerative effect is a little inconsistent, but pedal feel is fine and they're strong enough. 
In terms of handling, the additional weight of the batteries low down in the floorplan might actually benefit stability when the e-Boxer is unladen compared with the diesel version. But it feels largely the same as the regular Boxer: tidy enough, but not up to the standard of newer rivals from Mercedes and Renault. The same applies to the ride, which gets a bit busy without any weight in the load bay.