Review: Peugeot Partner (2018)
Rating:
Excellent range of petrol and diesel engines, one-tonne payload capacity, affordable fuel costs.
Mid spec vans are expensive, petrol engines not available until late-2019, small steering wheel will not suit everyone.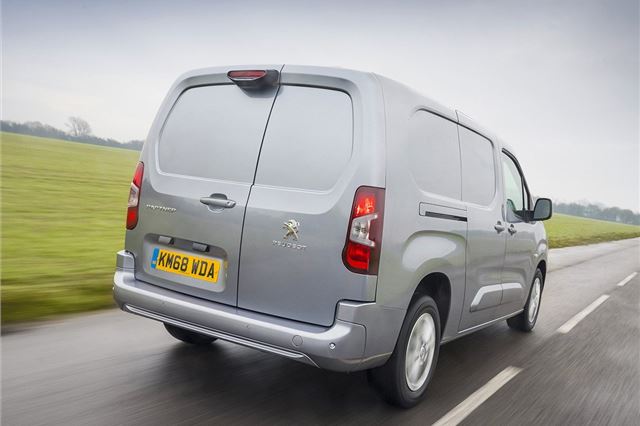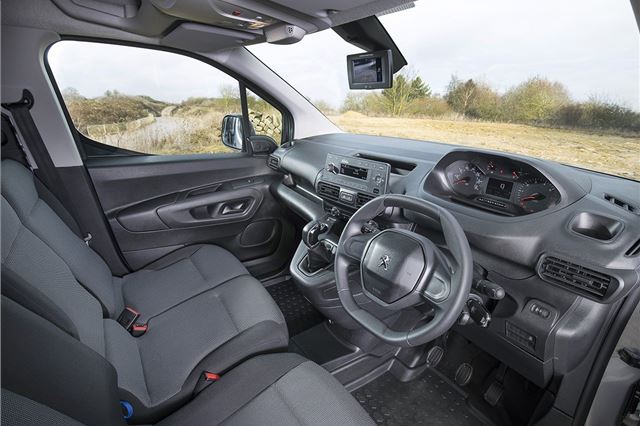 Peugeot Partner (2018): At A Glance
The Peugeot Partner is a practical and affordable van that covers all of the essential comfort, refinement and payload boxes. Some drivers might take issue with the dashboard layout and quirky steering wheel, but it's difficult to deny that this Peugeot has the small van formula well and truly cracked. 
Developed alongside the Citroen Berlingo, Vauxhall Combo and Toyota ProAce City, the Peugeot Partner punches above its weight with a maximum payload of 1000kg and up to 4.4 cubic metres of load space. Finding a Partner van to suit your business requirements is surprisingly easy, thanks to Peugeot's simplified model line-up. 
Grip models, for example, are designed for builders and get three front seats, a one-tonne payload and 30mm raised ground clearance plus enhanced traction control for navigating muddy building sites or wintry roads. Delivery drivers, on the other hand, get the option of Asphalt trim, which comes with upgraded soundproofing and touchscreen navigation.
Those looking to cut costs can opt for the entry-level S model, but equipment levels for the basic Partner are sparse and this means you'll have to pay extra to get essentials like air conditioning, cruise control and an adjustable driver's seat. 
All versions of the Partner are easy to drive, even when fully laden, with the large windscreen and supple suspension making the van a pleasant place to spend the working day. However, while Peugeot's i-Cockpit dashboard layout is genuinely innovative with clear controls and displays, the small steering wheel can obscure some of the dashboard readings and some drivers may prefer the larger, conventional steering wheel found in the Citroen, Vauxhall or Toyota. 
Like the Berlingo and Combo, there are two diesels and one petrol engine to choose from. The 1.6-litre turbodiesel has been carried over from the old Partner with 75PS or 100PS and a five-speed manual gearbox, while the 130PS 1.5-diesel gets a six-speed manual or EAT8 automatic gearbox. The 110PS and 130PS 1.2-litre PureTech petrol was added to the Partner range in 2019. Running costs are affordable, with the diesel versions being advertised with 64.2mpg - 65.7mpg. 
The Peugeot Partner is a worthy rival to the Ford Transit Connect and Volkswagen Caddy. Its 1000kg maximum payload puts it at the front of the small van pack when it comes to carrying capacity, while its advertised economy figures promises low fuel costs. The Partner is also one of the few vans to get an overload warning system, which indicates when the van is nearing its maximum laden weight.
What does a Peugeot Partner (2018) cost?
Buy a used Peugeot Partner from £13,620
Peugeot Partner (2018): What's It Like Inside?
The Peugeot Partner is a practical van, with the same road handling and comfort levels of a typical family car. As a result it has plenty in its locker to satisfy small business operators and sole traders who want a compact but versatile commercial vehicle. 
Available in two load lengths - standard and long – the standard Partner will accommodate two Euro pallets and provide a load volume of 3.3 – 3.8 cubic metres. Long models extend the load area to 3.9 to 4.4 cubic metres and payloads for all vans range from 650kg to 1000kg.
To get the most out of the Partner, buyers should specify the Multi-Flex seating system. It adds foldable seats and bulkhead hatch to extended the load length of the van. This means the standard van will carry items measuring up to 3.0 metres in length with Multi-Flex while the long model will take 3.4 metres.
A single side sliding door if fitted as standard, while an additional offside sliding door is available as an option. Most versions get 1.2 metres between the rear wheel arches and six load hooks as standard, while four more can be fitted to the sidewalls. Vans with the optional Loading Pack get LED lighting for the load area and a 220v power socket.
The Partner is also available as a panel or crew van, with the latter transforming it into a five-seater. However, while the crew cab option makes the Partner apt for transporting your family or workmates, it does reduce the load area to 1.8 cubic metres and narrows the load width to 1.1 metres between the rear wheel arches.
The rear seats can be folded down to accommodate large loads, however, while still leaving room for a single passenger seat in the back.
Upfront the cab is comfortable and can seat up to three adults, depending on spec. There's no shortage of cub holders or cubby storage pockets, while an optional drawer under the passenger's seat makes it easy to hide valuables from view.
All vans get an overhead shelf as standard, along with useful hooks to hang jackets. The Multi-Flex seating pack also lets the driver fold down the central seat back for a built-in, pivoting table.
What's the Peugeot Partner (2018) like to drive?
The Peugeot Partner has a good choice of petrol and diesel engines. The best for long distance drivers is the 130PS 1.5 BlueHDi - it delivers smooth acceleration and a healthy 300Nm slug of torque for shifting heavy loads. It will also tow up to 1200kg. The 1.5-litre turbodiesel can be paired with a six-speed manual gearbox or Peugeot's impressive eight-speed EAT8 automatic transmission.
At launch, the 1.6 BlueHDi unit from the old Partner is available with 75PS or 100PS. It might not match the 1.5 BlueHDi for refinement or torque, but it's marginally more efficient on paper and the 100PS version is sufficient for moving up to 1000kg. The 1.6-litre turbodiesel is limited to a five-speed manual gearbox, however, and this means it tends to get quite noisy on the motorway. 
Peugeot added the 110PS and 130PS 1.2 PureTech in 2019 and this unit provides a useful solution for buyers who cover short distances but don't want an electric van. 
Buyers can spec their van to suit their trade, with the trim levels split between Grip, Professional and Asphalt. The van can be bulked up with 30mm raised suspension, enhanced traction control, all-season tyres and hill decent control to handle wintery roads, building sites and rutted farm tracks. 
The Partner is easy to drive, but not as sharp or as rewarding as the Ford Transit Connect. That said, the suspension is mostly supple and this means you can cover long distances in comfort. The heavy duty version - capable of carrying 1000kg - on larger wheels is the only van that feels occasionally uncomfortable on rough roads. We would recommend avoiding the 16-inch wheels if you need the one-tonne version of the Partner. 
The Partner gets Peugeot's i-Cockpit dashboard layout as standard, with a head up style instrument panel located above a compact steering wheel. Not all drivers will like this layout, but it's simple enough to master. Drivers who dislike the small steering wheel will be better with the Citroen Berlingo or Vauxhall Combo, which get a more conventional layout. 
There's no shortage of techy options, however, with the options list including an eight-inch colour touchscreen, digital rear-view mirror and adaptive cruise control. Most versions get automatic headlights, front fog lights and an electronic parking brake as standard.