Our Vans: Volkswagen T6 Transporter 2.0 TSI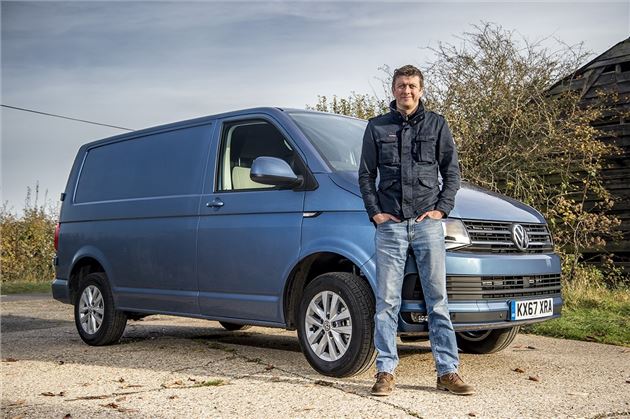 2 January 2018: Meet our new van – the T6 Transporter 2.0 TSI
The Details
| | |
| --- | --- |
| Current mileage | 50 |
| Claimed economy | 31.0mpg |
| Actual economy | 28.9mpg |
Meet the newest addition to the Honest John fleet – the Volkswagen T6 Transporter 2.0 TSI. No, that's not a typo, this really is a petrol panel van. And we're going to be running it for three months to see if it really can cut it as an affordable alternative to diesel. 
Volkswagen added a range of 2.0 TSI engines to the T6 Transporter in mid-2017 and buyers can have their four-cylinder petrol van in two tunes - 150PS or 204PS - while gross vehicle weights (GVWs) vary from 2.8 to 3.2 tonnes.
Given that most van operators prioritise running costs over performance, we've specified our T6 in a short wheelbase, low roof bodystyle with the 150PS petrol matched to a six-speed manual gearbox. With 280Nm of torque, the 150PS 2.0 TSI should be powerful enough to haul payloads over short runs from cold - something that causes all manner DPF problems with diesels. 
Like the 150PS 2.0 TDI diesel, the TSI petrol has a payload that tips just over a tonne – 1054kg – while the GVW is unchanged at 3000kg. Obviously, there are some rather significant differences in fuel economy, with the petrol returning an advertised 31.0mpg, compared to the diesel's 46.3mpg, but we'll analyse this in more detail as we get mileage under the Transporter's belt.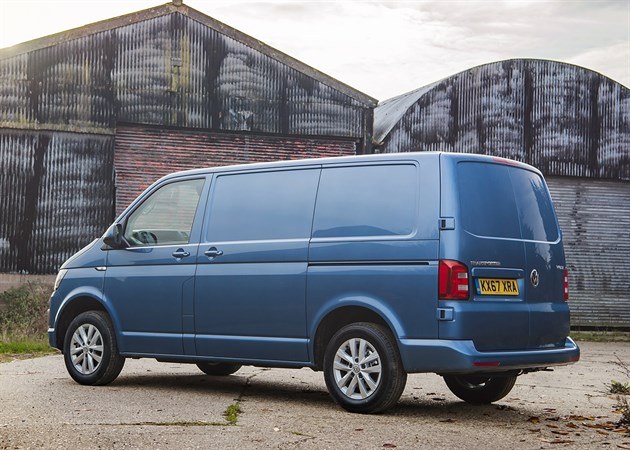 The Transporter 2.0 TSI can carry payloads weighing up to 1054kg, while braked towing capacity is identical to the 2.0 TDI at 2500kg 
The short wheelbase is the smallest van in the T6 range and we think this is the model that will appeal most to delivery drivers, engineers and city-based builders. The Highline trim also has the best mix of equipment, with cruise control, heated windscreen, automatic headlights and parking sensors fitted as standard. 
We've also added a few options, with the navigation package (£1080), rubber floor coverings for the cabin and load area (£180) and a full height load lining (£222). Despite the petrol powertrain, the 2.0 TSI doesn't cost any more or less to tax compared to the 2.0 TDI. VAT and BiK is identical, as is annual VED. 
Since taking delivery, we've only covered a handful of miles, but the Transporter feels very similar to the standard diesel. The raised driving position provides a commanding view of the road and refinement levels are high, with both road and engine noise hushed to a low-pitched rumble. Handling is also excellent, with light and responsive steering making the Transporter extremely agile at both urban and motorway speeds. 
Over the next three months we'll be putting the van thought its paces to see how it fares as an urban run-around, with the emphasis on short runs from cold. Fuel economy is already close to the advertised 31.0mpg, although this has been achieved without a payload or passengers. However, over the next few weeks, we'll be loading the T6 up and reporting back to see how this impacts overall running costs. 
Later: Fuel for thought - what's it like to run a petrol van? »
Updates

After three months and almost 2200 miles, Dan's handing the Transporter TSI back to Volkswagen.

Want a medium size petrol van? The choices are rather limited, as Dan discovers when sizes up the competition.

How does the petrol T6 panel van cope with life as a city run-around? Dan finds out.

Refined and powerful 2.0 TSI gives our van a car-like feel on the road, but there are also some strange vibrations.

With petrol power the Transporter isn't as efficient as its diesel rival, but the costs are not as dramatic as you might think.

2 January 2018: Meet our new van – the T6 Transporter 2.0 TSI
Is Volkswagen's petrol panel van a realistic alternative to diesel? Dan takes one for three months to find out.