Mercedes-Benz Viano (2003 - 2015)
reviewed by Anonymous on 23 September 2020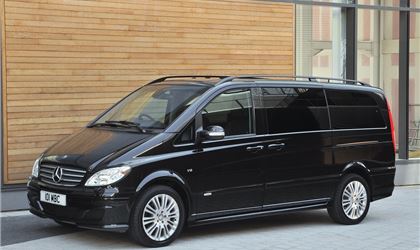 2.2 CDI Ambiente LWB
reviewed by harpy on 17 May 2016
1
Tax/Insurance/Warranty costs
3
Cost of maintenance and repairs
3
Experience at the dealership
2
How you rate the manufacturer
Major Components good. Let down by many peripheral components.
I am the 2nd owner. It had 40,000 miles on the clock when I bought it. Now has 95,000 miles. Regularly serviced. So this is a long term review.

Pros:
Engine and Gearbox. Brakes. Steering. Steering wheel controls incl Cruise Control all excellent. Air Con., still working after 9 years. Spacious.

Cons:
1) Unforgiving suspension. On a smooth road it's fine. Over bumps it's terrible.
2)Electric front window mechanism failure approx every 3 years. Both have needed replacing.
3)Regular tailgate wiper motor failure due to screenwash ingress. Finally I unplugged rear screen wash pump to prevent recurrence. Rear wiper activates, and screenwash automatically pumps when front wipers are on and reverse gear is selected. Blocked or frozen rear wiper nozzle forces screenwash into the motor.
4)Rear sliding door contact plates. These wear fast, possibly due to the side doors moving slightly when closed (chassis not stiff enough?). False 'open door' warning occurs, also repeated locking and unlocking occurs when the surface plating is worn. I have replaced both. Not a big deal.
5)Spare wheel can be stolen in 10 seconds – no exaggeration. Mine was stolen quickly and silently. New wheel and fixing bracket and winch required. I made a simple steel bracket to cover the cable so this cannot happen to me again.
6)The seats are very heavy, difficult to put in and take out. But at least it CAN be done. It's just difficult. The plastic parts around the rear and base of the seats are flimsy and break off easily.
7)Rear power socket cap broke off easily – not a big deal.
8)Multi disc player with digital connection to radio. Fitted horizontally under drivers seat. Disc failure warning which I know is caused by the cars stiff suspension. Mounting the player vertically aids the disc transport mechanism. So I have improved this myself. Why could this car not have had an aux input to the radio I do not know.
8)Radio (sound system) sound quality is poor.
9)Automatic self-leveling rear suspension still works but the controls for it are illogical. I would have preferred ordinary rear springs and self leveling headlamps. The tailgate opens to horizontal. I am 1.8m tall and have to duck to get under it.
10) I like the steering wheel and it's controls. Gear lever well placed. But the central console controls I find confusing, illogical, and distant.
11)The fuel tank needed replacement. It would not allow more than 5 or 6 litres to be put into it. How can a fuel tank be designed so as to stop fuel being put into it? Incredible.

Overall I would say the major parts of the car have been up to a good standard. The car is let down by peripheral components. As a prestige car, priced accordingly, none of these components should present problems. Consequently, I would not buy another Mercedes car.
Write your review
About this van
| | |
| --- | --- |
| Price | £22,698–£31,379 |
| MPG | 32.8–38.7 mpg |
| Real MPG | - |
Just reviewed...