Used van buying guide: Mercedes-Benz Vito 2003-2015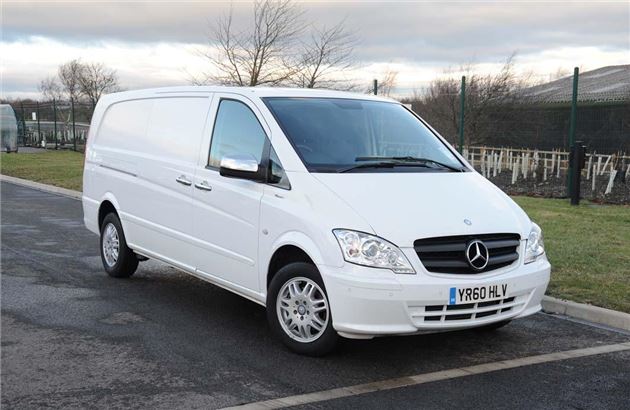 In This Guide
Vito Essentials
A popular and robust van for sale, the Mercedes-Benz Vito was produced in W693 form between 2003 and 2015 and provides car-like driving dynamics, decent running costs and a capacious load space. 
Offered in three body lengths and two roof heights with a variety of seating options from simple panel van through crew cab (Dualiner) to a full minibus (Traveliner), or, indeed, a fully licenced taxi. The Taxi version underlines the Vito's manoeuvrability, the tight turning circle a result of it being rear-wheel drive where most rivals are front-driven. Despite the rear-wheel drive, Mercedes-Benz has managed to keep the load floor low, for good access.
Being a Mercedes-Benz, safety is a priority, with all coming with ABS and adaptive electronic stability control, which takes into account the Vito's load, as standard.
The Compact and Long Vitos ride on the standard wheelbase of 3200mm, with the Extra Long stretched to 3430mm, the overall lengths being either 4760mm or 5238mm. The high roof model was only offered with that longer wheelbase, it increasing the roof height from 1900mm to 2328mm.
Even the smallest will accommodate Euro pallets, with 1277mm between the wheelarches, the load area accessed by dual sliding doors and a choice of rear doors - either a top-hinged tailgate on standard wheelbase low-roof models, or barn-style rear doors on all other versions.  Overall there's a potential load space of between 0.4–6.5 cubic metres and a payload ranging from 800-1145kg, depending on specification and seating layout. 
From 2010, Mercedes-Benz comprehensively facelifted the Vito to improve refinement, The interior was revised and kit increased, while the drivetrain gaining economy enhancing tech to reduced consumption by as much as 15 per cent. With these changes Mercedes-Benz also revised the look with re-profiled headlights and bumpers. The suspension was also overhauled, with more comfort-orientated suspension for passenger-carrying Vito options.
Engines available on a Mercedes-Benz Vito
Power from 2003 was from Mercedes-Benz's proven 2.1-litre turbodiesel, with a range of outputs, with either a standard manual or optional automatic transmission. If you want greater performance than the 2.1-litre (2148cc) four-cylinder turbodiesel could muster, Mercedes-Benz did offer the Vito a pair of V6 options, a rare petrol or a turbodiesel unit.
The most popular was the 2.1-litre four-cylinder turbodiesel it being offered in various states of tune. At the bottom of the range was an 88PS version badged 109 CDI, it being updated in 2007 with a boost of power to 95PS. Above the 109 CDI was the 111 CDI it initially offered with 109PS, that improving to 116PS. The top of the line four-cylinder offering was the 115 CDI, it having 150PS.
Latterly the line-up would be revised, with Euro5 compliant engine arriving in 2010, along with other changes. The range was now badged 110 CDI, 113 CDI, 116 CDI for the four-cylinder engines, with 95, 136 and 163PS respectively. As well as an improvement in output the engines gained economy, with lower fuel consumption and improved emissions, via engine changes and a greater spread of ratios in the standard six-speed manual transmission - a five-speed auto offered optionally with the 113 and 116 CDI models. Refinement was better, too, thanks to the addition of a vibration-reducing balancer shaft to the engine. 
Topping the range is the 122 CDI V6 turbodiesel, which has 224PS and 400Nm of torque, it, like all the revised Vitos was available with BlueEfficiency technology, which added engine start/stop and a range of consumption improving tech like low-rolling resistance tyres, more efficient power steering and fuel pumps as well as a gearshift indicator light for manual versions.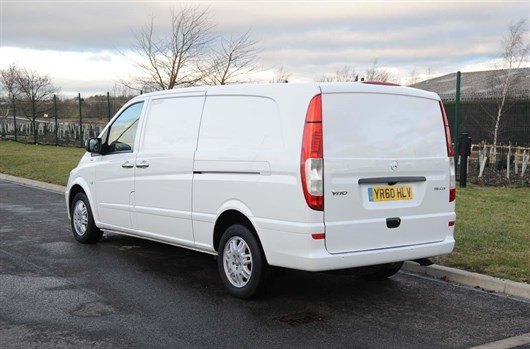 Maintenance on a Mercedes-Benz Vito
As with any van produced for so long, service interval recommendations changed throughout the production cycle. All engines have chain-driven cams, and from 2010 the servicing requirement was highlighted by the Assyst service computer, it flexible depending on the driving situation the Vito is used for.
Prior to that the recommended service intervals was 18,000 miles, the Vito coming with a three-year unlimited mileage warranty from 2010 onwards. For ultimate peace of mind, the oil and filter should be changed every 12,000 miles or 12 months. 
Running costs should be reasonable, with a major service costing around £180, a full service around £155, and an interim service £130. A diagnostic inspection will cost about £60, showing any error codes and potential problems. A replacement clutch fitted will cost about £450, front brake pads around £100, rears £100 also. Add a set of discs on each axle and you'll roughly double the cost of the brake service.
A new alternator will cost around £360 fitted, and a new battery about £100 fitted. Expect to pay around £250 for front shocks absorber replacement, with the rears costing similar. As they get older it's worthwhile undertaking as much preventative maintenance as possible, with an annual service inspection at roughly 12,000 miles advisable.
Mercedes-Benz Vito pricing 
With the oldest being over fifteen years old now there's a lot of choice out there, at every possible price point. Around £1000 will buy you a scruffy runner or one needing mechanical work.
A better starting point is about double that, with £2000 getting you into higher mileage or older Vitos or part-exchange examples that dealers don't want on their forecourts. Don't rule these survivors out, as they might well have big mileages or be older, but they could provide a inexpensive workhorse for a good few years yet.
From £4000 mileages are creeping closer to the 150,000 mark rather than the 200,000+ of those a thousand pounds or so less. In the £5000-£7000 bracket you can expect newer example, with mileages still predominantly above 100,000 miles, but that's nothing to be frightened of, the Vito covering mileages well. Demand full service history at from this price point, and with so many available you can afford to be selective. Newer models in this price point also bring some desirable kit like Bluetooth connectivity and cruise control.
To find the latest Mercedes-Benz Vito values, visit: Honest John Used Van prices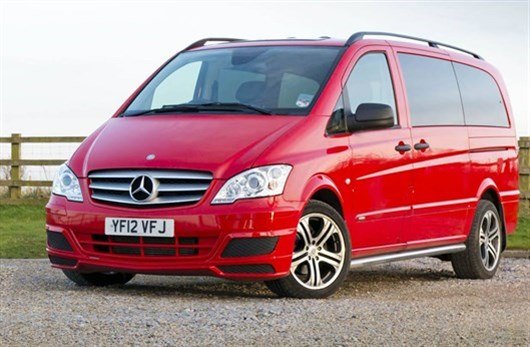 What we said
The Vito is a medium panel van that offers competitive running costs, space and excellent comfort, with the added attraction of the three-pointed star on its nose. The only downside is the foot-operated parking brake that is awkward to use and often releases with a loud thud.
What to watch
It might have had a good reputation for reliability but that's not stopped the Vito having a few recalls. One relates to a bracket chaffing wires and causing a fire risk, another for an air con fan relay overheating and one in relation to airbags. Check they've been investigated - the seller should have paperwork to show the work has been completed by a local approved workshop. 

Listen for any knocking from the suspension. The front lower arms can wear, while the lower ball joints also become lose with age and wear. A lower suspension arm and balljoint replacement will cost you around £300.  

Check the shift quality of the transmission, if it's notchy or vague the gear linkages might be worn. It's a relatively common fault, but an inexpensive fix - costing around £100-£150 to repair.


Have a good look at the exhaust, it can split in places and it's not a cheap repair if the whole system needs replacing.


Listen for any whistling under the bonnet, and check for any reluctance starting, the injectors are known to get blocked with a black crusty carbon deposit, causing leaks and poor running. It can be fixed, it a known issue, with plenty specialists able to sort it out. 


Check the brakes, particularly the inside surfaces of the discs, which can get heavily corroded. It's an inexpensive replacement, but still worth checking.


Start from cold, check the glowplugs are operating and check the instruments for any warning lights that don't switch off after start-up. An electronic diagnostic check is well worth the £60 or so it will cost you, for peace of mind.


Check the condition of the clutch, if there's any slipping when pulling away in lower gears then you'll be looking at a replacement - at around £450-£500.


Take a good look at the bodywork, mechanically Vitos are fairly solid, but the bodywork wasn't Mercedes' best era, with rust something of an issue. White ones seem to rust the worst, which might have something to do with the water-based paints Mercedes-Benz used, this also a problem on its Sprinter relation.


Ask the seller when the gearbox oil was last replaced. It's not a frequent service item, and often missed, it worth doing if there's no evidence of it having been done recently.
Where can I get a van history check for a Mercedes-Benz Vito?
Many companies offer a van history data check and we'd recommend using one, even if a used car seller says this has already been carried out. Better to spend a few pounds and be safe than sorry – and checks can be carried out online, via mobile phone or by apps on tablet PCs.
| | | |
| --- | --- | --- |
|   | Single check cost | Multiple check cost |
| | Free | - |
| | £1.99 | - |
| | £9.99 | £14.99 (for three); £19.99 (for five); £59.99 (for 20) |
| | | |
| --- | --- | --- |
|   | Single check cost | Multiple check cost |
| | £9.99 | - |
| | £19.99 | £29.97 (for three) |
| | | |
| --- | --- | --- |
|   | Single check cost | Multiple check cost |
| | £1.99 | - |
| | £8.99 | £14.99 (for three) |
Ask HJ
Is the turbo on a Mercedes Vito unusually noisy?
I am looking at a Mercedes-Benz Vito 114 but the air intake of the turbo seems rather noisy. The sales guy says this is normal and the van drives well. Is this sucking noise normal?
The turbo on the Vito can be quite noisy when the engine is cold, but this usually clears up within a minute or two as the engine heats up. Signs of something more sinister would be smoke from the exhaust or (if you own the van) excessive oil usage. If you buy the van, the dealer is legally liable for any faults that develop within the first six months. However, for added peace of mind, I'd push for a 12-month warranty, which includes all components of the turbocharger and the DPF (diesel particulate filter). If they refuse, take your business elsewhere. For more used van buying advice, see: https://vans.honestjohn.co.uk/how-to-buy-and-sell/top-10-tips-to-buying-a-used-van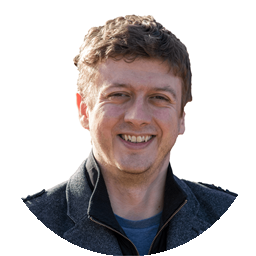 More Questions
More Van Advice
See also
* Sometimes we show a link with a * next to it. It means that it is an affiliate link and as a result helps HonestJohn.co.uk stay free to use. It's tracked to us and if you go through it, it can sometimes result in a payment or benefit to the site.