Used Van Buying Guide: Mercedes-Benz Citan 2012 -2019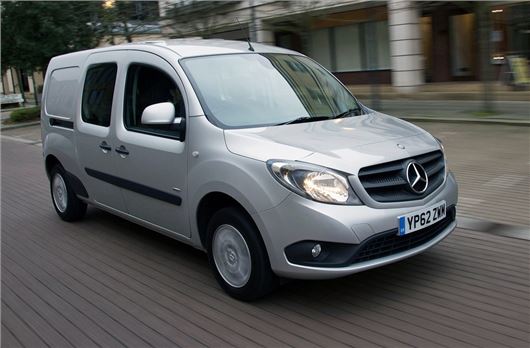 If you're thinking that the Mercedes-Benz Citan is a ringer for the Renault Kangoo then you'd be right. Behind that different face and Mercedes-Benz badge is the familiar profile of Renault's big selling, good value small commercial.
Despite the obvious visual relationship Mercedes-Benz insists that the Citan isn't merely a case of badge engineering, developing the Citan to deliver the driving characteristics of the rest of its commercial line-up. To achieve that the changes Mercedes undertook are more sizeable than most collaborative ventures. The front suspension was re-engineered, the panel gaps throughout the body tightened, a new interior - including dashboard and instruments as well as seats and other trim was added, too.
Changes in 2015 brought new equipment to the Citan range, with a new nav system including a USB port and DAB radio. A Citan Sport model was also added, it benefitting from colour coded bumpers in six metallic colours, alloy wheels, air conditioning, a leather-trimmed wheel and chrome elements in the grille, sidebars and tailgate trim.
The range's wheelbase/overall lengths are 2313/3937mm for Compact, 2697/4321mm for Long and 3081/4705mm for the Extra-long and Dualliner. Carrying capacities range from 2.4m3-3.8m3 with the Compact being 2.4 m3, the Long 3.1 m3 and the Extra-long 3.8 m3, the Dualliner being between 2.4-3.7 m3 depending on the seating arrangement.
Payloads max out at 490kg for the Compact, 630-760kg for the Long, 795-810kg for the Extra-long and 735-755kg for the Dualliner. All but the Compact model featured a two sliding side door and asymmetric rear, side-hinged doors with an opening angle of 180 degrees. Load lengths stretched to 2137mm and all have a loading height of 1258mm. 
Engines/transmissions
Mercedes-Benz sensibly used Renault's 1.5 dCi turbodiesel engine to power the Citan, it offered in three different outputs and badged CDI to better suit Mercedes-Benz parlance. The choices were 108 CDI, with 75PS at 4000rpm and 180Nm of torque, a 109 CDI with 90PS and 200Nm and a 111 CDI with 110PS and 240Nm - the two more powerful units providing their peak outputs over the same rev range as the entry engine. In addition to this, Mercedes-Benz also opted to offer the Citan with a 1.2-litre turbocharged petrol engine badged 112, it having 114PS and 190Nm of torque.
The 108 and 109 CDI engines were both fitted with five-speed manual transmissions, while the 111 CDI and 112 petrol engines gained a six ratio in their manual gearboxes. A shift point display in the instruments was included in all to promote the best economy while driving.
For those wanting to maximise economy Mercedes-Benz offered a BlueEfficiency package as standard on the petrol engine, and optionally with the diesels. It included an engine start/stop function with battery alternator management to manage engine losses, as well as rolling-resistance optimised tyres (on vehicles with a payload capacity up to 650kg).
Typically, the BlueEfficiency models benefitted from an improved official combined fuel consumption figure as much as 5.5mpg better than normal, with CO2 figures dropping by around 7g/km. For the diesel models the official combined consumption figure was from 56.5mpg-65.7mpg. Performance from all was class competitive, with a 0-62mph time of between 13.1-16.3 seconds.
Updates in 2015 would see all the Citan engines certified to Euro6 regulations, the changes seeing the CDI models benefit from a 20Nm in torque each. An automatic transmission was added to the line-up in 2016, it limited to the 112 petrol model. With it CO2 emissions are 144g/km and the advertised consumption figure 44.1mpg.
Updates in 2015 would see all the Citan engines certified to Euro6 regulations
Maintenance
The CDI turbodiesels are fitted with a toothed cam belt which Mercedes-Benz claimed a 150,000 mile lifespan for, it also quoting service intervals of 25,000 miles or two-years - whichever comes sooner. All of that is in a bid to minimise running costs, but, as with any recommendation, we'd suggest a slightly more cautious approach and service it annually for ultimate peace of mind. 
If you stick within one of the 110 Mercedes-Benz's official service centre network you'll benefit from 30 years of breakdown cover - it a Mercedes-Benz (rather than third-party) scheme. That means you'll be attended to by a Mercedes-Benz technician, the claim being to be able to repair around 90 per cent of problems at the side of the road, it even covering things like misfuelling.
In 2016 Mercedes-Benz rolled out a national service pricing to give users transparent costs, also offering service option packages for a fixed payment each month - a 48 month/six service plan costing £16 a month for a Citan.
A minor service on a Citan is listed at £105 and a major one £205, those being exclusive of VAT. In addition to this a dust filter change is around £25, brake fluid from £35 and Coolant from £52. Checking these prices against independents and you'll do well to beat them.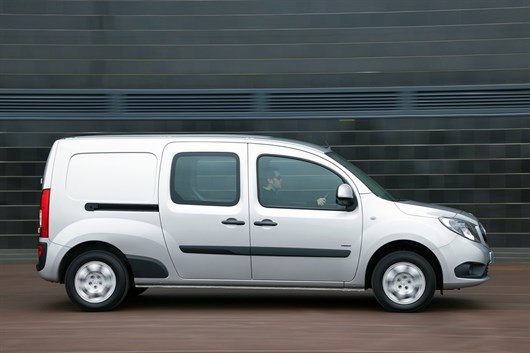 Pricing 
There's not quite the volume of Citans out there as you might find of its rivals in the used classifieds, but then what is available all looks good stock. The cheapest we could find at the time of writing this was just £5 shy of £4000 (before VAT), for a 2014, 109 model Compact panel van with just over 110,000 miles. An extra long is available for an additional £800 or so with around 10,000 miles less on the odometer.
The £5000-£6000 mark provides plenty of choice, with 109 CDI models in Long and Extra long specifications on offer, some with mileages as low as 50,000 miles.
Spend above £6000 and there's a fine selection of predominantly 109 CDI models, one-owner examples of around three years old. Dualliners tend to command a premium for their second row seats of around £500-£1000 depending on age and condition, though browsing the classifieds sees all Citans looking to be in excellent condition.
Anywhere above £8000 and you're into the realm of nearly new, low mileage examples, £9000-£10,000 seeing some delivery mileage, or ex-demonstrator models. You can, of course, spend more, with the most expensive available in the classifieds up at £20,000, that a Extra long, 111 CDI Dualliner with 4000 miles, though that's an anomaly, the majority of the newest, finest examples being in the £10,000-£13,000 sphere.
To find the latest used van deals, visit: Honest John Vans For Sale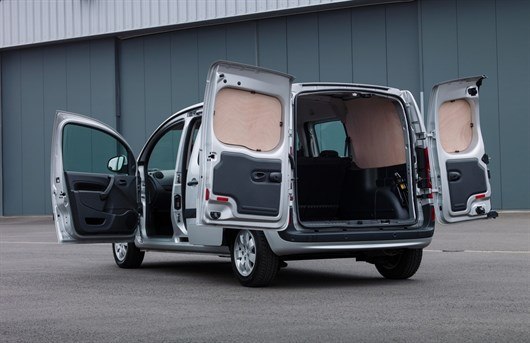 What we said
"The Citan is by no means the cheapest small van around - in fact it's one of the most expensive - but it does feel a cut above the competition in terms of quality and refinement. If you spend all day behind the wheel you'll appreciate the difference. The cabin feels robust, it handles well and it's safe too with all models getting an advanced ESP system as standard.
"As you'd expect you can fit a standard euro pallet between the wheelarches and the sides are flat and vertical which makes slotting boxy loads in much easier. The plastics feel like they'd cope with plenty of abuse and while the lower section is part panelled, full panelling is available as an extra."
What to watch
The Citan has been subject to a few recalls, including one to rectify incomplete inflation of airbags in an accident for vehicles built between 2012 and 2013. Others include issues relating to the ESP fitting over the same period, a faulty rear seatbelt connection for vehicles built during a week in November 2015, one relating to brakes in 2016, another for engine mounts in 2016.


The steering column in some built between November - December 2016 might have cracks. Be sure to check that any vehicles you're looking at have had the necessary remedial work undertaken.


Another voluntary recall was issued in July 2017 relating to engine software, in a bid to reduced nitrogen oxide emissions. Ask the seller if this has been done - they should have paperwork to prove it. 


Always check whether it idles smoothly, if not it could point to problems with the ignition coils. If replacing them it's worth doing all of them.


The diesel particulate filter (DPF) can cause issues if it's not run through a proper burn cycle periodically. Don't ignore any warning lights on the dashboard relating to it, and be sure to follow the recommendations in the handbook as to the burn cycle.


The rear door sliding mechanism can suffer issues with the locking mechanism. Check it works when inspecting a vehicle, and keep it and the door rails clear to minimise the chances of problems.


The fan for heating and cooling can operate erratically due to a faulty resistor. Check the fan runs at a consistent speed, and if not replace the resistor.
It might be a Germanic take of an inexpensive French commercial but Mercedes-Benz's Citan feels worthy of the badge on its grille. Used it represents a good buy, and if you keep it serviced within Mercedes-Benz's own network it should prove inexpensive to run, too. That premium badge won't do any harm to your company image, either, and buying it used, circumvents its chief failing new, that being it's a bit more expensive than its key rivals.
Looking for more used van buying guides? Click here
Comments
Author

Kyle Fortune
Latest