Used Pick-Up Buying Guide: Mitsubishi L200 Series 4 (2006-2015)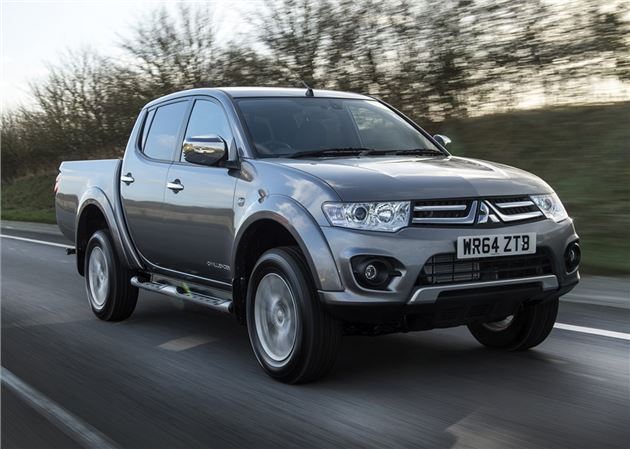 In This Guide
L200 Essentials
The Mitsubishi L200 Series 4 pick-up is able to haul and carry where normal vans would falter, making it among the most versatile commercial vehicles for sale.
The fact it sells in large numbers to non-commercial buyers as an alternative to conventional SUVs underlines the breadth of its ability and relative civility - the L200 is an easy vehicle to drive considering its incredible capability.
Mitsubishi actively sought such buyers too, adding the luxurious Elegance specification when the fourth-generation L200 was introduced in March 2006. Other trims offered included the utilitarian 4Work and 4Life choices, while Warrior, Barbarian, Animal and that top-spec Elegance trim - as well as countless special editions - offered decent levels of luxury and specification in this rugged machine.
The fact pick-up trucks with payloads exceeding one tonne, as the L200 does, are considered light commercial vehicles in the eyes of HMRC means there is some fairly advantageous tax breaks over a conventional car. Indeed, that tax loophole has shored up the pick-up marketplace for the past two decades or so and it doesn't look likely to change in the near future.
Engines available on a Mitsubishi L200
The fourth-generation L200 introduced Mitsubishi's then new common rail turbodiesel. A 2.5-litre unit it boasted 134PS and 314Nm of torque in standard guise. Mitsubishi UK also offered it with a 'piggy-back' ECU that boosted power to 165PS. It was standard on the Animal trim and above but offered as an optional extra on the more utilitarian specification levels.
Transmission choices are a five-speed manual or a four-speed automatic; the latter had a driver selection for first and second gears and an overdrive, useful for those using the towing (up to 2.7 tonnes) or carrying capacity the L200 offers. 
All are four-wheel drive, Mitsubishi very proud of its Super Select 4WD system, which allows the driver to select on the move up to 62mph. It features M-ASTC (Mitsubishi Active Stability and Traction Control) which brakes individual wheels and apportions torque to others to help maintain control.
Not all L200s featured Mitsubishi's sophisticated 4x4 system though, the 4Work and 4Life models have a simpler Easy Select 4WD which works in 2WD for the majority of the time, though can be shifted to 4WD on the move - again at up to 62mph.
Throughout the L200's near 10 year production run it would see some changes to its specification. In 2010, the L200 gained the option of a five-speed automatic, while power was increased to 175PS. There was also a very slight restyle inside and out, with the exterior getting new fog lamp housings and a redesigned grille.
Advertised fuel economy for the 2.5-litre diesels officially span from 34 – 37mpg. However, according to Real MPG submissions, manual versions are the most-efficient.
Maintenance on a Mitsubishi L200
Service schedules increased with the fourth-generation L200 to 12,500 miles (or annually) with a basic service costing around £140. Every second service will be in the region of £300 as the L200 need new filters.
A lot of problems with L200s arise due to people not changing the fuel filters and putting cheap diesel in without the lubricants and cleaners. It's well worth putting premium diesels in it to keep the L200 running at its very best.
The timing belt needs changing at 62,500 miles or every four years, whichever comes first, costing around £300 for the kit that includes the hydraulic tensioner. It's necessary to change the differential oil every four years, though if it's used extensively off-road or regularly tows then it's worth checking more often. If it looks dirty it will only cost around £60 an axle to have it replaced, which is a cheap preventative measure.
Some do suffer from overheating, but it's not that common and will cost around £700 to have the head gasket off - that price including a new timing belt. The gasket seals can leak, though it is always recommended to use original parts, as pattern ones typically end up failing and leaking.
Other known issues include suction control valves on the fuel pumps, which is related to poor fuels. If it goes anticipate a bill for around £200 for a repair, the fuel pump itself being described as 'bulletproof' by the trade. 
Only abused examples will show any signs of corrosion. And even then it will have to have been very poorly maintained. The brakes are strong, the rear shoes lasting 50,000+ miles.
The front suspension is double wishbone, the rear being leaf springs. They are known to break - it's more common on L200s that haven't been used to carry loads than those that are frequently flexed by weight in the rear flatbed. A new leaf spring will cost around £200. And if you're doing one side it's probably sensible to have the other done at the same time.
Other issues include seized turbo actuators, though these just need freeing off - a relatively simple fix - the turbos themselves being very robust. The manifold can suffer from carbon build up, but it's easily solved by removing and cleaning. Other than that there's the odd problem with ABS sensors resulting in the traction control light glowing, likewise the vacuum control pipe can be damaged by off-roading.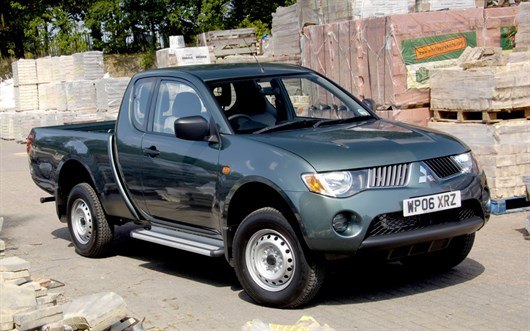 Mitsubishi L200 pricing 
The L200 is popular with 4x4 enthusiasts, which means it isn't too difficult to find one with a full service history and a folder full of receipts for the work. Even the oldest fourth-generation L200s command good money, with prices starting at about the £3000 to £3500 mark for single cab 4Life or 4Work examples.
The Warrior, Animal, Elegance and various specials like Raging Bull, Trojan and Barbarian all require more outlay. If you're after a double cab (the Warrior and above only coming with the double cab) then prices start at around £5000 to £5500 for the highest mileage models.
A budget of £7000 - £9000 will open up a large choice of 2012 L200s, while the double cab models with a full dealer service history will command the highest prices. Single cab models can be found for significantly less, although their condition and mileage will reflect their tougher working lives.
Spend upwards of £10,000 and you'll secure one of the 2015 run-out models in Barbarian or Warrior trim with sub-50,000 miles on the clock. 
Get the latest Mitsubishi L200 values with Honest John Vans Used Van Prices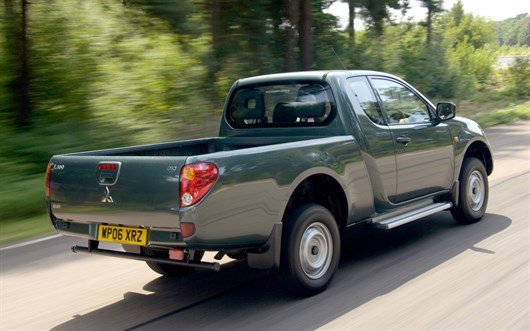 What we said
The Mitsubishi L200 arrived in 2006 riding high on the success of its rough and tough predecessor. With more rounded looks and greater refinement, this L200 is a considerable step on from the model that made it a familiar name beyond building sites. It was one of the first among this generation of pick-ups to embrace a bit of glitz and glamour in its style. It helps the L200 disguise its working class roots to be an equal among many older SUVs.
What to watch  
Keep an eye out for the traction control light. If it's on it will likely relate to a faulty ABS sensor, though it will need plugging into a diagnostics machine to find the problem.


Check the rear leaf springs for any cracking. Some owners put grease on them to prevent them from squeaking, but this only attracts grime and can increase wear.


The head gaskets are typically robust, but check around them for leaks, as some owners scrimp on maintenance and use aftermarket seals. These are prone to leaking.


Ask when the diff oil was last changed, the front needs refreshing every six years and the rear every four. Likewise ask when the fuel filters were last replaced, as they clog up after around 35,000 miles - they should be replaced every 25,000 miles.


Have a good look around underneath. The L200 is a hugely capable off-road vehicle, so look out for signs of abuse. If it's obviously been used in the mire then you might be wise to go and find another - there are plenty around.


The L200 has massive towing capacity, but doing so obviously adds to the overall wear and tear to the transmission and engine. If it's got a tow bar, ask what it's towed and how often.


Check the flatbed for damage: the L200 can carry over a tonne in its rear compartment, though if it's done so regularly it will be obvious with lots of 

scratches and scuff marks. If there's a load liner in there, take it out and check it's not hiding anything as water can become trapped beneath it.
Where can I get a van history check for a Mitsubishi L200?
Many companies offer a van history data check and we'd recommend using one, even if a used car seller says this has already been carried out. Better to spend a few pounds and be safe than sorry – and checks can be carried out online, via mobile phone or by apps on tablet PCs.
| | | |
| --- | --- | --- |
|   | Single check cost | Multiple check cost |
| | | - |
| | | £29.97 (for three) |
| | | |
| --- | --- | --- |
|   | Single check cost | What you get |
| Free history check | Free | A valuation and MoT status and history |
| Basic history check | £3.99 | Whether the vehicle is stolen, exported, a write-off or scrapped. Also, the vehicle details, a valuation and MoT status and history |
| Comprehensive check | £9.99 | Everything you get in the basic check, plus whether the vehicle has outstanding finance on it |
| | | |
| --- | --- | --- |
|   | Single check cost | Multiple check cost |
| | £1.99 | - |
| | £8.99 | £14.99 (for three) |
Ask HJ
Is age or mileage more important when buying a pick-up?
I'm looking to buy a Mitsubishi L200 for work including towing a fairly heavy trailer. My is budget £7000. Obviously each vehicle is different but in principle, would you opt for a 2008 model with 50,000 miles or a 2014 with 90,000 miles?
Always aim to buy the newest vehicle you can afford: a higher mileage pick-up that's been meticulously maintained will be a better buy than an older model that's been sitting around for long periods doing nothing. The L200 is prone to the fuel filter clogging up and this will be more likely with a pick-up that covers just 5000 miles a year. Other known issues include suction control valves on the fuel pumps, which is related to poor quality diesel. The vehicle should have a fully documented service history and a folder of receipts for any work that's been done. Ask when the diff oil was last changed, the front needs refreshing every six years and the rear every four.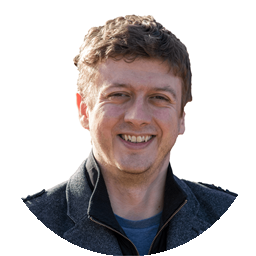 More Questions
More Van Advice
See also
* Sometimes we show a link with a * next to it. It means that it is an affiliate link and as a result helps HonestJohn.co.uk stay free to use. It's tracked to us and if you go through it, it can sometimes result in a payment or benefit to the site.