Volkswagen builds T2 camper vans out of 400,000 Lego bricks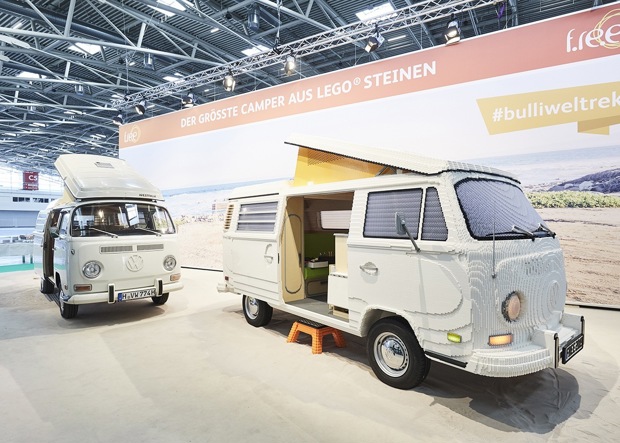 Volkswagen has produced two life-sized Type 2 camper vans out of Lego for the f.re.e leisure and travel fair in Munich.
Using 400,000 bricks, the Lego Volkswagen camper vans weigh 700kg each and took model masters Rene Hoffmeister and Pascal Lenhard six weeks to build from scratch.
>>> Top 10 lego cars , vans and trucks
The duo used 3D scans of the original Type 2 classic to create a build plan and calculate the number of bricks needed to create the five metre long replicas.
Each van matches its real-world counterpart with working headlights, indicators and brake lights. There is also a pop-up Westfalia roof and side sliding door, while the interior is furnished with Lego-built picnic tables, chairs, plates and cups. A Lego gas hob, wash sink and radio complete the retro camper look. Some 20,000 transparent bricks were used to recreate the windows.
The Type 2 camper van was sold from 1968 – 1979 and was powered by a 1584cc air-cooled petrol engine, which was upgraded to 1679cc in 1971.
The Lego replicas will be on display in Munich until 24 February.