Used Van Buying Guide: Mercedes-Benz Sprinter 2006-2013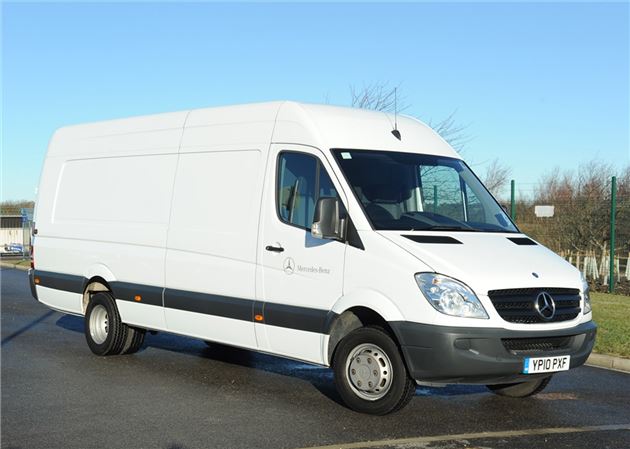 Sprinter Essentials
Few vans for sale can lay claim to the breadth and strength of the second-generation NCV3 Mercedes-Benz Sprinter. There are hundreds of different models to choose from, giving buyers the opportunity to pick the used large van they really want and need.
As with rival vans, the second-generation Mercedes-Benz Sprinter is offered in a wide variety of body styles, heights, weight, seating and cab arrangements. However the load space not quite as big as some rivals' with the Sprinter, which shows the basic design of this van is beginning to age.
That said, there should be something to suit every need with regular, high and super high roof specifications and seated minibus bodies. There are even specialist campers and 4x4 versions too for more specific requirements built by a number of specialists.
Looking for more Mercedes-Benz van buying advice? Check out our 2013-2018 Sprinter model buying guide here
Engines available on a Mercedes-Benz Sprinter
The Sprinter has always had a powerful reputation that lives up to its speedy name. Power came initially from a range of 2.1-litre four-cylinder and 3.0-litre V6 diesels with a choice of manual or automatic gearboxes - the auto being relatively rare.
Engine start/stop, dubbed Eco-Start, was added in 2008 as an option, while 2009 saw the entire engine range overhauled with 95, 130 and 165PS versions of the four-cylinder engine, and a single 190PS V6 3.0-litre option.
The biggest change in the current Sprinter range's lifecycle is the model refresh in April 2013, where it gained not just a new angular grille and headlights, but improvements to economy and emissions plus a refreshed interior as well as new harder-wearing upholstery.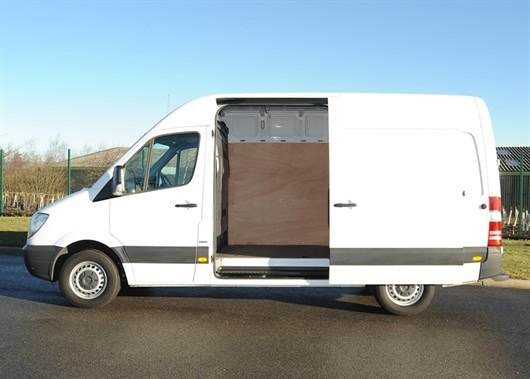 Maintenance on a Mercedes-Benz Sprinter
One of the Sprinter's most common faults is problems with the diesel engine's high pressure injection system. It's called the 'black death' in the trade, though it's not as bad as is sounds if it's caught early enough. The seals around the injectors go, causing a chuffing sound from under the bonnet.
Put the heater and fan on in the cab and if there's a faint smell of what should be coming out of the tailpipe then they'll need looking at. A black build up around the injectors also highlights the issue. Depending on how bad it is, you could be looking at anywhere from £150 to £500 fix. 
Check the propshaft on any prospective purchase, they tend to fail at about 100,000 miles though they're not too expensive provided you don't source it from a dealer where they'll charge around £800. For all other parts we'd suggest genuine only, particularly brakes.
Servicing is around £250+VAT for a small service, to around £300+VAT for a larger one. Security isn't a strong point, the Sprinter is easy to steal. You can't beat a traditional steering lock as a physical deterrent.
Likewise catalytic convertors are often targeted by thieves for the metals in them. Again an aftermarket physical add on will make stealing them trickier - or at least send thieves looking elsewhere.   
Other niggles include check straps on the doors failing, sliding doors jamming and brake light switches failing - the latter confusing the ECU into thinking you're braking when you're not. There have also been a few recalls for fuel leaks.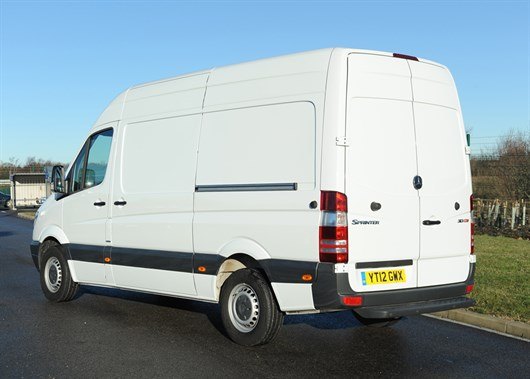 What to watch  
The oil filter within the engine of 2007 Sprinters can become blocked and this causes the engine oil to be expelled through the dipstick hole (even though the dipstick is in place) leaving the engine to seize. 
Sprinters have a bit of a reputation for rust, though it's unfair and largely down to abuse from owners - and unlined load spaces. Best advice regarding the bodywork is if it's scratched or dinged, get some touch-up on it quickly.
Propshafts can break on higher mileage or abused examples, ask when, if ever, it's been replaced. 


Check the tyres for uneven wear, as this will suggest that the tracking is off and needs attention.


Listen for any unusual sounds from under the bonnet. A faint puffing sound might indicate problems with the seals around the 

injectors. 
Mercedes-Benz Sprinter Pricing
With mk2 Sprinters now 14+ years old, there's plenty of choice out there. Prices start at under £3000 for massive-mileage examples with a lengthy list of previous owners; these can represent good value for builders who need an inexpensive workhorse, but avoid vans that have no service history. 
Up your budget to £5000 and you will find box vans, tippers, dropsides and panel vans with a history folder full of receipts, old MoTs and service documents. You won't be short of choice so you can afford to be picky when it comes to mileages and specifications. 
Spend £6000 and you find a rich selection of 2013 vans that have been well-kept with two or three previous owners and documentation that traces its mechanical life all the way back to the original Mercedes-Benz Vans dealer.  
To find the latest deals, visit: Honest John Vans For Sale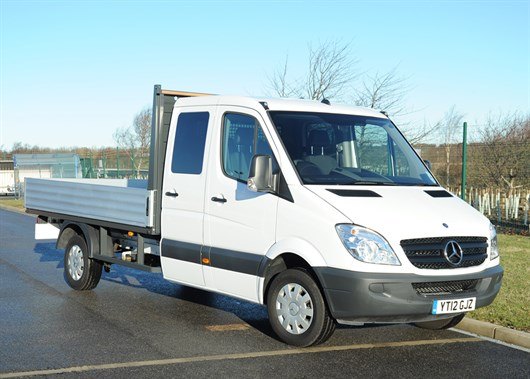 What we said 
If there's a supercar of the used van world, it's the Mercedes-Benz Sprinter. It offers performance, power and economy, so it has the jump on more orthodox supercars, and it can also carry plenty of equipment or cargo in its generous load bay.
Where can I get a van history check for a Mercedes-Benz Sprinter?
Many companies offer a van history data check and we'd recommend using one, even if a used car seller says this has already been carried out. Better to spend a few pounds and be safe than sorry – and checks can be carried out online, via mobile phone or by apps on tablet PCs.
| | | |
| --- | --- | --- |
|   | Single check cost | Multiple check cost |
| | | - |
| | | £29.97 (for three) |
| | | |
| --- | --- | --- |
|   | Single check cost | What you get |
| Free history check | Free | A valuation and MoT status and history |
| Basic history check | £3.99 | Whether the vehicle is stolen, exported, a write-off or scrapped. Also, the vehicle details, a valuation and MoT status and history |
| Comprehensive check | £9.99 | Everything you get in the basic check, plus whether the vehicle has outstanding finance on it |
| | | |
| --- | --- | --- |
|   | Single check cost | Multiple check cost |
| | £1.99 | - |
| | £8.99 | £14.99 (for three) |
Ask HJ
What age do you have to be to drive a van?
I'm in the process of hiring a 17 year old apprentice and want him to drive my Ford Transit from time to time. Can he do this, or are there age limits for van drivers?
There's no age limit on vans (Category B) up to 3500kg. so 17 is fine as long as he's got a full driving licence. Cat B covers most of the vans out there, including the big ones, like Ford Transit and Mercedes Sprinter.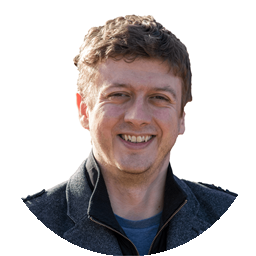 More Questions
More Van Advice
See also
* Sometimes we show a link with a * next to it. It means that it is an affiliate link and as a result helps HonestJohn.co.uk stay free to use. It's tracked to us and if you go through it, it can sometimes result in a payment or benefit to the site.