Driven: Mercedes-Benz eSprinter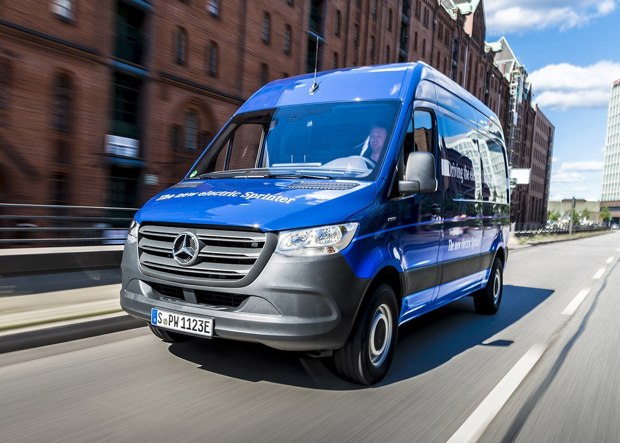 Mercedes-Benz has big plans for large electric vans and most of them involve this - the eSprinter. Due to go on sale in 2019, it is being billed as the ultimate urban delivery van with zero tailpipe emissions and up to a one-tonne payload. We test the prototype to see if it lives up to the hype. 
Mercedes-Benz doesn't hide the fact that the eSprinter is not for everyone. If you're a builder or delivery driver who covers long distances this will not be the van for you. In fact, with a maximum range of 93 miles, this is purely for city-based delivery firms who need a big van for multi-parcel drops. 
By 2020 Mercedes-Benz will have electrified all of its panel vans in the UK, with the eVito going on sale in early-2019 and the eCitan expected to follow in 2020. There won't be an electric X-Class (it's too large and heavy) which means the electric Sprinter will be the largest electric commercial vehicle in the Mercedes-Benz line-up. It will be offered initially as an L2 panel van with a high roof and a gross vehicle weight (GVW) of 3.5 tonnes, which means you can drive it on a standard car licence. 
Like the entry-level four-cylinder turbodiesel in the standard van, the eSprinter gets 114PS and 300Nm of torque. The 84kW electric motor is linked to a battery pack that takes between six and eight hours to fully charge, depending on which model you choose. Mercedes-Benz will offer the eSprinter with three (41.4kWh) or four (55.2kWh) batteries. The former takes six hours to recharge and is limited to a range of 71 miles. The 55.2kWh van takes longer to charge but provides 93 miles per charge.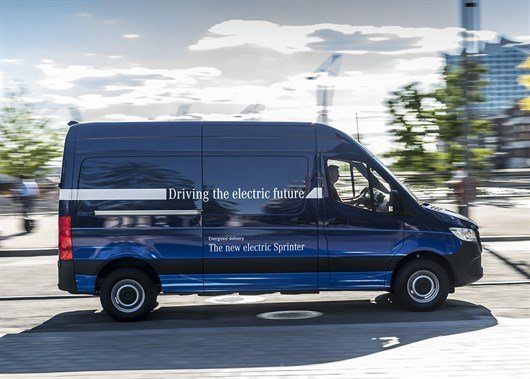 At the business end of things, the eSprinter shifts payloads weighing up to 1040kg when specified with three batteries or 900kg when fitted with four. However the electric Sprinter doesn't get close to matching the 1304kg you get with a L2 front-wheel drive Sprinter with a diesel engine.  
Van operators will also be facing a difficult choice when it comes to range and carrying capacities, with the 71 mile van being limited to 900kg. Mercedes-Benz claims that delivery firms value space over payloads, which means all versions get 10.5 cubic metres of loadspace - the same as the standard Sprinter - with the battery packs placed beneath the load floor.
Behind the wheel, the eSprinter is effortless to drive, with its light steering and smooth electric motor providing something of a calming oasis from the busy humdrum of congested city centres. The electric running gear is as refined as anything you'll find in the German manufacturer's car range and the modern cabin is packed with storage pockets and cup holders. It's also extremely comfortable, with firm seats and excellent all-round visibility. 
We didn't get the chance to test the top speed during our limited test run in a prototype, but Mercedes-Benz advertises the eSprinter with 50mph or 74mph. If truth be told, few delivery drivers will exceed the standard 50mph in a town, but operators who work in large cities and occasionally venture on to dual carriageways will need to upgrade to the higher speed van.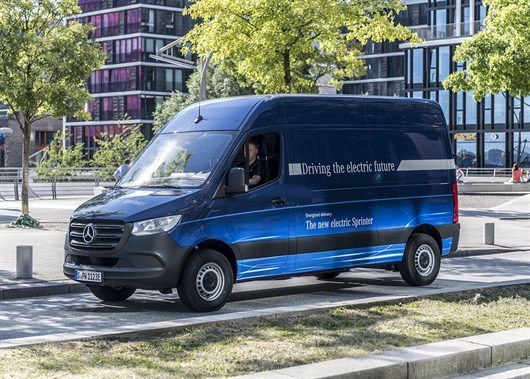 When it comes to pricing Mercedes-Benz is as silent as the eSprinter. In our opinion, it's likely to start in the region of £42,000 before VAT and after you've subtracted the Government Plug-in Grant of £8000. In comparison an L2 Sprinter 311 CDI starts at £31,000.
It's up for debate as to how many van operators will buy or lease the eSprinter, but on running costs alone the electric van makes a lot of sense with exemption from VED and urban pollution charges. What's more, depending on the energy tariff, fuel costs could be as low as 4p-per-mile. 
Standard kit should be high with all getting automatic headlights, keyless start and autonomous braking as standard, with the latter automatically applying the brakes in the event of a pedestrian stepping out in front - something that's likely to be rather common when you're whisking around in a near-silent electric van...
Much will be made of the limited range, but it's important to note that this is a van that's built purely for delivery companies based in towns and cities. Few multi-drop firms will exceed 70 miles in a day, let alone 93, and we think the eSprinter will quickly fill a niche that's struggling along with DPF-clogged diesels. If the prototype's anything to go by, Mercedes-Benz will have a winner on its hands.  
Essential stats:
Prices expected to start from: £50,000 (before Gov plug-in grant), CO2 emissions: zero, payload: 900kg – 1040kg, towing capacity: TBC, length: 5932mm, width: 2675mm, height: 1927mm, powertrain: 84kW electric motor, torque 300Nm, power output: 114PS