Review: Isuzu D-Max (2021)
Rating:
Five-star Euro NCAP safety rating. Generous standard driver-assist systems. Reliable and efficient diesel engine. More comfortable than before.
Engine lacks torque compared to rivals. Refinement is some way off an SUV.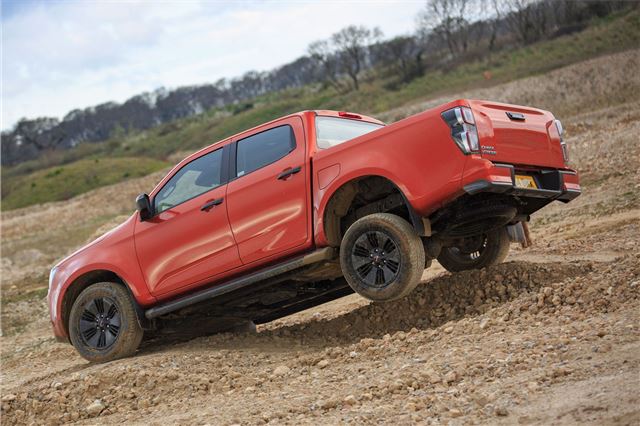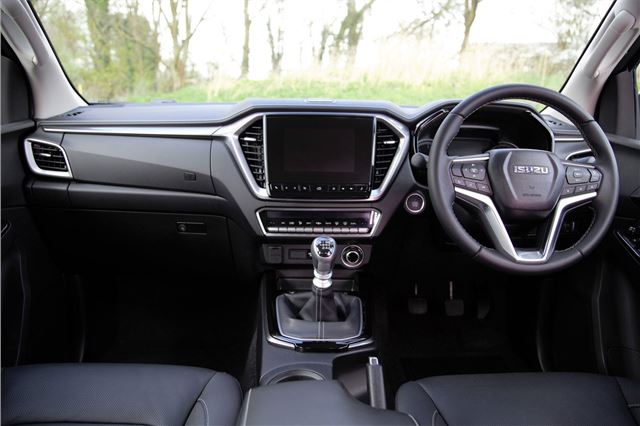 Recently Added To This Review
13 January 2021 New Isuzu D-Max revealed
Benefitting from an assertive new exterior design, Isuzu says the new D-Max boasts a more distinguishable and powerful appearance. The elevated front-end design and sharp contours generate a more imposing... Read more
Isuzu D-Max (2021): At A Glance
Isuzu has made a name for itself as a specialist manufacturer of robust pick-up trucks and the latest D-Max builds on a winning formula. There's a limited engine line-up (just the one, in fact), while buyers get the choice of a variety of different cab types depending on whether you need to prioritise load or passenger space. Read our full Isuzu D-Max review to find out if it's the truck for you.
There are a number of different models to choose from, covering three broad customer bases: there's the business range, made up of the Isuzu D-Max Utility and intended to be a bit more of a workhorse and aimed at small businesses and builders; the all-purpose range, sitting in the middle of the line-up with the D-Max DL20 and DL40 trim levels; and the adventure range, topping the line-up with the more lifestyle-focussed Isuzu D-Max V-Cross.
All are well kitted out for the money, with pre-VAT prices ranging from £21,500 to around £33,000 – meaning the D-Max stacks up well against alternatives like the Toyota Hilux and Ford Ranger.
Only the entry-level truck is available without four-wheel drive. The rest come with 4x4 as standard, giving the D-Max genuinely impressive off-road ability, helped also by features like the low-range gearbox and Hill Descent Control. DL20, DL40 and V-Cross models add a rear diff lock, helping you maintain progress in slippery conditions.
On the road, the sole 1.9-litre diesel engine (carried over from the old model) isn't as refined as alternatives, while its 360Nm torque figure means you have to work it that little bit harder, especially if you're carrying a full load or lugging a trailer.
Like most trucks, the D-Max is going to feel like a bit of a culture shock if you're buying one to replace an SUV. Its suspension isn't as sophisticated as the Nissan Navara's, although there's an impressive list of standard safety equipment. Driver-assist features like Autonomous Emergency Braking and Lane Departure Warning contribute to the D-Max's five-star Euro NCAP safety rating.
What does a Isuzu D-Max (2021) cost?
Buy a used Isuzu D-Max from £34,788
Isuzu D-Max (2021): What's It Like Inside?
There are three main D-Max layouts available: single cab, extended cab and double cab. The single cab is the one to go for if a big load bay is more important than carrying passengers – it provides a load length of up to 2315mm, while there are just two seats in the cabin. The extended cab reduces the load length to 1805mm, while there are folding rear seats which are ideal for occasional use.
The majority of D-Max buyers go for the double cab model. It provides a strong blend of comfort and useability, with four doors and five seats meaning you can use it as your main family vehicle. A stubbier front end than before means that Isuzu has managed to extend the D-Max's cabin so it feels more spacious, with easier access to the rear seats and a more comfortable seating position for those in the back.
For those in the front, the D-Max feels very spacious, with a high seating position and enough room not to clash elbows. There are loads of little storage areas, too – including a storage area in the central armrest (on high-spec models), two gloveboxes and no fewer than 10 cup holders.
It's not as plush as something like a Volkswagen Amarok, but it's surprising how different a high-spec D-Max feels compared to the Utility model. That's because desirable features like heated leather seats (with electric adjustment) are standard on the priciest trim levels, along with a seven- or nine-inch infotainment system with Apple CarPlay and Android Auto. 
All D-Max models have a payload of more than 1000kg while all 4x4 variants can officially tow a braked trailer weighing up to 3500kg.
In terms of exterior dimensions, the Isuzu D-Max is quite a big truck. It measures 5265mm in length, 1835mm in width and 1790mm in height.
What's the Isuzu D-Max (2021) like to drive?
There's just one engine available in the D-Max – a revised version of the old 1.9-litre diesel engine. Its 360Nm torque figure is a bit weedy compared to rivals and it's not the last word in terms of refinement, but it's a dependable unit that provides a 3500kg towing capacity and payload in excess of 1000kg.
The six-speed manual gearbox is pleasant enough to use although first gear is weirdly low, presumably for off-road antics or setting off with a heavy load, so you'll have to move up into second at barely more than walking pace. It's much easier to opt for one of the high-spec models with the six-speed automatic gearbox – this is a robust Aisin transmission which changes gears smoothly and suits unhurried progress.
It'd be an exaggeration to say the D-Max has SUV-like road manners, but it's comfortable enough and doesn't feel particularly intimidating to drive. The suspension has been tweaked, although the rear leaf springs mean it's not as car-like as the Nissan Navara.
One area in which the D-Max does excel is the long list of driver assist systems fitted as standard across the range. All models come with features like autonomous emergency braking (which can apply the brakes if it detects an impending collision) and an intelligent speed limiter (which can detect the speed limit and encourage you to stick to it). Isuzu uses a twin-camera setup to power these systems, claiming it to be quicker and more reliable than radar systems.
Double cab models are fitted with radar that can detect obstacles to the rear of the truck, powering systems including a blind spot monitor, emergency lane keeping and rear cross traffic alert. Buy one with the automatic gearbox and it'll get adaptive cruise control, lane keep assist and a clever 'pedal misapplication mitigation' feature – this will prevent you being involved in a low-speed clash by accidentally hitting the accelerator rather than the brake.
All but entry-level Utility models come with selectable four-wheel drive as standard, with the ability to be engaged while on the move in less time than on the old model. DL20, DL40 and V-Cross models also come with a rear diff lock.