Unimog: Behind The Wheel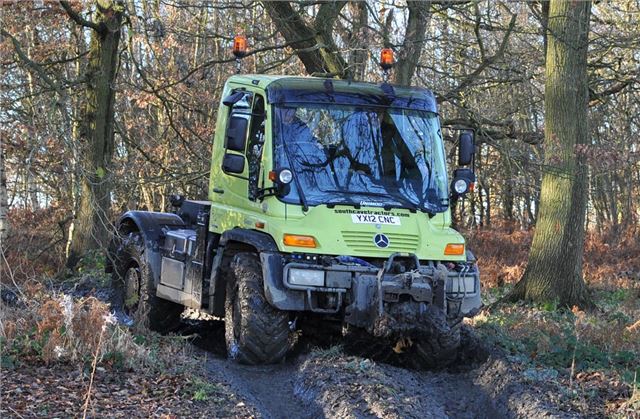 It's not every day you get the chance to drive a Unimog. The big beast of a truck from Mercedes-Benz has an almost cult following so the opportunity to get behind the wheel is one not to be passed up. It may be a rare sight on UK roads but on the continent – particularly its home country of Germany – it's renowned for being an unstoppable vehicle that can cope with pretty much any and every condition.
The Unimog dates back to just after the Second World War and was first designed as an all-wheel drive agricultural vehicle with a power take-off so that it could run equipment such as saws or harvesting machines. The original designs date back to late 1945 and were by penned by Albert Friedrich who had previously been Head of Aeroengine Design at Daimler-Benz. Production began in 1948 and three years later the project was taken over by Daimler-Benz which brought with it the investment needed.
Thanks to its all-wheel drive, portal gear axles - meaning high ground clearance - front and rear differential locks and amazing robustness, the Unimog soon became popular, especially with the military. The 404S model was favoured by the West German army and was produced from 1955 up until 1980.
Fast forward to today and the Unimog is still going strong. Although the basic concept remains the same, the technology and comfort of the modern Unimog is a world away from those early models. With a total of 24 forward and 22 reverse gears, plus ability to drive at speeds from as slow as 0.1 km/h up to 89 km/h it's pretty much the ultimate go anywhere truck.
Getting up into the Unimog's carbon fibre cab is a feat in itself and once you're behind the wheel you soon realise this is much more than your run-of-the-mill truck. With all the hydraulic controls, the sheer array of switches is bewildering to a novice and the button strewn central console makes the Starship Enterprise look minimalist.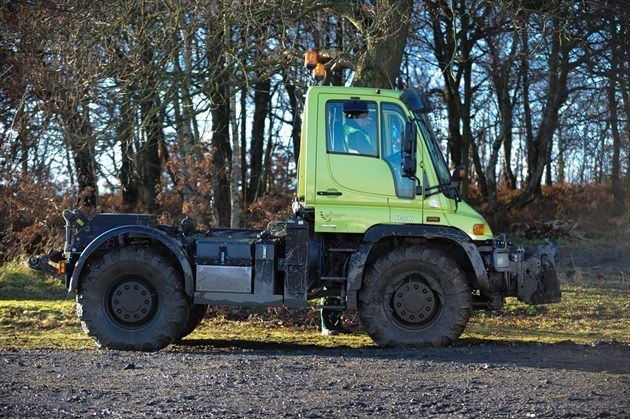 Luckily with a very experienced Unimog expert alongside we can least get the thing moving straight away. The first thing you notice is how slow the steering is – it requires plenty of turns to get round a corner so on the twisting (and genuinely testing) off road course we tackled your arms get a proper work out.
But the way it tackles even the thickest mud and the kind of ditches you could lose a family hatchback in is amazing. You have to remind yourself that you're in a truck as it's surprising agile. Of course you get bounced around a fair bit but the rigid cab and optional air-ride seats fitted to the Unimog we drove meant it was pretty comfortable.
Even after a quick bit of off roading, it's easy to see why the Unimog appeals to those who need a proper truck that can genuinely go anywhere. It's tank-like in its ability to deal with harsh terrain and happily operates in temperatures down to -30C.
Under the stubby bonnet is a 6.4-litre six-cylinder turbocharged diesel engine with 240PS and a hefty 850Nm of torque. Thanks to all that grunt it feels unstoppable, especially when you have it in the working and crawler gears. The 12-tonne monster is able to crawl along under idle, without you even needing to touch the accelerator pedal.
The Telligent gearchange takes some getting used to though. You only have to tap the gear lever and the system will work out the best gear to be in depending on the engine speed and torque. You then press the clutch and it changes gear.
While it may be a hardcore working vehicle, the Unimog is full of clever stuff like the VarioPilot steering column that can be transferred from left to right hand drive – complete with instruments and pedals – by sliding it across in just a few seconds. There are even tyres than deflate automatically, for instance if you're going on sand, and can then be reinflated again, all from within the cabin. It's surprising similar things haven't made their way onto everyday cars yet.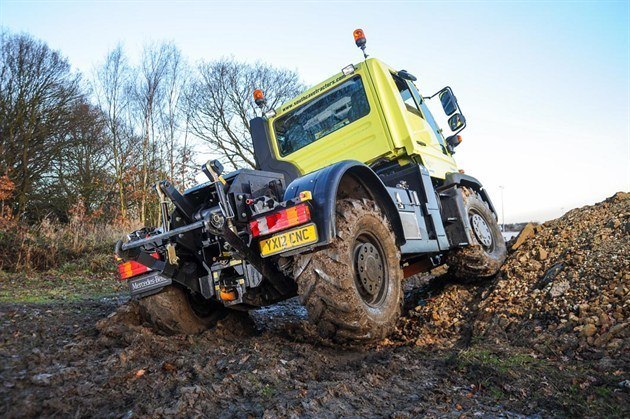 The Unimog we drove – in its delightful shade of green – is a U400 short wheelbase and with all its options, including the VarioPilot steering, central tyre inflation and the 24-inch Michelin field tyres, comes in at £168,000. That's not cheap but there's nothing on the market that can match the Unimog's abilities.

It's undoubtedly a proper workhorse and a machine designed for all conditions but the Unimog hasn't always been all work and no play. In the mid 90s a Unimog was used as a mobile disco in Japan and prompted Mercedes-Benz to launch the Funmog. Proving that German's really do have a sense of humour the Funmog was a glitzed up version of the Unimog complete with chrome trim, body stickers and bull bars. There's still a similar version now – the Unimog Black Edition with 286PS and 1100Nm of torque plus the entertainment and sat nav system from the Mercedes-Benz S-Class.
The Unimog's abilities are increasingly being recognised by operators in the UK. Northamptonshire Fire Service now runs a Unimog U5000 complete with a crane that specialises in animal and inland water rescues while they model has also found favour with tree surgeons, utility companies and with councils looking for serious snow ploughs and gritters.
In German you'll regularly see the Unimog employed as a fire appliance or by highways maintenance. In Switzerland a former Swiss army Unimog was used on repair work of the Cassanawald Tunnel on the San Bernardino Pass, even being employed as a railway shunter moving freight wagons thanks to a road-rail conversion. Unimogs have even taken part in the Paris Dakar rally.

In fact the Unimog's appeal has spread so far that there's now a Lego version available. The 2000-piece 1:12 scale Unimog 400 has a front winch, optional snowplough and includes full suspension, differentials, a four-wheel drive chassis, a gear block for extreme ground clearance and a detailed reproduction of the engine including moving pistons. Surely there's no better gauge that a vehicle has become an automotive icon.
Gallery: Unimog through the years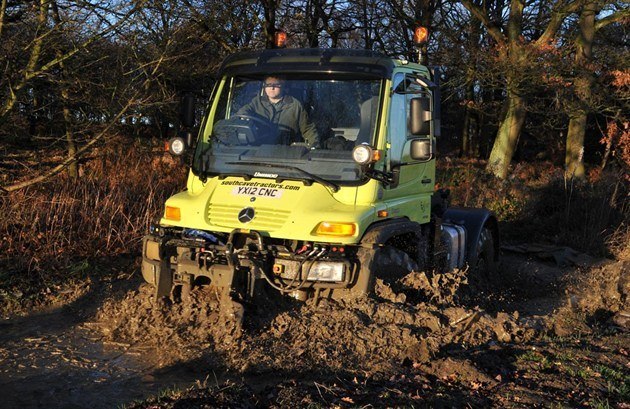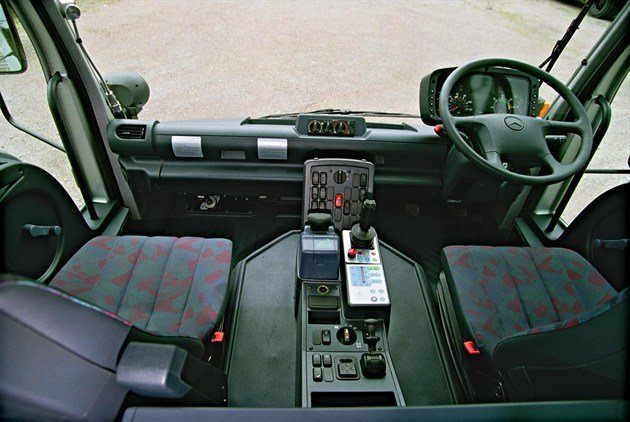 Comments
Save 12% on GAP Insurance
Use HJ21 to save on an ALA policy
See offer